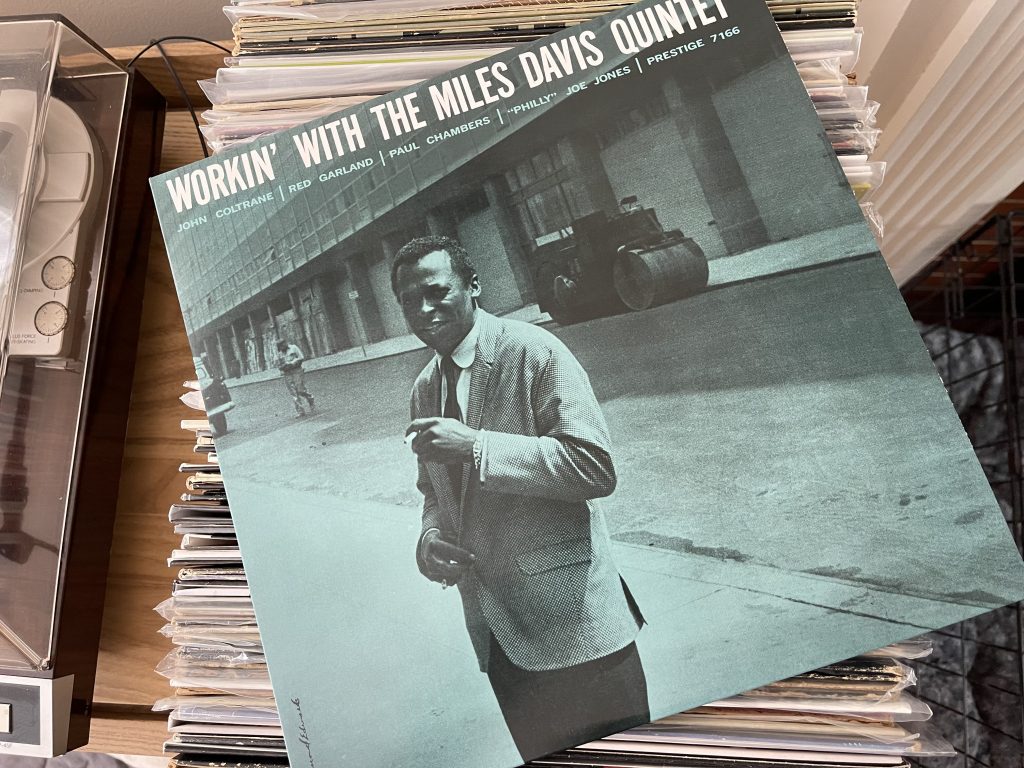 Album of the week, March 5, 2022.
We are just at the halfway point in our #albumoftheweek run through Miles' quartet of First Great Quintet recordings for Prestige, and it would be tempting to conclude there is nothing left to say about these four records. That would be a mistake. First and foremost, these records are great because of the music on them — the performances and arrangements — and each one has its own identity. In the case of Workin', released in 1960 but recorded at the same sessions as Cookin', Relaxin', and Steamin' in May and October 1956, the rhythm section is the thing. In fact, this record might really be said to belong to Red Garland.
That seems a weird (or "vierd," as Blue Note founder Francis Wolff would reportedly say) thing to say about a Miles Davis album featuring John Coltrane. But the performance leads off with a hypnotic performance of "It Never Entered My Mind," led by a fluid arpeggiated entrance from Garland before Miles comes in on the melody, backed by a heartbeat-like bass line from Paul Chambers. The third track on the first side, Dave Brubeck's sublime "In Your Own Sweet Way," features spectacularly subtle playing from both Garland and Miles on the sweet standard. The second side even features a trio number by the rhythm section without any horns, on "Ahmad's Blues." Reportedly the latter number was enough to convince Bob Weinstock of Prestige to sign Red and his trio to their own recording contract.
It's not just Red Garland's playing that shines here, though. Philly Joe Jones' muscular drumming on the beginning of "Four" is easily the most exciting thing about the arrangement, with bombs dropping in and out of the beat throughout the track. And—returning to "It Never Entered My Mind"—Paul Chambers' subtle bass ground as the melodic line and chords suspend above him, followed by a freer line after the second chorus and even an arco line at the end is practically a master class in the bass.
I haven't written as much about the horns here. Throughout the album, Coltrane and Miles play together principally on the head and coda of each arrangement and then alternate verses. Again, where Miles typically plays with the cool restraint that was already his trademark in 1956, Coltrane's playing is still evolving. He has not yet found the "sheets of sound" — the compressed, rapid arpeggios and runs that would become the trademark of his classic sound after his sojourn in Thelonious Monk's group in 1957. But his lines here still are more exuberant and searching than Miles'. His work on "In Your Own Sweet Way" is an example, as he explores different scales and modes around the changes of Brubeck's standard.
A note on the cover: the first two records in the series are undeniable classics of graphic design, with Relaxin' in particular approaching something like mid-century modern high art. Then we get this album, which seems almost pedestrian by comparison, with the blue-tinted photo of Miles. But look closer: the strong lines of the industrial building and the road in the background form their own geometry around Miles, who, even in a tweed sportcoat, looks impossibly cool. Other covers featuring Miles in the 1950s feature him playing his horn; here, instead holding a cigarette, he looks impatiently at the photographer. He's ready to get back to work.