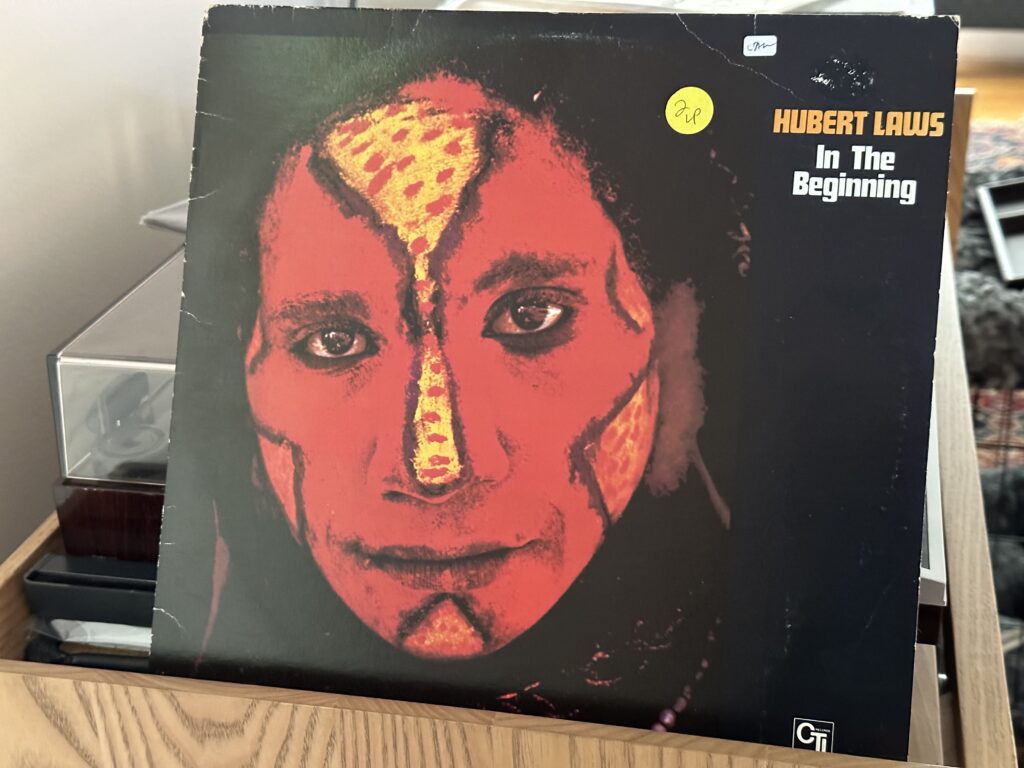 Album of the Week, August 12, 2023
Hubert Laws was having a good few years. The last of his albums we reviewed, Morning Star, was nominated for a Grammy in 1973 for Best Jazz Performance by a Soloist. He had built up a track record as a sideman across a whole slew of CTI recordings—to say nothing of his appearance on Gil Scott-Heron's major label debut, Pieces of a Man. (That's Laws playing the killer flute obbligato on "The Revolution Will Not Be Televised.") And CTI was having a pretty good run as a label, thanks to hits from Deodato and others. So Creed Taylor doubled down, literally, on Laws, and this double album was the result.
In the Beginning has a complicated discographical history. Originally issued in the form I'm reviewing today, a few years later the two disks were unbundled and released separately as Then There Was Light Vol. 1 and 2. We do know that the original record was recorded in four days between February 6 and 11, 1974 at the Van Gelder studio, and released sometime later in 1974. And it was a substantial cast, as always with Laws' CTI recordings. His brother Ronnie Laws played tenor sax; Bob James, acoustic and electric piano; Richard Tee, organ; Clare Fischer, electric piano; Gene Bertoncini, guitar; Steve Gadd, drums; Airto, percussion; Dave Friedmann, vibes; the omnipresent Ron Carter, bass; and a string quartet. Fischer, James, and Laws all contributed arrangements.
Incidentally, we haven't come across Clare Fischer's work in this column before, but you've almost certainly heard it, thanks to a long career as an arranger. He was the pianist and arranger for the Hi-Los in the 1950s before swerving into Latin jazz, but had a parallel and far more successful career as an arranger, working on (among many others) Billie Holiday's Lady in Satin, Paul McCartney's Flowers in the Dirt, Chanticleer's Lost in the Stars, the Buckshot LeFonque project of Branford Marsalis, Michael Jackson's This Is It, Usher's Here I Stand, and Prince's Parade, Sign '☮' the Times, Graffiti Bridge, [Love Symbol], "Pink Cashmere," The Vault, Rave Un2 the Joy Fantastic and 3121. (!!!)
It's a Fischer composition and arrangement that leads off the album. The title track is almost a capsule of jazz development from Ellingtonian chords to Trane-influenced minor key modality to a chunk of avant-garde, which fades into a slow rich blues. The richness of the arrangement falls back to an eight-bar solo for Carter, which then yields to a group blues with Laws taking a high solo. The final turn of the arrangement is into classic CTI jazz-funk, and then it circles back to the abstract theme of the beginning. A nifty little piece, and a great foretaste of what's ahead.
"Restoration" is a slow waltz, supported by Bob James's acoustic piano and a thoughtful Carter bass line. Here Laws' flute recalls his performance with Chick Corea on "Windows," from his early album Laws' Clause, later collected with other Chick performances on Inner Space. Some fine Bertoncini guitar work hands off to a reflective Laws solo, and back to a Dave Friedman vibes passage, before the final chorus brings the performance to a meditative close.
That meditative feeling continues with Bob James' arrangement of "Gymnopédie No. 1" for guitar, flute, piano, bass, vibes and string quartet. One of these years I'll have to put together a collection of performances of this Erik Satie composition. For emotional reserve and measured tempo, this might be one of the best of the "covers" of the tune. Laws' solo is by turns elegiac and birdlike, and the arrangement keeps the instruments from crowding each other; in most of the moments you hear only a few voices at a time. It comes too quickly to an end.
"Come Ye Disconsolate" is a gospel staple that received a contemporary pop boost from Roberta Flack and Donny Hathaway in 1972, and the performance here is appropriately pop-gospel flavored; improvisatory in the middle verses, with a down-home altar call feel in the final verse. It's comfortable and easy on the ears.
"Airegin" immediately challenges that relaxation moment, ending Side 2 with a cover of the Sonny Rollins standard with just Laws and Steve Gadd. Gadd here is especially delightful under Laws' increasingly complex improvisation; he starts with just a steady kick drum pattern, then adds cymbals, snare and tom until it's as much a proclamation of drum ingenuity as it is a statement of flute virtuosity. It can be easy to forget, with the excellence of the arrangements that usually drape Laws' CTI work, just how amazing a soloist he was; this track corrects that nicely.
"Moment's Notice," a cover of the Coltrane classic, features a fuller big band treatment, with Ronnie Laws' tenor sax taking an appropriately more prominent voice, then yielding to Laws' flute util the two end up in (of course) a battle, underpinned by James on piano with some brisk walking bass from Carter and a non-stop barrage of ingenuity on the drum kit from Gadd. It's a fun exploration of the tune, with some wonderfully pointed dissonance from James keeping it from being just another Trane cover.
Rodgers Grant's "Reconciliation" provides a way for Laws to shift back to more meditative material, with Carter, Gadd and James closely following. The tune moves in and out of minor modes, with Carter's high-octave tonic providing the transition. Indeed, while there's a lot going on with this track, it's worth just listening to the way Carter negotiates the twists of the melody, providing a steadying pulse under Laws' flute as it explores increasingly abstract textures, then taking a solo that's a master class in saying everything with a few notes. This isn't relaxed reflection, exactly; there's a touch of anxiety in the way the tune never settles into a single tonality, as if fighting against the eventual concord promised in the title.
As if acknowledging the complexity of the penultimate track, "Mean Lene" is a simpler pleasure, some straight-ahead jazz funk with a Latin tinge. But even here the tempo shifts from measure to measure in the head, not settling down until Friedman's vibes take the first solo over the rhythm section in a happily sambified mood. But as the track continues to stretch out, some of the conventionality breaks down for something richer and stranger, until it's no longer clear who's soloing and who's supporting. It's not free jazz exactly, but it's the track on the album that comes closest to the give and take of a free performance. Throw in a left-field drum solo and a shift back to Latin funk, alongside some overdubbed flute and another rich Clare Fischer arrangement, and we have ourselves a party.
Laws was nominated for another Grammy for this record, and for good reason. It's one of the most satisfying of the CTI Records discography, and one that most ably shrugs off the potential limitations of the CTI formula to end up at an entirely new place.
You can listen to the album here: