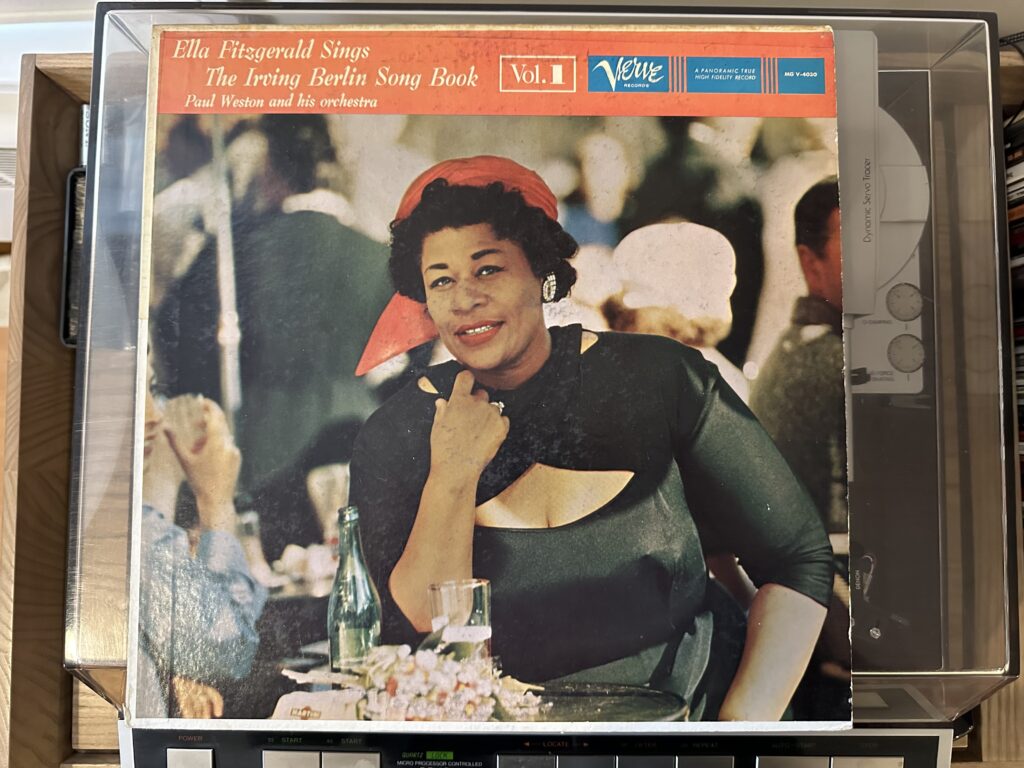 Album of the Week, November 11, 2023
My hometown of Newport News, Virginia remembers Ella Fitzgerald as perhaps its most famous native daughter, naming a middle school, auditorium, street, and music festival after her. But there is little physical evidence of her presence in the city. The house where she spent the first three years of her life stood at 2050 Madison Avenue, but no longer appears to stand there, and there is no historical marker; the mural dedicated to Fitzgerald stands a block away. Fitzgerald made her way with her family to New York, and ultimately made her mark in Harlem and on the circuit.
Composer and lyricist Irving Berlin made a similar pilgrimage. Born Israel Beilin in Tyumen, Siberia in 1888 and raised in the shtetl of Tolochin in Belarus, Berlin's sole memory of his first five years in Russia was watching his family house burn to the ground. The family emigrated to escape the poverty, discrimination and pogroms of Imperial Russia, sailing through Antwerp on the Red Star Line and arriving at Ellis Island in September 1893, where their name was naturalized to Baline. Life in the city was crowded and it was hard for him to make money as a newsboy, so he left the family apartment and moved into a Lower East Side lodging house.
Berlin worked as a singing waiter and a song plugger, taught himself to play piano after hours at the Pelham Cafe in Chinatown, and published his first song. Moving to Jimmy Kelly's in Union Square, he began collaborating with other young songwriters and got a big break as a staff lyricist for the Ted Snyder Company. He began publishing works with his own music as well as lyrics, and in 1910 wrote his first big hit, "Alexander's Ragtime Band." The song was a lasting hit, earning him spotlights at vaudeville shows and climbing the charts to Number 1 a dozen times in its first fifty years of publication. Gershwin called it "the first real American musical work," and Berlin decided to continue to follow the model. He soon broke away from ragtime and began writing more complex melodies and ballads, as well as revues and Broadway shows. By the time that Fitzgerald began performing in the 1930s, Berlin was more than twenty years into a successful career as a songwriter, and his songs were like oxygen in the atmosphere.
The performances that Ella delivers on Sings the Irving Berlin Song Book (or at least in Volume 1, which is the record that I have in my collection) mostly hew to the sophisticated, rather than the raggy, side of the line, thanks in part to Paul Weston's subtle orchestration. Indeed, the opening performance of "Let's Face the Music and Dance" might just be the definitive version of a song that was premiered by Fred Astaire (in the film Follow the Fleet) and famously performed by Frank Sinatra, Nat King Cole, Mel Tormé, and others. (We'll get to a modern-day performance of the song in a later post.) Ella's version starts out somber rather than swinging, but then kicks into high gear as the chorus pivots from minor to major. Ella's voice similarly starts in a low contralto range but climbs as the the song swings into the major key, ultimately sounding a triumphant note as the "dance" section ends, performed by a jazz trio rather than the full orchestra.
There are a few performances on the record where exuberance is uncolored by regret. Ella's version of "Alexander's Ragtime Band" is one, with what sounds like a full Dixieland band swinging hard behind her. "Top Hat, White Tie, And Tails" is the rhythmic cousin to "Puttin' On the Ritz," with both finding Berlin with a keen interest in American sartorial splendor and in splendid syncopation.
The great "Cheek to Cheek," which like "Top Hat" appeared for the first time in Berlin's movie musical Top Hat and was premiered by Fred Astaire, gets a gentle cha-cha rhythm here, And "I Used to Be Color Blind" is that rare thing on the record, a purely lovely love song.
On the purely melancholic side, "Russian Lullaby" expresses the immigrant's remembered anxiety in his homeland, with the words, "Just a little plaintive tune/When baby starts to cry/Rock-a-bye my baby/Somewhere there may be/A land that's free for you and me" forming almost the entirety of the song. "How Deep is the Ocean" mingles an expression of undying love with an unusual rhetorical device—the entire song takes the form of questions, save for one line, "I'll tell you no lie." It's a devastatingly subtle example of the depth of Berlin's songwriting throughout the album.
The Irving Berlin Song Book was the fourth installment in Ella's Song Book series; released in 1958, it followed Cole Porter, Rodgers & Hart, and Duke Ellington. She would record four more entries in the series, releasing volumes devoted to the music of George and Ira Gershwin, Harold Arlen, Jerome Kern, and Johnny Mercer, before leaving Verve in 1966 for Capitol Records, then for Reprise. Along the way she recorded a slew of other classic records, including her famed Ella Wishes You a Swinging Christmas! and my personal favorite, the underrated Ella, on which she covered songs by Smokey Robinson, Randy Newman, Bacharach/David, and the Beatles. (Yes, really.) She performed well into her 70s, finally retiring three years before her death in 1996. Her influence as a trailblazer for jazz singers, female performers, and serious interpreters of the Great American Song Book remains a lasting testimony to her greatness. The great female jazz singers who followed Ella, indeed, either had to sing in her shadow or find radically different performing voices. We'll listen to someone in the latter camp next time.
You can listen to the full two-volume set of the Irving Berlin Song Book here: