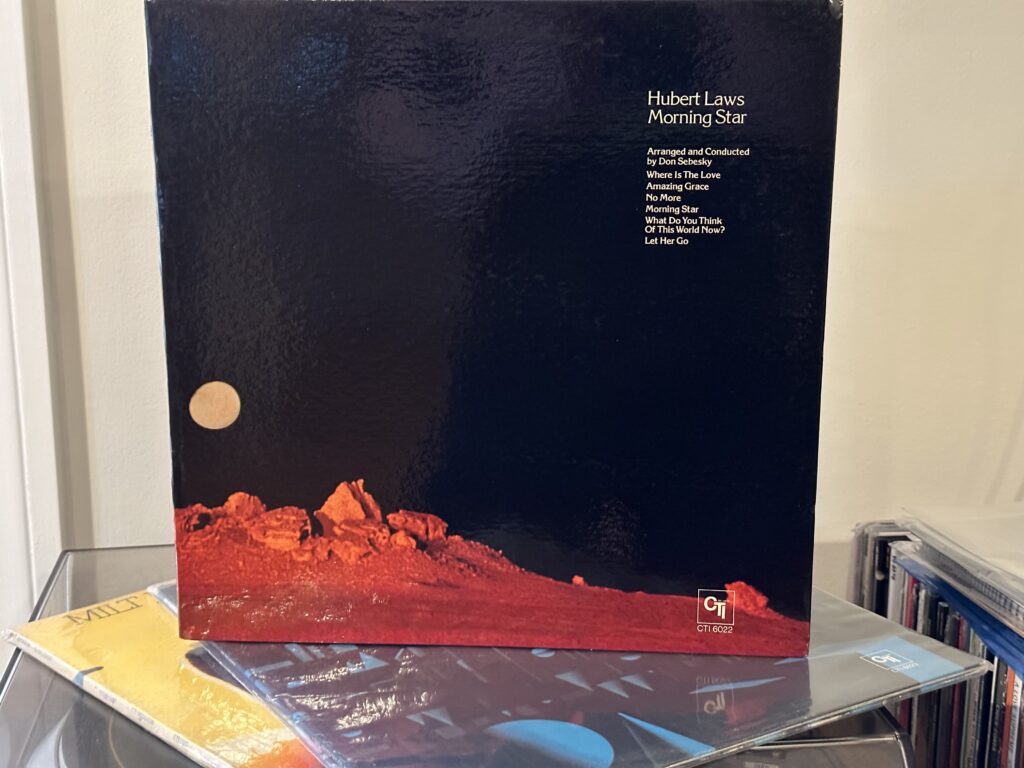 Album of the Week, June 3, 2023
As we've seen, Hubert Laws was a staple of the funky side of the CTI roster, appearing on several key recordings by Freddie Hubbard. In his own sessions as leader, though, the material leaned more toward the "Third Stream" and crossover side of the label's vibe. Both influences combined on his next album for the label, recorded at Rudy Van Gelder's studio in Englewood Cliffs, New Jersey in September and October 1972.
As with Afro Classic, Morning Star is most definitely not a small group recording. Don Sebesky's arrangements surround Laws and his flute with both a combo and a full orchestra. Bob James' electric piano features prominently alongside Dave Friedman on vibes, Billy Cobham on drums, and the indefatigable Ron Carter on bass. The orchestra, unlike on Laws' previous session, features a full brass section in addition to winds and strings.
The title cut, composed by Rodgers Grant, straddles between the combo and full orchestra worlds, with an orchestral opening that's almost reminiscent of some of Gil Evans' work on Miles Ahead. The orchestra yields to Laws and James for extended solos, with Jack Knitzer's bassoon and a full section of flutes providing unusual color in the accompaniment. When Laws recaps the melody at the end, he swoons into a different key altogether.
Laws' "Let Her Go" opens as a slow bluesy ballad, stated simply with James, then Carter and Cobham. The strings join partway through the second statement of the melody, threatening to crescendo into a full orchestral verse, but instead fall away as Bob James leads a piano trio interpretation of the tune. The orchestra remains present but on a leash throughout the arrangement. Laws' closing cadenza reminds us that despite his frequent crossovers into classical music, he still had a lot of blues in his core.
The great Roberta Flack/Donny Hathaway tune "Where is the Love?" was completely inescapable in 1972, and true to form, Creed Taylor was fast on the heels of its number five Billboard Hot 100 peak and number one Billboard R&B peak to release an instrumental version of the song. The orchestral chart at the beginning feels a little slow, almost woozy, but an ecstatic solo by Laws takes the tempo up as he climbs into the stratosphere. James' ensuing solo is accompanied by some Latin-inspired work on the cymbals by Cobham and glissandi in Ron Carter's bass. The whole thing tempers the ecstasy of the original song with a sort of stately grace.
Laws' "No More" sounds like a forgotten soul classic, especially when the backing vocals (including Laws' wife Eloise) enter on the chorus. The first verse is taken by the combo who treat it as a modal jazz excursion, but the second verse is all Laws and orchestra, and his rhythmic and harmonic imagination is on full display as he solos over the ensemble. As far as I know, "No More" was never a hit in its own right and never covered, but samples from it appear on a J. Cole track from 2013 and an electronic remix by producer Bellaire in 2017.
"Amazing Grace" opens with Laws in the low range of his instrument over a simple accompaniment by James. He takes the second verse in the middle range of the instrument with a bluesier tone, backed by the string orchestra, and the third verse at the highest range with a transparent shimmer of strings. An extended bridge steadily brings more orchestral voices to the fore under a steadily climbing flute solo, until Laws shifts keys and takes a solo descent. A pause, then James brings us back to the original key and Laws solos a verse over the low winds and strings. The arrangement ends as it began, with Laws' low flute slowly fading out. It's a showstopper.
Laws' "What Do You Think of This World Now?" ends the record on a decidedly more ambivalent note. Interpolating bits of "America the Beautiful" around a sung verse that bemoans "hatred, strife and racial hypocrisy," the orchestra plays the turmoil of the lyrics, slowly falling away to an obbligato by Carter, Cobham and James. Laws joins with the full band in a bluesier verse that gradually accelerates into the stratosphere, then fades behind a more hopeful verse "'bout a kingdom that will not die/Where people won't need to cry/When these problems have gone away/In Jehovah's day." Laws plays a coda with a bit of the bluesy melody, ending on a tone of resolution and hope.
Laws' Morning Star is almost a Rosetta Stone for the artistic threads that Creed Taylor's CTI Records stood for at this point, twenty-two releases into the label's history, a heady brew of funky jazz with strains of classical and pop woven through in tight arrangements. There were still other flavors at work in the label's alchemy, though, and we'll hear some of those in next week's selection when we check in again on Joe Farrell.
You can listen to the album here: