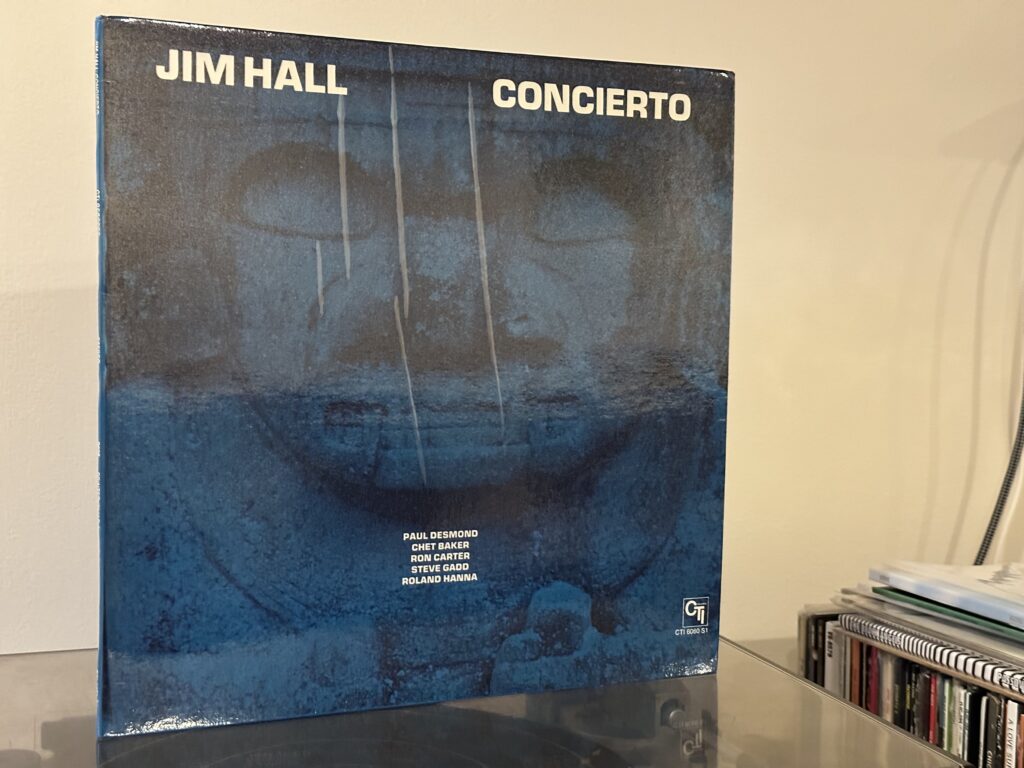 Album of the Day, August 26, 2023
We've met guitarist Jim Hall before, several times—once with Bill Evans in arguably his most famous recording, once with the Kronos Quartet years later revisiting that material—but never as a leader. He recorded a lot of sessions on small labels in the years leading up to today's 1975 session, but almost always in duos or as a sideman; his first proper solo album, after a 1957 record on Pacific Jazz, came in 1969 on tiny label MPS (which we'll hear another day), and another followed in 1972 on Milestone. But his best work came with collaborators, and for Concierto, his only solo headlining session on CTI Records, Creed Taylor surrounded him with some of the best: alto saxophonist Paul Desmond, trumpeter Chet Baker, pianist Roland Hanna, drummer Steve Gadd, and the redoubtable bassist Ron Carter. Don Sebesky is here as arranger, but the record is straight-ahead jazz untouched by orchestra, and that's just fine.
Hall's touch on the guitar is always lyrical and melodic even when he's navigating challenging chord changes, and that's in evidence on the opening track, "You'd Be So Nice to Come Home To." Hall opens the tune with Gadd, Hanna and Carter accompanying, then spins into a solo that exercises all the rhythmic flexibility and complexity in the tune before handing over to Paul Desmond. Desmond's trademark romanticism and restraint are both on display for his short solo, which takes a second verse with Chet Baker's accompaniment underneath. Baker then takes a proper straight-ahead solo, handing off to Roland Hanna, who takes his own run at the tune while playing with its rhythm and articulation. Carter has his own moment to stretch out, accompanied only by Hall, who picks up his pattern and enters into a duo seemingly simultaneously as Gadd enters on cymbals. At over seven minutes, the track isn't exactly short, but it feels like it flies by.
"Two's Blues" is what it says on the tin, a straight ahead blues that features Hall trading lines with Chet Baker. We haven't come across Baker before in these posts, but his legend precedes him: coming up at the same time as Miles and with (initially) a similar trumpet sound, he cut many "cool jazz" classics as both a trumpeter and a vocalist, but wasn't able to overcome his addiction to heroin. Here he's in fine form, providing a melodic solo, but Hall's solo is blistering, laying down a run of chords that take the song through multiple key changes, then switching it up to a pure melody again.
"The Answer is Yes" is played here as a straight ballad with a solo introduction by Hall, and then an opening in-tempo statement of the melody by Baker. Hall plays the bridge accompanied by Gadd and Carter, and keeps going into a solo that hands off to Hanna, who elegantly improvises around the melody. Baker's solo relaxes into the tune with Hall playing counterpoint underneath; Hall picks up the solo from there as in the opening, and the whole band plays out. At the ending, Baker plays the melody with Hall answering in a call-and-response form.
The first three tracks, as gorgeous as they are, are really only a warmup for the main event, Hall's take on Rodrigo's Concierto de Aranjuez, which occupies the entirety of Side B. The work was already famous thanks to Miles and Gil Evans' adaptation of it for trumpet and jazz orchestra in Sketches of Spain, but Rodrigo originally wrote it for the guitar, and Hall's "Concierto de Aranjuez" is a master lesson in blurring the lines between classical and jazz. The opening features Hall playing the melody on electric guitar and accompanying himself with an overdubbed Spanish guitar while Carter provides a sort of bass continuo. Baker and Desmond alternate measures in the initial statement of the melody, and Hall picks it up with Desmond playing counterpoint. And then comes the Sebesky pivot, as Carter lays down a bass line and the whole arrangement shifts into a samba-flavored adaptation of the melody. Here it works; there are no strings, no electric piano, just the core band backing up Hall's improvisations. Gadd is more active on this track, pushing the beat forward insistently beneath a sensitive solo by Desmond. Baker plays a melancholy solo that combines the lyricism of early 1960s Miles with some of the forthright assertiveness of Freddie Hubbard. Hanna's solo again plays with rhythm, making more of the samba influence in the arrangement and then shifting into a syncopation that Hall picks up in his next solo. The full band comes back in for a moment, then Hall (again on electric and Spanish guitar), Carter, and Gadd wrap up the track, lingering on the melancholy final notes.
The session for Concierto recorded an additional five(!) bonus tracks that are available on the CD and digital reissues of the album, but the four tracks on the original LP stand as classics of the straight-ahead side of CTI as well as standouts in Hall's recorded output. Always a gifted collaborator, he rarely performed the long-form arrangements typical of CTI, preferring more straightforward and intimate renditions. We'll hear one of his early records as leader another time; next week we'll hear from another guitarist and a completely different flavor of the CTI sound.
You can listen to the album here: