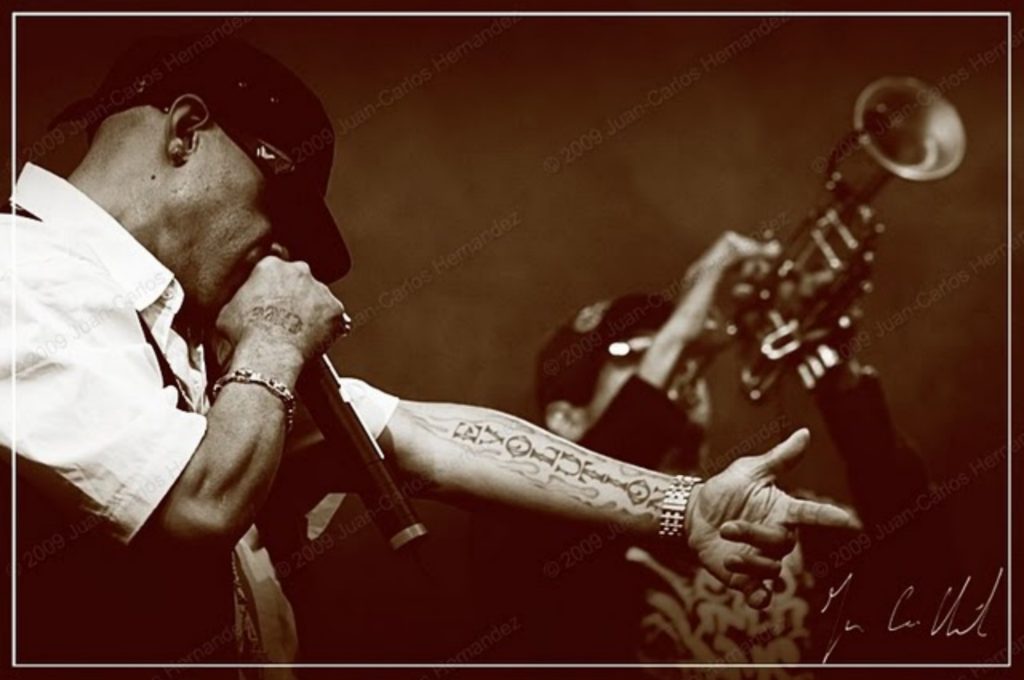 I had to do a presentation at work, and someone asked me the question I've been waiting for all my life: "What's your walk-on music?"
I answered, immediately, without hesitation: "Rebirth of Slick (Cool Like Dat)" by Digable Planets.
See, the jazz-inflected hip-hop that was being made in the early 1990s, when I was in college, was the first hip-hop that I learned to appreciate. Before then I was as casually racist about "rap music" as any kid raised on classic rock radio in the South. But then began my great awakening. I don't remember what the first thing was; probably Gangstarr's "Jazz Thing" on the Mo Better Blues soundtrack. Eventually it completely got under my skin, with the result that this was a playlist that was a complete joy to put together.
Sure, a lot of it is the Native Tongues groups — Jungle Brothers, De La Soul, Tribe Called Quest. There's also a lot of groups influenced by the scene, like Us3 (the Blue Note hosted group that actually played their samples), the Roots (of course), the crazy MF Doom + Madlib collaboration Madvillain; and latter day follower Kero One. And off to the side stands Gangstarr and Guru, who arrived at the combination of jazz and hip-hop through their own path.
There's also a lot of actual jazz in these tracks, whether sampled (Art Blakey and the Jazz Messengers on "Rebirth of Slick", Lou Donaldson on "Le Bien, Le Mal", Roy Ayers on "Borough Check", Grant Green on "Vibes and Stuff," Bill Evans on "Raid", Jimmy McGriff on "God Lives Through") or live: Ron Carter playing along with MC Solaar on "Un Ange en Danger" and Roy Ayers (again!) playing with the Roots on "Proceed II." Both of the latter are on the fantastic compilation Red Hot and Cool, which I can't recommend highly enough, especially for the tracks from the Pharcyde and the Last Poets, neither of which I can play on the radio.
Wherever the music comes from, that funky music will drive us til the dawn. Let's go! Let's boogaloo until…
Please do not attempt to adjust your set. There is nothing wrong. We have taken control as to bring you this special show, and we will return it to you as soon as you are groovy.
Rebirth of Slick (Cool Like Dat)

–

Digable Planets

(

Reachin' (A New Refutation of Time & Space)

)

Proceed II

–

The Roots with Roy Ayers

(

Stolen Moments: Red Hot + Cool

)

Manifest (Alternate)

–

Gang Starr

(

No More Mr. Nice Guy

)

Because I Got It Like That

–

Jungle Brothers

(

Straight Out the Jungle

)

I Got It Goin' On

–

Us3

(

Hand On The Torch

)

Plug Tunin (Last Chance To Comprehend)

–

De La Soul

(

3 Feet High And Rising

)

Kool Accordin' 2 a Jungle Brother

–

Jungle Brothers

(

Done By the Forces of Nature

)

Vibes And Stuff

–

A Tribe Called Quest

(

The Low End Theory

)

Borough Check

–

Digable Planets

(

Blowout Comb

)

Un Ange En Danger

–

MC Solaar with Ron Carter

(

Stolen Moments: Red Hot + Cool

)

Raid (Feat. MED)

–

Madvillain

(

Madvillainy

)

Give Thanks (feat. Niamaj)

–

Kero One

(

Windmills of the Soul

)

God Lives Through

–

A Tribe Called Quest

(

Midnight Marauders

)

Le Bien, Le Mal

–

Guru Featuring Mc Solaar

(

Jazzmatazz Volume 1

)