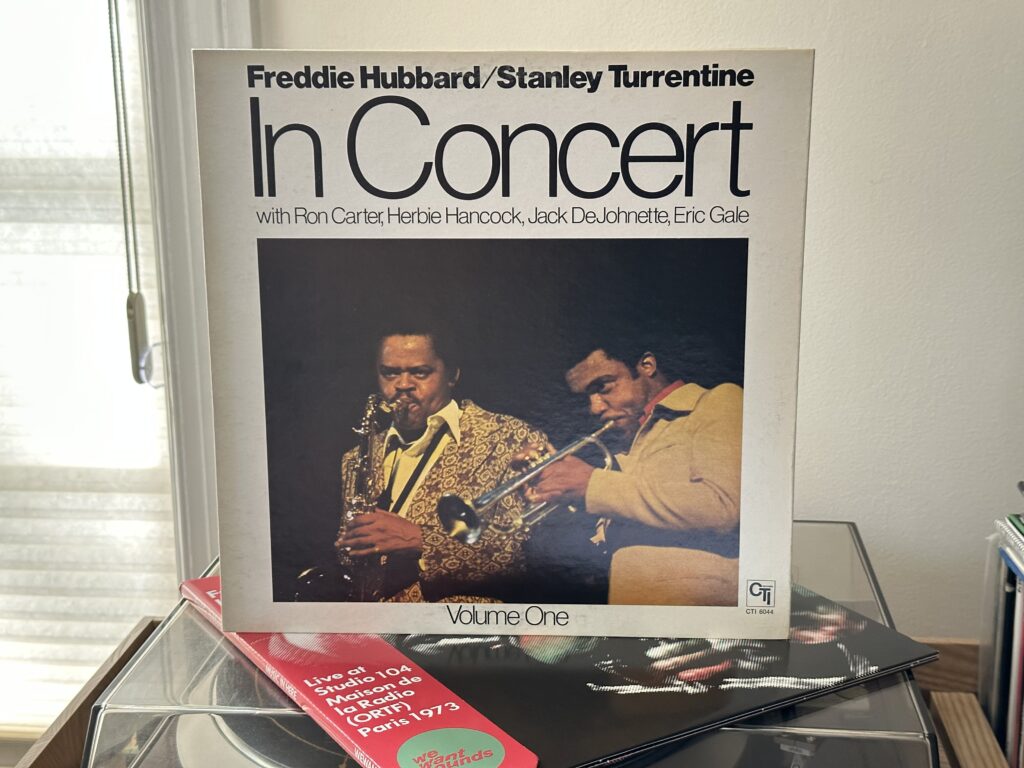 Album of the Week, July 1, 2023
This week's album is taken in chronological order of recording rather than release; there were a couple of CTI recordings that were released between Blues Farm and In Concert, Vol. 1 that I'll come back and cover later. But this seemed to be a good time to start to tell the story of how Freddie Hubbard left CTI, and what happened after.
It's only a slight exaggeration to call the early 1970s the peak of Hubbard's recording career. After all, he had had some very successful albums on Blue Note and Impulse in the 1960s. But his fame after Red Clay, Straight Life, First Light and Sky Dive was at its highest point. Sky Dive actually charted on the Billboard 200 for seven weeks; the fact that it peaked at #165 is beside the point. (Eight other Hubbard albums hit the charts following Sky Dive, proving the point that nothing succeeds like success.) And so early 1973 found him on tour with a constellation of CTI stalwarts.
Co-headlining was Stanley Turrentine, who followed up Sugar with Gilberto with Turrentine and Salt Song. On guitar was Eric Gale, who as a teenager had visited John Coltrane at his house and jammed with the titan, and who had recorded with Yusef Lateef, David "Fathead" Newman, Mongo Santamaria, Johnny "Hammond" Smith, Grover Washington Jr., and both Hubbard and Turrentine at different points—and who would go on to perform on Roberta Flack's Killing Me Softly. The rest of the band featured Herbie Hancock, Ron Carter, and Jack DeJohnette, who collectively at this point might have been the most astonishing rhythm section working in jazz.
The performances on In Concert Vol 1 were recorded on March 3, 1974 at the Chicago Opera House, and the following night at the Ford Auditorium in Detroit. And they were fiery. Side one of the record is given over entirely to "Povo," but where the album version had a spoken word intro from Airto, here we get just some prime Herbie Hancock electric piano before the groove is introduced, this time with Gale on guitar deepening the groove atop Carter and DeJohnette. (I should note that DeJohnette's presence in Cobham's stead did not make anything less funky, but the sonic palette employed by the drums is broader.) Hancock's piano, run through a pedal that's distorting the sound a bit, is prominent in the mix, and it's a little hard to hear Carter. But what you can hear is that everyone is playing their asses off. Freddie's solo takes us all over the place sonically, and it's over six minutes into the track before Turrentine arrives. The first few verses are taken in line with the funk-soul leanings of the overall track, but beginning about a minute into his solo we begin to hear some influences from Coltrane's chromaticism and sonic palette.
Turrentine takes his solo into the stratosphere, following Hubbard's lead, but then brings the sax down into its growling low range as well. The whole thing demonstrates convincingly how he earned his co-headlining place on the album. Herbie Hancock's solo sits solidly within his soulful earlier work, with at first only a few hints of the "out-there" sound of his Mwandishi band or of the even funkier eruptions of the Headhunters band that he would debut later that year. And yet they're there in abundance, in the later moments of the track, as he takes the music into a different meter against the steady groove. Carter's solo, taken in the higher register of his bass's sound, plays with the steady pattern of the groove, and finds a deep melody within it. The latter part of his solo has some decoration at the edges from Gale's guitar and Hancock's piano and becomes a pure moment of funk. The whole thing is a deliciously stretched out nineteen minutes of the tightest possible jazz-funk sound imaginable.
"Gibraltar" is a tune we haven't reviewed in album form; it opens Turrentine's classic CTI album Salt Song, his second after Sugar. The album version featured the full-on Don Sebesky sound, but the live version of the song here opens with a ferocious Jack DeJohnette solo that transitions out of a set of flourishes across his kit into a repeated pattern on the bell. Carter picks up the bassline and the band is off to the races. Hubbard's solo emerges seamlessly from the texture of the opening choruses but effectively builds a kind of sonic superiority by virtue of higher pitch and his trademarked rapid articulation. He then drops back, trading shorter rhythmic passages with Hancock before reclaiming the stratosphere once more. He then slowly descends into a more normal tessitura, trading thoughts with the saxophone before finally stepping back.
Turrentine stretches into the tune, dropping a little "It Ain't Necessarily So" into his solo at around the eight-minute mark and then transitioning out through a quotation from "A Love Supreme." Hancock's solo skews slightly more abstract on this track than it did on "Povo," embracing the series of chord changes at the heart of the chorus and elaborating them. When DeJohnette comes in he maintains the energy of his initial flourishes, playing polyrhythmic patterns in the tom and snare before engaging an extended solo on the cymbals. The horns return to the theme with four minutes remaining, and play out two verses before segueing into an extended group improvisation in which the horns play against each other and Hancock. It's a delightful meltdown, ending with Hancock's Echoplexed Fender disappearing into outer space and the horns bottoming out into a low growl.
In Concert Volume One arrived at an interesting time in CTI Records' history, as the different ingredients of the sound—solid jazz, orchestral arrangements, soul-funk influences, pop covers—were beginning to swirl together into a formula. In this context, this album stands out as a sort of a proud throwback to straight-ahead live jazz playing, supported by one of the finest bands Freddie Hubbard ever had. Next week we'll pause our CTI review to check out a recently released recording that documents another episode on Hubbard's tour in 1973, before we dive back into the archives of the label that Creed Taylor built.