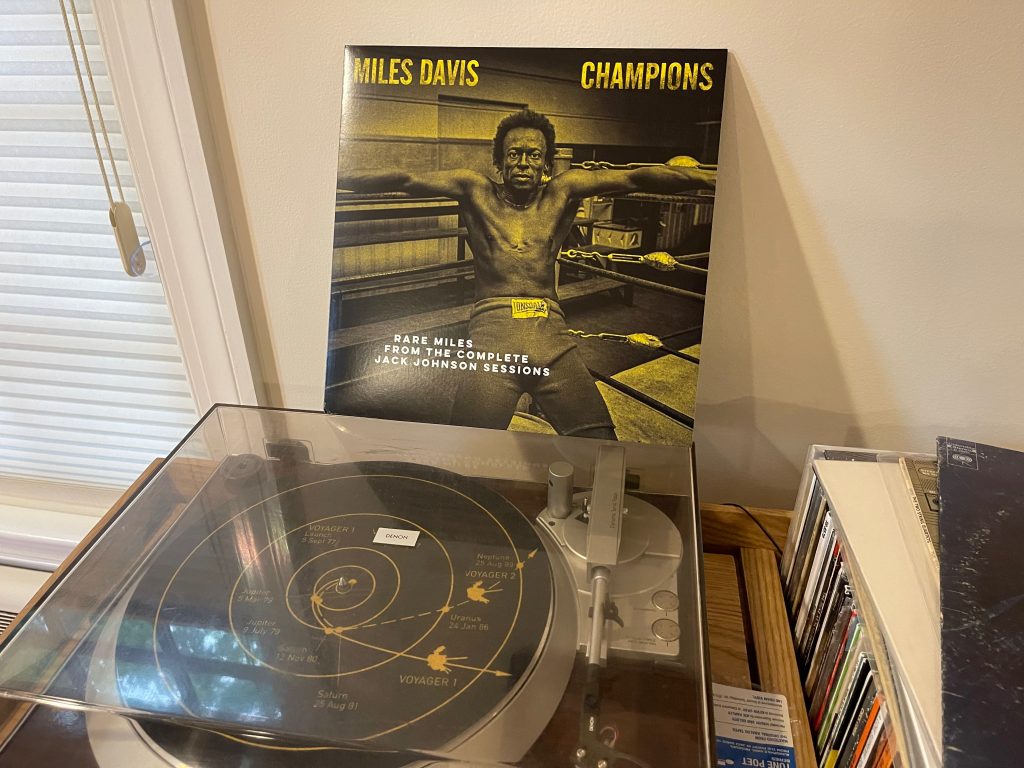 Album of the Week, October 1, 2022
As a jazz fan, for years I largely wrote off Miles after Bitches Brew. Everything before was transcendent; what came after was … well, something else. Granted, there were moments that captured my curiosity, like the incredible "Sivad" from Live Evil, but I couldn't make myself dig into them. I almost ended my series on Miles and his sidemen with Weather Report.
But there was a part of me that said, go on. That reminded me how blown away I was by "He Loved Him Madly" and by Big Fun. That said, we shouldn't deny the funk. So today we're going to listen to a recent record that illuminates some of what Miles got up to in the early 1970s.
Champions is an archival release, of course, like every other "new" Miles record, but it comes from sessions that produced an album, Jack Johnson, that famed critic Robert Christgau called his favorite recording from Miles since Kind of Blue and Milestones. Miles assembled many of his best players in the studio, many of whom are familiar names to us—Herbie Hancock, Chick Corea, Wayne Shorter, John McLaughlin, Jack DeJohnette, Dave Holland, Airto—but also new names, including reed players Bennie Maupin (here on bass clarinet) and Steve Grossman (soprano sax), drummers Billy Cobham and Lenny White, bassists Gene Perla and Mike Henderson, the latter fresh off a stint with Stevie Wonder, and Keith Jarrett, here on the electric piano. But though many of the players overlapped with In a Silent Way (among other records), the style was much more straight-ahead funk than the mysterious jazz of that album.
The shift was deliberate. In 1969 Miles told a Rolling Stone reviewer, "I could put together the greatest rock 'n' roll band you ever heard," and if you listen through that lens the affinity of this record for the chugging sound of early Funkadelic and late 1960s counterculture becomes apparent. The connection to rhythm was also deliberate, making a political point. Miles was uninterested in making art music; he wanted to make Black music for Black people. And he wanted to play loud. Chick Corea has said that during this period Miles was in the greatest shape of his life: clean, sober, exercising — in fact, he was working out in the gym with a boxing trainer every day, as he worked on music for this documentary on the great African American boxer Jack Johnson.
All of this comes together in the music on Champions, which is taken from the sessions that led up to the released Jack Johnson album (and which also appears on Columbia's massive The Complete Jack Johnson box set). "Duran (Take 4)" is an extended groove over a monster rhythm section, with Miles' trumpet wailing over a rubbery descending bass line and John McLaughlin's guitar filling in the blank spaces. The overall rhythm is pretty foursquare, but where Miles and company go around it is where the magic is.
"That's some raunchy sh*t, y'all," Miles says as the band transitions into "Sugar Ray." Here the rhythm is bent, and the harmonic progressions bend to match, as Miles' trumpet bends into the adjacent major keys for a patch of the chorus. The effect is simultaneously disorienting and intoxicating, the latter especially when Wayne Shorter's soprano sax arrives to soar over the groove.
"Johnny Bratton (Take 4)" is the hardest rocking of the tunes on the album, and possibly the most egalitarian in terms of group improvisation; both are largely due to Jack DeJohnette's monster drumming and Steve Grossman's extended soprano sax solo, which steps a little to the side of Shorter's mysticism and into something closer to a blend of Pharoah Sanders and Raphael Ravenscroft (of "Baker Street" fame). Miles' solo sketches a sizzling ascendant line above the group, contributing a bluer note above the 1-5-4-diminished 3rd chords that form the main progression of the song. John McLaughlin's guitar solo actually switches into a different key entirely for the first part of his solo, dislocating the harmony in unexpected ways. It's a workout. Miles returns, bringing the temperature down to a simmer punctuated by more unexpected guitar chords from McLaughlin and a fade-out.
"Ali (Take 3)" and "Ali (Take 4)" are two different takes on the same song, with the melody stated in the bass by Gene Perla; this was Perla's only appearance with Miles, though he would go on to a long association with Elvin Jones and would later form a group with Don Alias and Steve Grossman. Take 3 opens up like a gutbucket funk tune that wouldn't be out of place on Free Your Mind…, with mind-blowing distortion in the organ courtesy of Herbie Hancock, playing alongside Keith Jarrett's relatively more conventional electric piano line. The solitary solo comes from the trumpet, with a tight doubling in the organ. "Take 4" is an entirely different thing, and is almost like a dub reggae version of the same tune. Opening with only the bass line, and interjections from John McLaughlin with barely audible sounds on the pickups of his guitar and Airto on the berimbau, the band improvises bits of the opening with barely audible coaching from Miles in the background ("Why you play that there?" "Now play it loud!"). When the band comes in, it's with a nasty organ line over a restrained funk drum courtesy of Steve Grossman. The band was edging closer to the mindbending sounds that would elsewhere appear on tunes like "Honky Tonk."
The compilation closes out with "Right Off (Take 11)," with a smaller, tighter group playing through a scorching funk instrumental, anchored by Hancock on organ, Henderson on bass, and Cobham on drums. Sounding a bit like a set-closing outro, the tune notably does not feature Miles, with the lead horn part instead going to Grossman. It's probably the least essential of the tunes collected here, but is still a seriously groovy work, and a good way to close out the set.
Miles had come a long way from the days of Dig, and we leave him here, primarily because my record collection doesn't have any of his later work. But I hope that as we've undertaken this survey of records from Miles and his sidemen throughout the past 33 weeks that you've found something new to dig into. I'll continue to write this weekly review—I'm having way too much fun to give up now!—but we'll be digging into some entirely different vinyl next week.
You can listen to the album here: