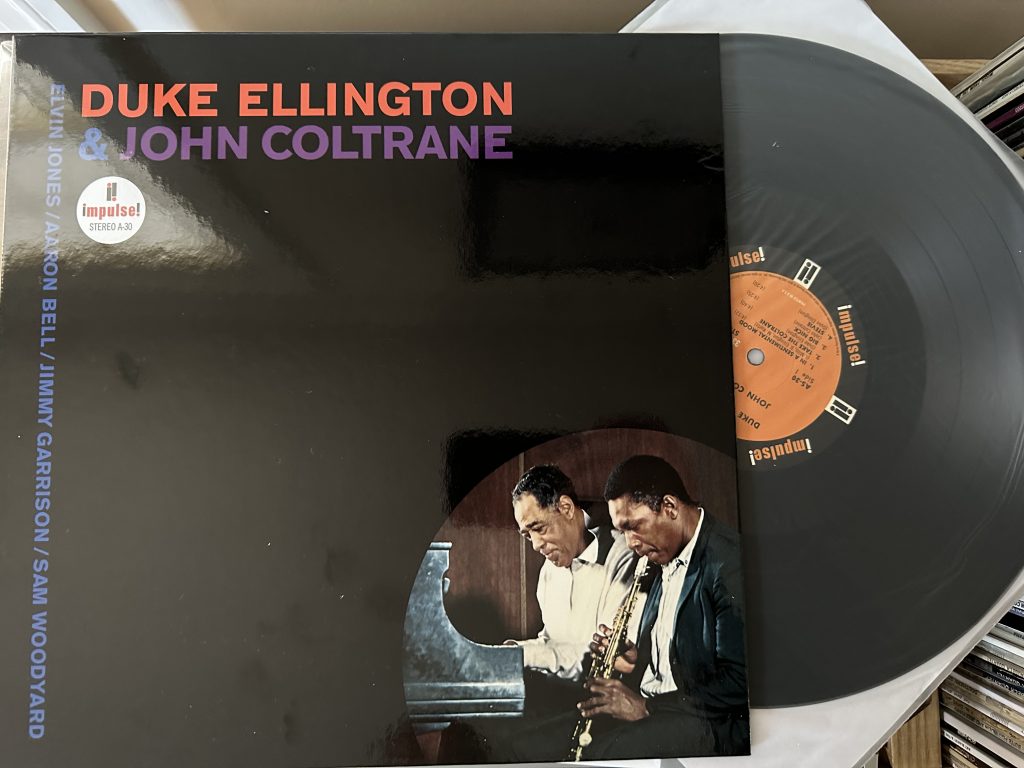 Album of the Week, November 19, 2022
Duke Ellington's run of albums for Columbia Records in the mid to late 1950s was spectacular. In addition to Masterpieces by Ellington, Ellington at Newport, Black, Brown and Beige, and Ellington Indigos, the run also included such classics as Ellington Uptown, A Drum is a Woman, Such Sweet Thunder, Jazz Party (featuring the debut of the Billy Strayhorn tune "U.M.M.G."), and the soundtrack to Anatomy of a Murder. 
However, by 1962 his contract with Columbia had come to an end, and in a way this ushered in an even more significant period in Ellington's development, as he began to record sessions for other labels with an array of artists. From this period came his great collaboration with Max Roach and Charles Mingus, Money Jungle, and two collaboration albums on Impulse! Records, Duke Ellington Meets Coleman Hawkins and Duke Ellington & John Coltrane.
It's worth pausing for a second to acknowledge that we have stepped into the timeline of Impulse! Records. One of the undisputedly great jazz labels alongside Blue Note and Verve (and later, CTI), Impulse! was established in 1960 by producer Creed Taylor, who may be the most significant contribution to jazz music to have come from Pearlsburg, Virginia. At Bethlehem Records, his first recording, a session backing vocalist Chris Connors with Ellis Larkins' piano trio, earned him the position of head of A&R for the label. He parlayed this brief but successful stint into a role at ABC-Paramount, where he created Impulse! as a subsidiary label with the tagline "The New Wave in Jazz." Creating immediate success with records by Gil Evans, Kai Winding, Ray Charles, Oliver Nelson and others, Taylor's lasting accomplishment was to sign John Coltrane to the label in 1960. Due to Coltrane's long association with the label, it became known as "The House That Trane Built." Taylor left Impulse! for Verve in 1961, leaving the session Coltrane recorded with Ellington to Trane's long-time producer Bob Thiele and engineer Rudy Van Gelder. (We'll see Creed Taylor again.)
Ellington did not bring along his orchestra, or even his usual horn players, to the session. Without a regular record contract, he could not keep the band together indefinitely. Instead, bringing drummer Sam Woodyard and bassist Aaron Bell, he met Coltrane on more or less equal footing.
This recording found Coltrane at an interesting point in his development. While still performing with the Miles Davis Sextet, he had recorded music with an increasingly avant-garde flavor, perhaps culminating in the residency at the Village Vanguard with Eric Dolphy, Reggie Workman, Elvin Jones and McCoy Tyner that saw a release as Impressions. Critics were bitterly divided over the work, misunderstanding Trane's searching approach, and 1962 apparently brought some retrenchment, with a greater focus on ballads, but no lack of innovation in the playing. Trane had just stabilized the membership in his own Great Quartet, with Jimmy Garrison replacing Workman on bass; Garrison and Jones join Coltrane on this session, and indeed support Ellington on all but two of the numbers.
As with Money Jungle, Ellington paired with the new players brings a sense of fresh spontaneity and depth to the album, many of the selections on which are familiar Ellington standards. The opener, "In a Sentimental Mood," could not be performed more delicately by the band, with Jones' muscular but nuanced hand at the drums joining Aaron Bell on bass. Trane's melodic playing seems to search through the key changes of the tune, but never goes "out" in the way some of his earlier work stretches beyond space and time. Instead, he seems anchored to our world through the combination of Ellington's gentle arpeggiated introduction and Jones and Bell's steady, subtle pulse.
"Take the Coltrane" is one in a series of Ellington compositions devoted to musicians with whom he collaborated, and it's a remarkable achievement, highlighting both Trane's arpeggiated "sheets of sound" and a slyly modal melody. Elvin Jones does unnaturally wonderful things on the hi-hat throughout, and Trane's solo is of a piece with the work he was recording on his own Impulse! recordings. This recording features both Bell and Garrison on bass, and both plus Jones support Trane under his solo while Ellington steps aside. When Duke returns, he slyly drops in a little "Ooh Pa Pa Da" as though in reference to the bop origins of the tune. It's genuinely fun.
"Big Nick," the sole Coltrane original on the record, is a fun, loping melody that takes the harmonic ideas of "Giant Steps" and swings them, creating a slow blues that rides on Jimmy Garrison's loping bass line. Coltrane's solo takes off for something like the outer stratosphere but never loses the blues progression, so that when he yields the floor to Duke his more straightforward take on the blues feels like a continuation of the conversation, rather than a rebuke. But it really all comes back to the melody, one of the quirkiest and most fun that Coltrane authored.
"Stevie" carries on the swing but in a more Ellingtonian harmonic language, swerving from a minor blues into a major key. His introductory choruses veer through at least three different modes before returning to the original minor. Trane mostly stays within the first minor mode for his solo, which carries flavors of "Impressions" in its blistering runs but never goes too far outside. Ellington's initial take on the melody stays cool in contrast to Coltrane's heat, finishing with a low tolling note to close out the first side.
"My Little Brown Book" is one of the most gorgeous ballads on the record. The Ellington introduction, with Woodyard and Bell backing, revisits the feeling of "In a Sentimental Mood," but when Coltrane enters on the melody of this Strayhorn composition, we're suddenly swaying to a half heard melody on an empty dance floor somewhere near midnight. This is Trane at his most romantic, with echoes of his performance of "I'll Wait and Pray" from Coltrane Jazz, and the rest of the band is there for him, with only small ripples from Ellington disturbing the serenity of the track.
"Angelica" is, for me, the standout track here. Just listen to that opening beat from Elvin Jones, and the bounce that carries over to Ellington's opening choruses, backed up by a jubilant Garrison. Coltrane's entry keeps the swing going, and he plays it pretty safe for the first few choruses. Then on that fourth, after Ellington drops out and it's just him and the rhythm, he cuts loose, with sheets of sound swirling around the beat, never losing the swing but somehow taking a step left through a door into, well, a John Coltrane record. After that chorus, he brings it back to the melody, and you can hear Ellington recalibrating his approach before he re-enters. It sums up so much about the connection between Coltrane's approach and the harmonic and rhythmic innovations that had come before him, and is a complete blast to listen to. And maybe even dance: I want Elvin Jones playing that beat for my entry music as I stroll, sashay and jitterbug into heaven.
"The Feeling of Jazz" brings us back to a slow blues to close out the album. True to its title, it bridges both Trane's searching quality and Ellington's formalism to give us something that feels like a little of both worlds. Trane's solo continues throughout most of the song; we are reminded of the time he told Miles, the latter having asked why he played such a long solo, that "it took that long to get it all in." At the end, Trane finally steps back from the microphone and Ellington and his rhythm section play through the fade-out, the elder titan getting the last word.
In the liner notes to the album, Trane famously remarked, "I would have liked to have worked over all those numbers again, but then I guess the performances wouldn't have had the same spontaneity." The whole session was recorded in a single day on September 26, 1962 at Rudy Van Gelder's studio, just eight days after the recording of "Up 'Gainst the Wall" that rounds out Impressions. But the album speaks for itself, the meeting of two giants and of two sympathetic musicians who bring their separate conceptions of the music into a unified whole. It remains as spontaneous and fresh for me today as when I first heard it almost thirty years ago.
You can listen to the album here: