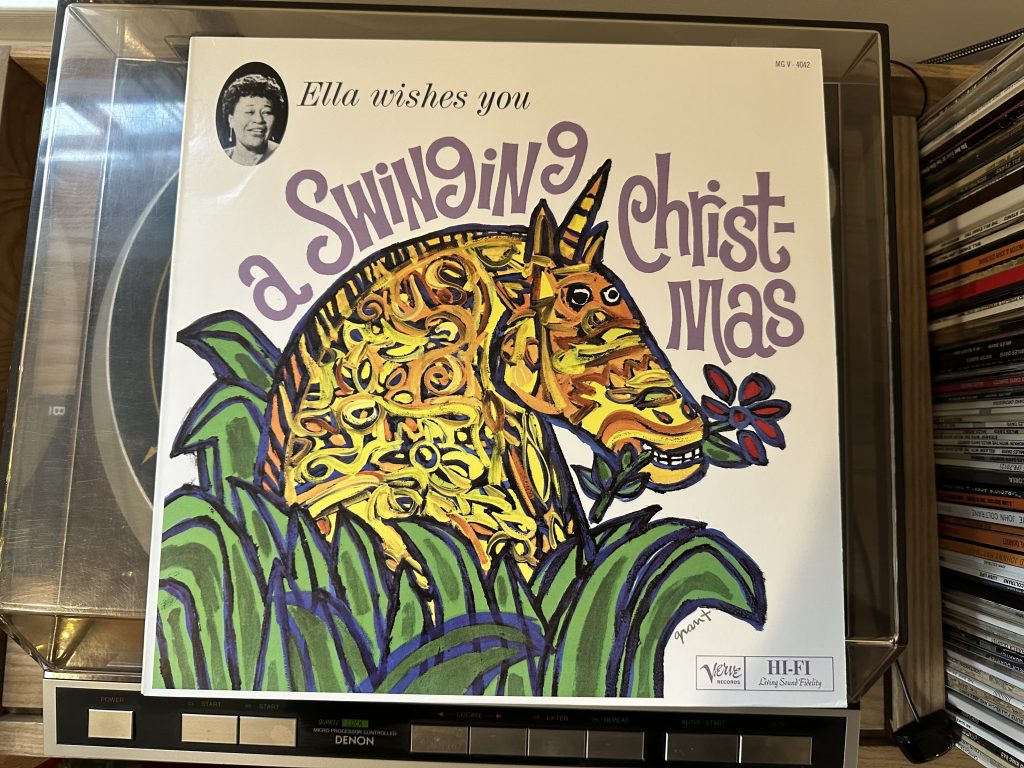 Album of the Week, December 31, 2022
Every family has their holiday musical traditions. Many play the Vince Guaraldi A Charlie Brown Christmas album (we do, a lot). Some might play the Partridge Family Christmas album (we don't, at all). But a tradition that Lisa and I discovered in the late 1990s, when it was reissued on CD, was Ella Fitzgerald's first Christmas album.
I was thinking the other day about why jazz Christmas albums work so well. My conclusion: there's a whole lot of Christmas songs that are really just Great American Songbook numbers, most of them from the same writers as those august luminaries. "Santa Claus is Coming to Town"? Fred Coots and Haven Gillespie, who also gave us "You Go to My Head." "Have Yourself a Merry Little Christmas"? Hugh Martin and Ralph Blane, of "The Trolley Song" (both from the musical Meet Me in St. Louis). "What Are You Doing New Years' Eve?" is a Frank Loesser song, who also wrote "Slow Boat to China," "Spring Will Be a Little Late This Year," and the songs for the Hans Christian Anderson musical, among many others. And that's just picking three tracks from the first side of this album…
The 1960 recording session for Ella Wishes You a Swinging Christmas came at a propitious time in Ella's career. As we noted in reviewing Ella and Duke at the Côte D'Azur, she was in the middle of recording her Song Book series, each release of which celebrated a particular composer of the Great American Songbook. In 1960, she had just released the George and Ira Gershwin volume the year before, which followed the Irving Berlin volume from 1958, the Duke Ellington volume in 1957, and both the Rodgers and Hart and Cole Porter volumes in 1956. Accordingly, the selection here features six numbers from Song Book composers (side 1 ends with "Have Yourself a Merry Little Christmas," by Bob Wells with Mel Tormé; on side 2, there's also Sammy Cahn and Jule Styne's "Let It Snow! Let It Snow! Let It Snow!" and Irving Berlin's "White Christmas"). But there are also numbers from other sources, including Leroy Anderson's great "Sleigh Ride," Johnny Marks' "Rudolph the Red Nosed Reindeer" (surely the most durable 20th century song based on a Montgomery Wards advertising mascot!), "Frosty the Snowman," Felix Bernard and Richard B. Smith's "Winter Wonderland," and even Count Basie's "Good Morning Blues," which here receives its definitive 20th century performance. (The 21st century crown for this number might go to Cécile McLorin Salvant with the Lincoln Center Jazz Orchestra.)
And then there's "Jingle Bells." It may be the oldest tune on the album, but Ella and arranger/conductor Frank DeVol give J. S. Pierpont's most famous contribution a mighty workout. This is the one tune on the recording where Ella really lets fly with the jazz swing vocals she is most famous for, culminating with the absolutely bonkers declaration at the end, "I'm just crazy 'bout horses!" Us too, Ella.
The arrangements throughout veer between relaxed and exuberant, swinging hard throughout, a characteristic shared by Ella's songbook recordings. In fact, it's not too much of a stretch to dub this a "missing" songbook recording, as it fits right in. It's an absolute joy and one worth adding to your record collection.
Listen…