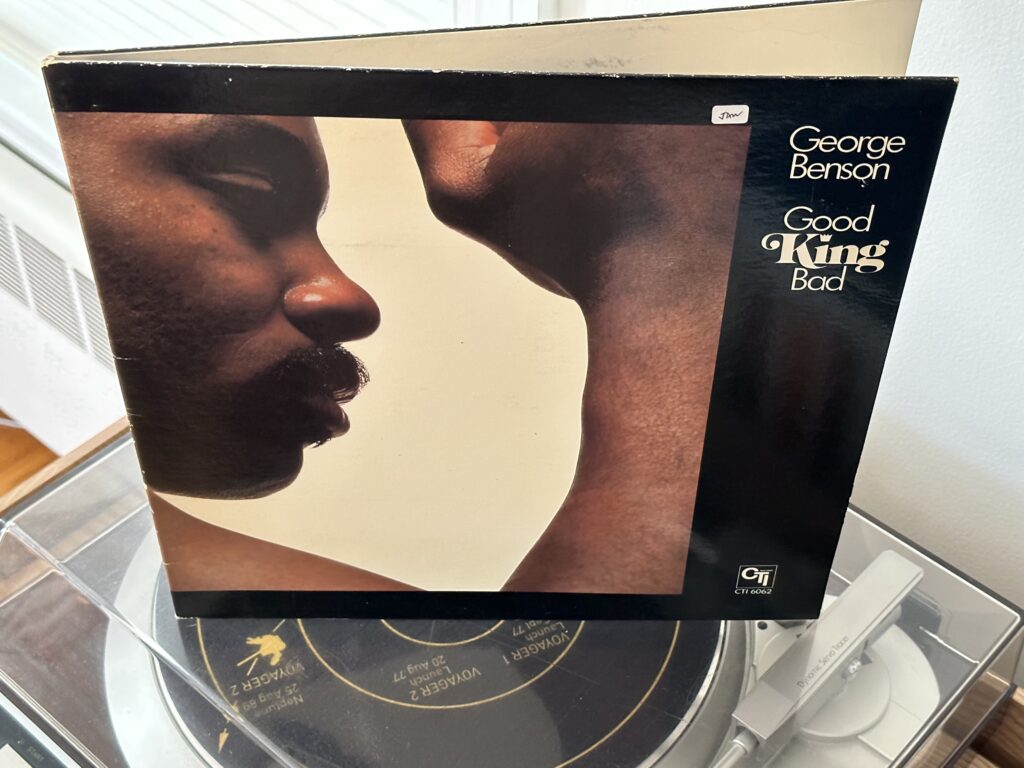 Album of the Week, September 2, 2023
When I was growing up in the bucolic suburbs of Newport News, Virginia, listening to my parents' music on the kitchen radio and in our car, the radio was generally on one of two stations. One, WGH, was the local independent classical radio station (which later moved its programming to WHRO). The other, WFOG, was the "easy listening" one. I didn't mind it at first, but in time I grew to mock it, hearing the uncomplicated, dumbed-down orchestral arrangements of pop standards everywhere—dentist's offices, malls, grocery stores. When I first heard "smooth jazz," courtesy of Kenny G, I knew exactly where it had come from.
And when I started listening to CTI Records, I thought that was what I'd be getting, thanks to the label's reputation for heavy string arrangements and jazz-funk hybridization. (I've had record collectors proudly tell me they avoid the label entirely for this reason.) As this series has hopefully shown, I was almost completely wrong.
But then there's George Benson and Good King Bad. A technically brilliant player with a great melodic imagination, on this record he surrounded himself with a small army of studio musicians and smothered much of the material in major key, uncomplicated string arrangements. (I don't know how to describe the unique tonality of so much of the smooth jazz adjacent recordings that I've heard except to observe that they are almost always in major keys and almost never use modes or complex modulations. But I always imagine some of the blissful jazz announcers I heard in Washington DC, who never seemed to let a cloud cross their minds and who seemed to always be speaking through a permanent smile, when I hear it.) The good news is that alongside the smooth jazz there is a fair amount of jazz-funk as well, in a way that lives up to Benson's considerable prowess with the guitar.
About that small army: the musicians here are no slouches. There's David Sanborn, Michael and Randy Brecker, and James Brown stalwart Fred Wesley, for starters, as well as Joe Farrell, Roland Hanna, Ronnie Foster, Eric Gale, and Steve Gadd, along with a bunch of other horn and string players. But there's not a "band" to speak of as each of the tracks features a different line-up.
"Theme from Good King Bad" is not a soundtrack, just the opening number. Written by arranger David Matthews (no relation), the uncomplicated pop number has not an ounce of swing in the chart, just straight ahead seventies jazz rock with horns and Eric Gale's insistent chukka chukka on the rhythm guitar.. The funk in the performance is brought by Benson, whose guitar redeems the track with his usual precise yet soulful melody sense, as well as a sense of rhythm that swings all over the precise backing beats of the chart. Listening to the track, recorded in 1975, is a reminder that disco was already here, just not evenly distributed yet.
Matthews also authored "One Rock Don't Make No Boulder," which plays with the smooth formula by bringing in some crunchy minor chord progressions. Benson's solo finds some grime and soul in the chart, which swings a bit more than in the first track, and the clarinet solo by Don Grolnick is a notable contribution to the overall mood. It's a more complex sound that hearkens back to jazz-funk works like Farrell's Penny Arcade.
"Em" continues in this vein. A slightly blues-inflected jazz-funk track written by Philip Namanworth, it edges even closer to the disco line. Benson's guitar work is unremarkable here.
Vince Guaraldi's classic "Cast Your Fate To The Wind" is a different story. Here remade in a technicolor arrangement that brings strings around the edges of the tune, Benson is otherwise left largely to his own devices over the backing group, and he both renders the wistful side of Guaraldi's melody as well as bringing out a hint of the bravado lurking beneath. Joe Farrell's flute is a lovely complement to the track, and taking the second solo he brings a celebratory cadence to the music. The only misstep in the arrangement is an unnecessary key change in the bridge, but that is quickly rectified. The two soloists play in dialogue to close out the track.
Matthews' "Siberian Workout" again seeks to shed the major-key stereotype, centering its composition in a minor mode instead. The same chicken-scratch guitar, horns and flute apply here; it's probably the least distinguished track on the disk. "Shell Of A Man," on the other hand, is a standout. Written by Eugene McDaniels, it's an uptempo ballad enlivened by Dave Friedman's vibes and Ronnie Foster's keyboards. A tinge of blues in the chorus keeps things moving along. The coda, which swings into a fade-out, sees Benson take flight, exploring some of the changes of the set. It's a seriously interesting track.
I wanted to dislike this album on the strength of the smooth jazz overtones, especially in the first track, but there are enough nuggets of gold in it to earn a recommendation from me. The more commercial sound was no mistake, however; it marked a period where Creed Taylor's label was consciously seeking more and more pop-oriented sounds in the vain hopes of recapturing the chart successes they had earlier in the 1970s. We have one more record in the CTI series for this column, and it goes even further afield, with some players we haven't heard from yet … but who may surprise you. That's coming up next time.
You can listen to this week's album here: