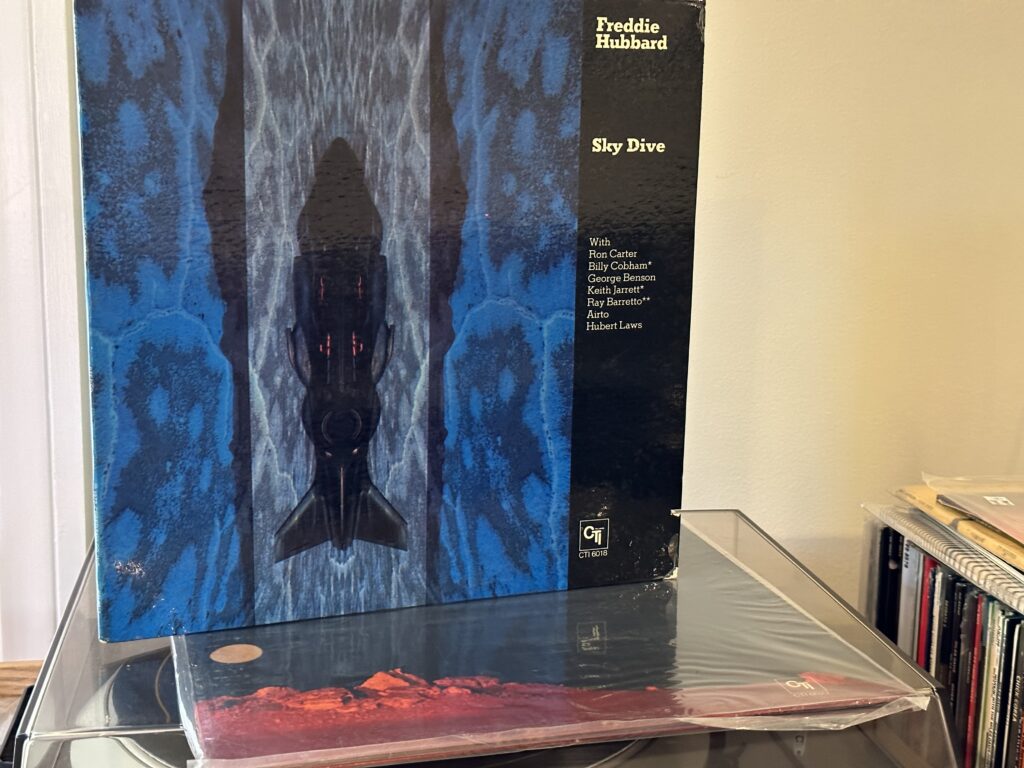 Album of the Week, May 27, 2023
Sometimes when a streak is hot, you just keep riding it. That's what happened with Freddie Hubbard in the early 1970s and his records on CTI. We've already heard three first class records in the series—Red Clay, Straight Life, and First Light rank among some of the finest records from the early 1970s. It turns out that Freddie had one more at this level in him.
Some changes were afoot in the personnel. By this time in 1972, Herbie Hancock was touring with his Mwandishi group, promoting extraordinary odysseys in jazz sound (that hopefully we'll review one day), so Keith Jarrett (no relation, as far as we know) joined in on piano. And Billy Cobham was in for Jack DeJohnette on drums, hinting at the jazz fusion sound that is featured on the album. Otherwise, most of the rest of the crew from First Light was on board, including Don Sebesky, who continued as arranger. The conception of the album is a little different from First Light, though; where the earlier album ran for five tracks, foregrounded strings and woodwinds, and embraced pop and classical crossover sounds, this is a classic Hubbard record with four tracks, with a mix of originals, standards and a little period pop to round things out.
"Povo" is a classic Freddie Hubbard fusion blues that sounds like it was filtered through early Funkadelic—complete with a spoken word narration at the beginning that seems to be in a mix of Portuguese and English. Ron Carter's bass groove is the heartbeat of this version, under a superior solo from Hubbard. Benson follows with an assertive statement, accompanied with subtlety by Sebesky's orchestration for the first verse of the solo, and then kind of overwhelmed by the horn section on the second verse. But he keeps playing, never losing the groove, and passes over to Hubert Laws, who turns in a fiery statement before passing to Jarrett. This is not the Keith Jarrett of the Köln Concert — his solo is more of a tag on Laws', a concisely funky articulation of the chords before he returns the flow to Hubbard and the orchestra who take the tune out. Check out the percussion under the final repetition of the chorus, courtesy of Airto and Ray Barretto.
Bix Beiderbecke's "In a Mist" is an odd followup. The rhythm section feels a little like it's stumbling over the changes for about the first minute as Hubbard plays a blearily dark solo. Everything comes together with the entrance of the winds at around the two minute mark, with a coherent statement of the melody in Keith Jarrett's acoustic piano and a gearshift from the band into straight jazz that accelerates into a swinging statement of the tune. When Jarrett returns it's to anchor that swinging moment, until Freddie returns with a statement of his angular solo beneath which Jarrett plays "out," and the band restates the opening theme. It's got real imagination, especially when Keith Jarrett's piano steps to the fore, but I'm not at all sure the track hangs together.
"The Godfather" is a more successful arrangement, starting with a stark unaccompanied statement from Hubbard and transitioning into a statement of the melody on a heavily reverbed bass, with quiet accompaniment by an anonymous voice and some work on the high hats by Cobham. The opening solo sustains a mysterious vibe for the first few minutes, then transitions into a faster swinging version of the theme with Jarrett, Hubbard, Cobham and Carter. The band is tight in this track, hanging closely behind Hubbard's solo, which starts melancholy and turns blistering. The track closes out with a carefully constructed free-for-all, with Sebesky's orchestra playing the waltz of the tune at top volume and Hubbard soloing like a house on fire above. It's completely bananas and you have to hear it to believe it.
Closing out the album is the second Hubbard original, "Sky Dive, " which is a more gentle funk groove introduced by Jarrett, Benson, Carter, Cobham and the percussionists. Hubbard and Laws then state the theme in a relaxed groove. Hubbard's in no hurry to get to the solo, which doesn't start until around the 2:40 mark, but when he hits it, it's tight and groovy. "Sky Dive" gets in and gets out, which is a rare thing in Hubbard's originals but which puts a fine punctuation point on this album.
Hubbard was remarkably consistent over the first four albums he made with CTI, and the sound is always immaculate. He could tear it up in live performance, as well, which we'll hear soon. Next time, though, we check in with one of his collaborators on this album for something completely different.
You can listen to the album here: