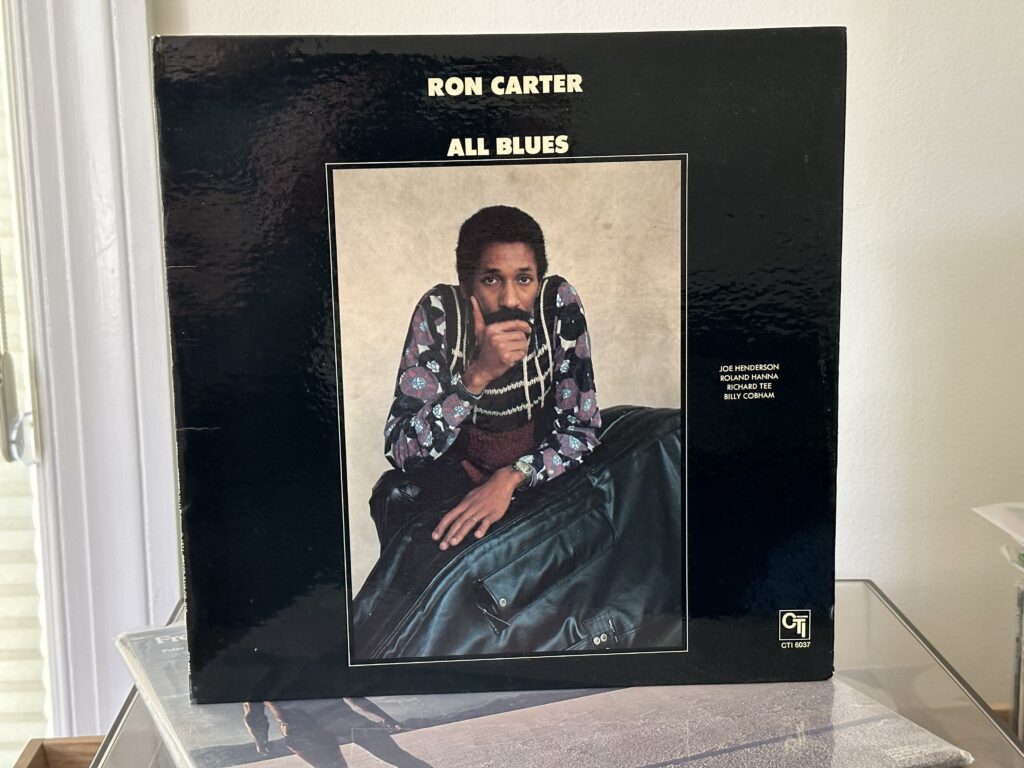 Album of the Week, August 5, 2023
CTI Records has a funny history, for a record label with such a distinct sound. Just when you think you have it all figured out, it throws you a curve ball. Take this week's record, for instance. Where last week we had virtuosic reed player Joe Farrell go all in on the CTI jazz funk sound, this week Ron Carter, whose prior headlining album was a good representation of the label's trademark sound, has taken a left turn into acoustic jazz—and first class acoustic jazz, at that.
Part of the switch-up might have been a reaction to the label's sound. It's noteworthy that much of Carter's output as a leader in the 1970s was a more traditional approach, with classics like Third Plane sounding distinctly like a reunion of the rhythm section from the Second Great Quintet (as indeed it was). But part of the credit for the sound must accrue to the players. In addition to drummer Billy Cobham and Richard Tee, who appears on electric piano on one number, Carter brought saxophonist Joe Henderson, who we last heard on Freddie Hubbard's Straight Life, and pianist Roland Hanna.
Henderson had been busy with a prolific stretch of great albums for Milestone Records, including Black is the Color (featuring Carter on bass) and The Elements (with Alice Coltrane and Charlie Haden, among others). The latter session finished recording in Los Angeles exactly a week before Henderson entered the Van Gelder studio in Englewood Cliffs, on October 24, 1973. He was coming in hot. And he was landing alongside Hanna (later Sir Roland), who was just coming off recording his first solo album in fifteen years, after a long stint in the Thad Jones/Mel Lewis Orchestra. Together the band deliver four Carter compositions and two covers as a single, quietly confident statement.
"A Feeling" begins in a sprightly tone, with the band playing collectively into Carter's composition. There's a caesura at one turn of the melody, where the held chord allows Carter to slide from the tonic up to a major third. It's the hook, a stop-time moment that comes back with each repetition of the chorus. Henderson has the melody here, and it's briskly and concisely played as he alternates bars with Cobham and Carter. Roland Hanna's solo (he plays acoustic piano throughout) is reminiscent of some of Herbie Hancock's right hand soloing in the later years of the Miles Davis Quintet: angular, along the melody but not slavishly anchored to it.
"Light Blue" is a Roland Hanna feature on a Carter-composed ballad. Hanna sensitively plays the melody and improvisations as Carter gently anchors him, quietly sliding from one tonality into another in the verse, taking a moment for a brisk flurry of notes under Hanna's solo elsewhere. Cobham underpins the song with brushes on cymbals, understatedly accenting the beat throughout.
"117 Special" is the one concession on the record to the traditional CTI sound, courtesy of Richard Tee's work on the Fender Rhodes as well as Cobham's backbeat and Carter's blues-influenced bassline. Henderson states the melody on two repetitions of the chorus and then steps back for Carter's solo, played on his trademark piccolo bass. Here Carter pulls out all his trademark techniques—the sliding pizzicato notes, the high solo line, the flurry of notes emphasizing the solo, the descending fifths—and welds them together into a brilliant solo that keeps on going into the final chorus and the fade-out.
"Rufus" starts Side Two with a blues-influenced tune in sax and bass that moves through four or five different keys in its brief melody, with pauses for drum flourishes, before circling back to the tonic. Roland Hanna improvises his way through the key changes as though navigating a high wire, with a casually brilliant poise. He then yields the stage to Carter, who adroitly navigates the outlines of the melody in his solo with only occasional support from Cobham and Hanna. The band comes back in earnest behind Henderson's solo. The saxophonist stretches out relatively infrequently on this record, and the brief two-chorus solo he takes here serves as a brilliant reminder of how inventively harmonic his approach is.
The familiar bass and piano opening of "All Blues" is followed by a statement of the melody in Carter's piccolo bass, which sounds as though it were overdubbed as he continues on the low bassline on his regular double bass. A contemporary review claims he was playing both lines simultaneously—a feat of virtuosity indeed. Henderson takes the second statement of the melody and unfolds into a solo that stretches out over the modes and into sheets of notes before coming to a close. Carter's piccolo bass returns for a solo, finding another counter rhythm inside the melody before returning to the chorus once more as Henderson plays it out, only to light up with a piccolo solo on the last reprise before dipping into an unexpected key change through which the band vamps in a slow fade-out.
Carter takes a true solo on Matt Dennis and Tom Adair's "Will You Still Be Mine," with a brisk romp on the melody anchored by his simultaneous scaffolding of the bassline. It's merely the final demonstration of confident brilliance in an album full of them.
Carter's embrace of more traditional small group jazz on All Blues seems to have been a harbinger of his direction through the rest of the decade; in addition to his trio album Third Plane, he also reunited with Wayne Shorter, Herbie Hancock, and Tony Williams, who would play alongside Freddie Hubbard in a very special band throughout the late 1970s and early 1980s. We'll hear some of those records, too, another time. In the meantime, he had a few more solo albums across the next few years with CTI, and continued to perform as an in-demand sideman as well; we'll hear him in that capacity several times in the next few weeks.
You can listen to the album here: