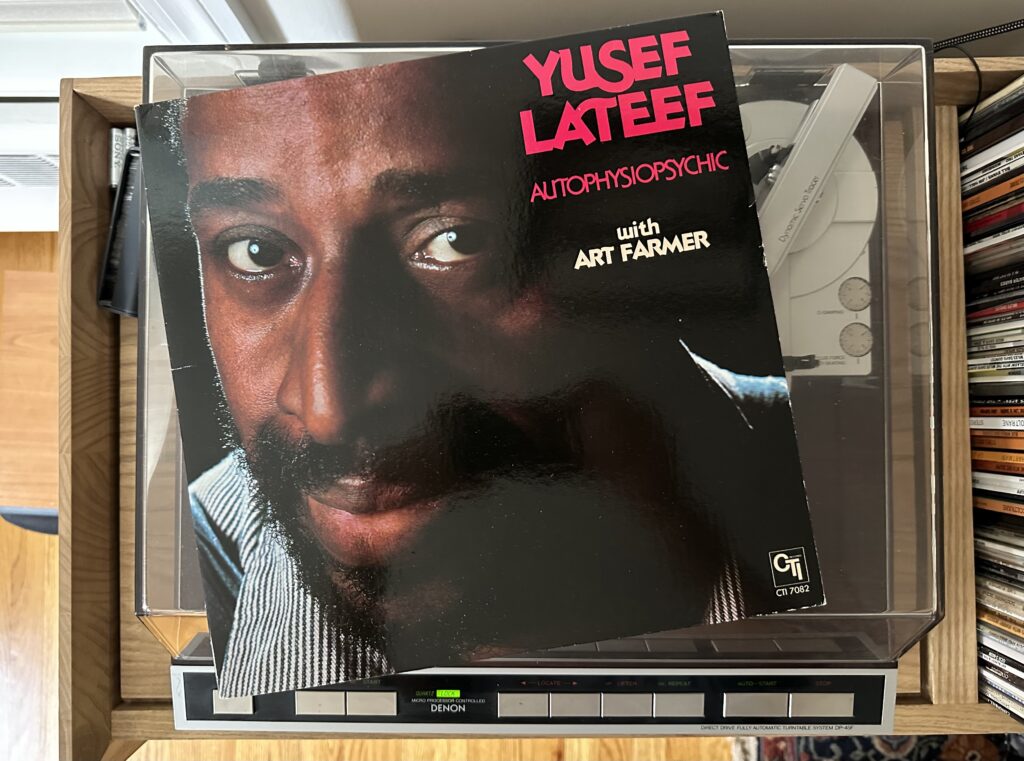 Album of the Week, September 9, 2023
And so we come to the end of our Summer of CTI. We've traced, through the admittedly very selective lens of my record collection, the history of Creed Taylor's label, from its beginnings as a subsidiary of Verve, to its critical heights in the works of Freddie Hubbard, to the peaks of its crossover successes with Deodato and Hubert Laws, and into the long jazz-funk coda with last week's George Benson outing.
Today's album takes us even further down that long and winding road, to a place where much of the jazz has been wrung out of the funk, the most famous arrangers and contributors have moved on, and you kind of want to ask yourself why that record is in your collection. But it comes from the hand of one of the all time great reed players, so maybe it's a good time to shut down our preconceptions and listen.
Yusef Lateef had been playing since the 1950s, recording his first solo session in 1957 and following with a string of dates on the New Jazz, Prestige and Riverside labels, including what's probably his best known work, Eastern Sounds (about which more will be said another time). But he never held still, musically, and he had begun to incorporate elements of soul and the blues alongside his Eastern musical influences by the mid-1960s. By the time he recorded Autophysiopsychic in 1977, these had blossomed into something like full-on funk music.
The opening track, "Robot Man," is probably the boldest of these statements. No horns are heard for the first two minutes, just a funk backing track with Lateef singing. You might be tempted to turn it off! But after the opening two minutes comes Lateef's soprano sax, and suddenly we're in a very different sound space. Lateef was a careful listener and a brilliant improviser, and combined those into an absolutely rock solid jazz-funk conception. The rest of the track is pedestrian, but Lateef's solo is incandescent, escaping into other tonalities while still staying absolutely funky.
"Look on the Right Side" fixes the backing track problem by tipping all the way over into George Clinton territory. Indeed, it is hard to tell that this track wasn't a b-side from Chocolate City or Mothership Connection. The electric bass is squelched out, the keys and guitar keep the groove going, and Lateef's voice has more than a little hint of Glenn Goins about it. His sax playing likewise seems to take inspiration from Maceo Parker and the rest of Clinton's Parliament. This track also features the great Art Farmer, another player with a history stretching back to the late 1940s and the dawn of bebop. By now he had relocated to Europe and was doing pretty much whatever he wanted to, including playing a lugubriously rhythmic solo on this track. Only the relative mediocrity of Lateef's lyrics keeps the track from being a stone classic.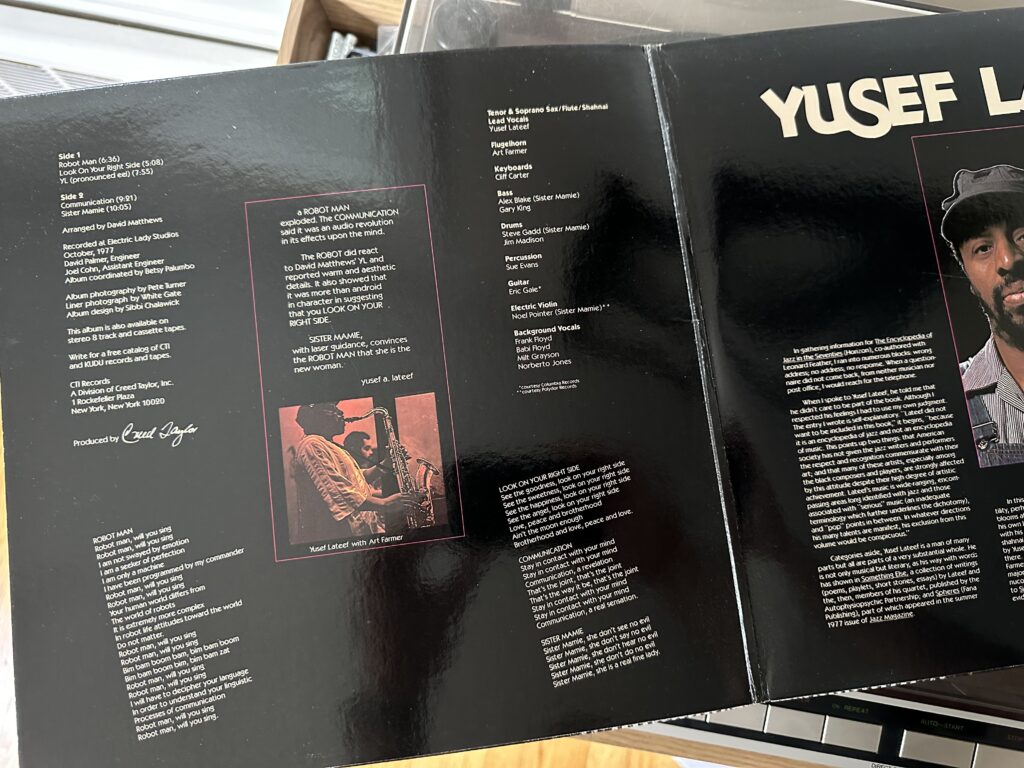 "YL" (pronounced Yeel) occupies breezier territory, vibrating on the same harmonic wavelength as George Benson's "Theme from Good King Bad" (and also written by David Matthews). The two horns open the track playing in harmony, then Lateef switches to flute for the solo. He's a more angular player than Hubert Laws in similar territory, at one point hitting a thrilling octave plus leap in the middle of a run, but the overall impression is of a tune happily gliding along on the pillow of its own major-key chord progressions.
"Communication" finds us back in Parliament territory, with Lateef's "stay in contact with your mind" anchoring the track to Clinton's cosmology. But rather than scaling the lunatic heights of "Bop Gun," Lateef keeps the track moving along at a simmer, helped by an absolutely dirty tenor sax solo. Farmer's flugelhorn brings a key change and a different energy to the track, as though soaring above the relentless funk below. It's a highlight of the album
"Sister Mamie" is the only track on the album to feature Lateef's fascination with non-Western wind instruments, opening with a fanfare of sorts on the shehnai before shifting into another funk groove. Again, what could be a relatively pedestrian backing track is redeemed by a fiery solo from Lateef alongside some funky trumpet work from Farmer.
So Lateef showed another way to enliven jazz-funk, bringing intelligent and cerebral improvisation of the highest order alongside earthy Parliament-inspired funk grooves. Alas, in 1977 CTI's time was about to run out. The label had partnered with Motown for distribution, but that deal collapsed in 1977 and led to CTI's eventual bankruptcy in 1978. Taylor kept the label going following a restructuring, but the momentum had gone and it ceased operations in 1984, returning with new recordings once every five or six years afterwards until Taylor's death in 2022. Jazz-funk didn't disappear, but classical-jazz crossovers would be less common following the label's winding down.
We're going to change gears a little for the next few weeks and explore some of the influences that popped up on Autophysiopsychic. Do not attempt to adjust your set…
You can listen to today's album here: