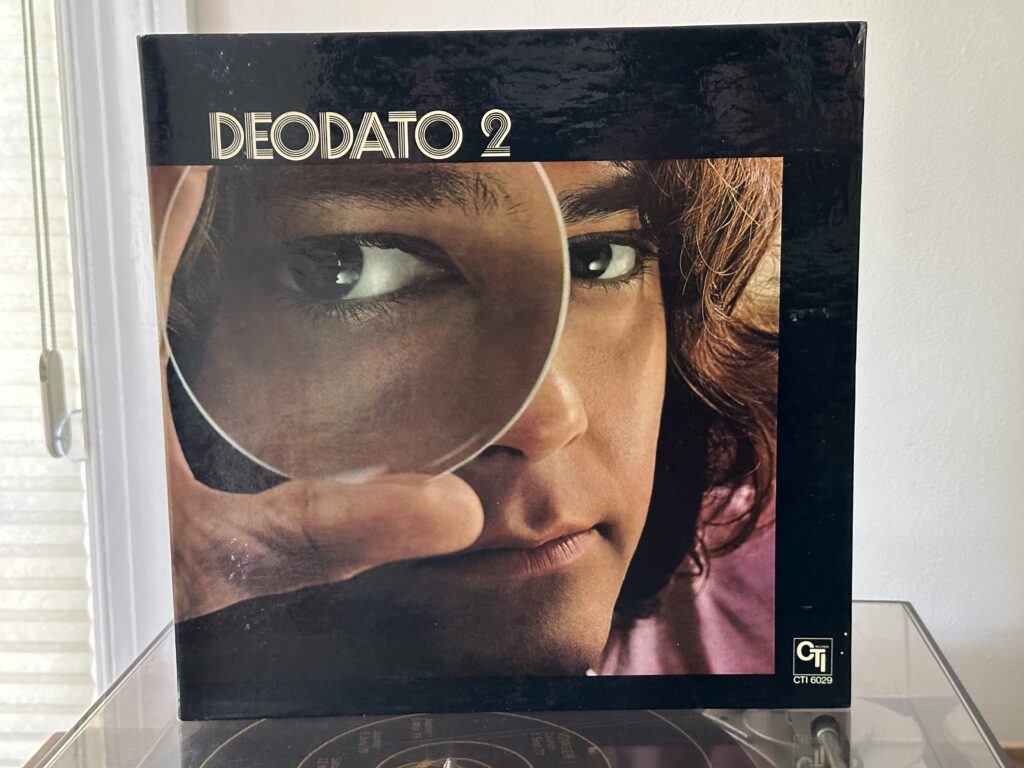 Album of the Week, July 15, 2023
Here is a turning point in the CTI Records story. We've discussed how, Freddie Hubbard's albums aside, much of the label's output was beginning to coalesce around a formula: jazzy instrumental pop, classical "third stream" style crossover, big orchestration applied subtly, covers of recent pop songs, solid rhythm section with impeccable jazz credentials. This record takes many of the aspects of the formula and cranks them up to extremes, while discarding some of the parts that gave the label "jazz cred" among more traditional listeners. And it did it with one of the biggest selling artists on the label.
Eumir Deodato is a Brazilian keyboardist, arranger and composer. Building his career in bossa nova, he released Prelude, his first US album, on CTI in January 1973. It was a monster, becoming the biggest seller the label ever had and hitting Number 3 on the Billboard albums chart. Its first track, "Also Sprach Zarathustra (2001)," went all the way to Number 2 on the Hot 100. It was a phenomenon, and Creed Taylor, who knew how to strike when the iron was hot, quickly got Deodato back in the studio in April and May 1973 to record Deodato 2, the follow-up. The album features the instrumental pop, classical crossover, pop song covers, and big orchestration, but there's nothing subtle about it, and you won't find Ron Carter, Jack DeJohnette, or Herbie Hancock in the orchestra. That's not to say there were no notable players; Hubert Laws, Stanley Clarke, Billy Cobham and Jon Faddis, who had just turned 20 and was beginning a long career as an in-demand studio musician, all appear on the record. Also worthy of note is another session player, guitarist John Tropea, who would later appear on dozens of significant recordings, including Paul Simon's 1975 hit "50 Ways to Leave Your Lover." But the sound here, driven by Deodato's own arrangements, is different: keyboard-heavy, slightly muddy, and effects driven.
This is most evident in "Nights in White Satin," the opening track.* The opening notes sound sludgy, until John Tropea's guitar comes in, supported by a blast from the horns. All of a sudden the arrangement is in double time and Tropea is playing like he just dropped in from a Jimi Hendrix cover band. Deodato's keyboard playing is less chunky, funky Fender Rhodes and more pitch-bendy early 1970's pastiche. The fast section approaches the chukka-chukka sound of a million 1970s TV theme songs. In fairness to Deodato, this was mid-1973 and the sound hadn't yet calcified into cliché; but it hasn't aged well.
Continuing to follow the CTI formula, after a pop song cover comes a classical third stream take, in this case of Ravel's "Pavane for a Dead Princess." This one is given over to strings and a more acoustic sounding keyboard. The arrangement is considerably less sludgy than in "Nights" but suffers from a common problem in covers of this work: tempo. It calls to mind Ravel's comment to Charles Oulmont following a performance of the work; he observed "the piece was called 'Pavane for a dead princess', not 'dead pavane for a princess'." The arrangement gathers some amount of interest at the 3:30 mark as the keyboard leads into a key change, but then everything dies away again.
Deodato's original composition "Skyscrapers" opens with a heavy Stanley Clarke bass line into the main theme, which feels more than a little like a 70's cop show theme pastiche, with the rhythm guitar chugging away under a bright optimistic theme in the horns. Here the sound is more successful, and when Tropea's guitar arrives it feels more organically connected to the music. Deodato's own solo features some inventive use of synth timbres, surrounded by the sunny horns. At over six and a half minutes long, the track doesn't wear out its welcome.
Side 2 kicks off* with "Super Strut," the other Deodato original on the album. Deodato layers Fender Rhodes and other keyboards into the funky opening line, which sets up the main theme in Tropea's guitar and Hubert Laws' flute. The tune is a straight ahead jazz-rock-soul number, with more than a little debt to Isaac Hayes (whose "Theme from Shaft" was by now two years in the rear view mirror but whose trademark sounds were just starting to appear in jazz-rock fusion). Throughout the pedal effects on the guitar solo are a little raspy around the edges, as if passed through a square wave filter. The orchestra is not subtle here, with layers of strings and horns slathered over the choruses with a broad brush.
And speaking of not subtle, Deodato closes out the set with a bluesy riff on the Rhodes that leads into a familiar riff in the guitar, and then the orchestra comes in and oh my God they're playing "Rhapsody in Blue." The opening chorus feels more than a little like the disco version of the Star Wars theme, all the romance and delight of Gershwin's rubato flattened out into a four-on-the-floor stomp. Fortunately the solos are a more straightforward blues vamp on a single chord; it's almost a relief not to hear the band attempting to solo over Gershwin's chords. As a blues-rock number it's not bad, but it's definitely not "Rhapsody in Blue."
All in all, Deodato 2 is all the signature bits of the CTI Records sound dialed up to 11: the strings, the pop songs, the classical crossover, and the jazz-funk-rock fusion. That much of it sounds hopelessly dated to modern ears isn't necessarily the fault of the musicians, but some measure of blame must be laid at Deodato's feet due to the arrangements. Fortunately he got better; his orchestral arrangements over the years graced albums by Tony Bennett, Frank Sinatra, Paul Desmond, and even Bjork (on Post, Telegram, and Homogenic). He hasn't issued an album since 2010, but one suspects he could. But he might just be happy at home with his family, including daughter Kennya, who married Stephen Baldwin, and granddaughter Hailey, who married Justin Bieber.
We won't be reviewing more Deodato albums in this space, but next week we'll check out another example of CTI turned up to 11, courtesy of another of the label's great arrangers.
* A note on the running order. The original LP opened with "Nights in White Satin" leading off Side 1 and "Super Strut" opening side 2. The 1988 CD reissue flipped the sides around, perhaps figuring that "Super Strut" was the stronger opening lead; later reissues have restored the original running order.
You can listen to the album here: