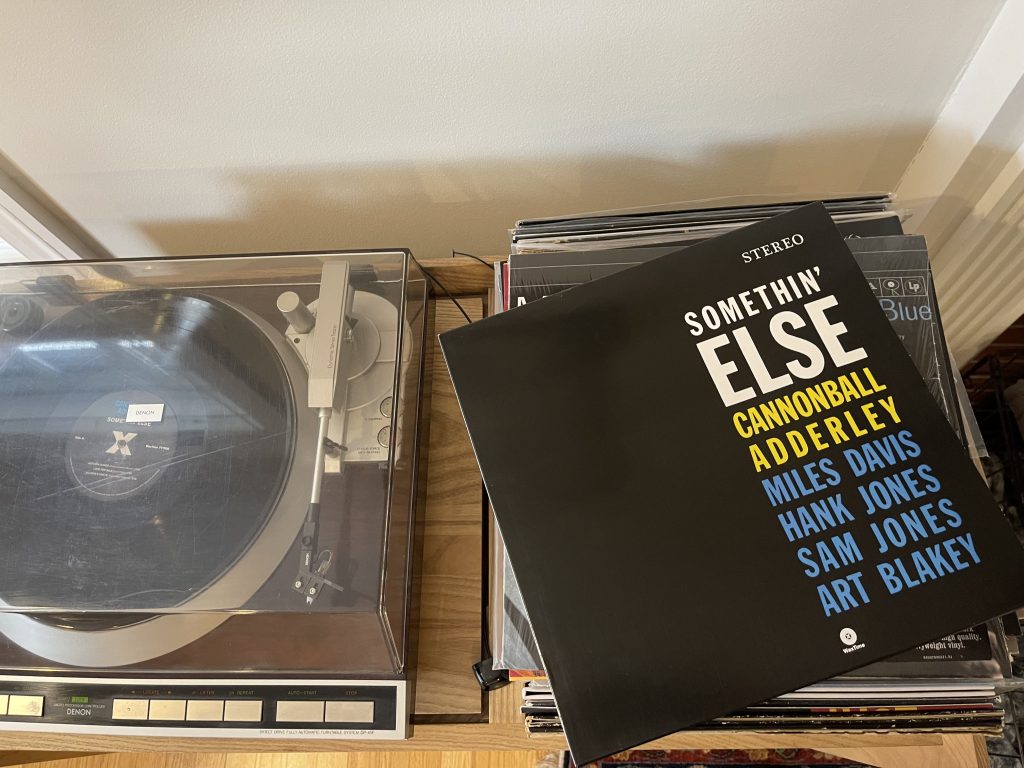 Album of the Week, April 9, 2022.
Miles, being Miles, was never one to stay locked into a format for long—and for a musician who wanted to continue to play and record, a small group was surely a more attractive—and affordable—option than the 19-piece orchestra he had recorded Miles Ahead with. So he spent the rest of 1957 in various small group formats, including a brief version of his quintet with Sonny Rollins and several groups in France. But in late February and early March 1958, he rejoined with Coltrane, fresh from his work with Thelonious Monk, alongside a new face: at the alto sax, Cannonball Adderley. The record they recorded as a sextet, Milestones, more than lived up to its name, with several original songs that signaled that Miles was not done upending the jazz cosmos.
And five days after the group finished recording Milestones at Columbia's 30th Street Studios, Cannonball and Miles were across the river in Hackensack, New Jersey, recording at Rudy Van Gelder's with the Jones brothers on piano and bass and Art Blakey on drums. The session was for Blue Note Records, and so had to be issued under Adderley's name. It was the only recording of this lineup, and featured a single original composition, Miles' title track. But that track is not the one that Somethin' Else is remembered for. That honor goes to "Autumn Leaves."
Miles had fully embraced the modal approach, based on scales rather than chords, by this time, as evidenced by his band's arrangement of "Milestones," "Autumn Leaves" takes the modal approach further, blending the chords of the standard with a modal intro and outro in a Doric minor scale. Miles is muted throughout, playing with an intimate closeness that is at once deeply felt and reserved. The contrast with Adderley's solo is striking, with Cannonball bringing both heat and a certain volubility. Unlike Coltrane, though, the alto sax line is not cried so much as shouted, and you can hear the seeds of Adderley's later successful embrace of "soul jazz" in the way he brings the melody around in the high reaching line of his improvisation. Italian pianist Leo Ravera points out that the track becomes more intimate as it proceeds, with each soloist bringing the dynamic down until Miles and Hank Jones close it out in another modal passage. The whole thing is a stunning performance, and the first sixteen bars give me chills every time I listen.
The rest of the album is a striking blend of styles. It is interesting to hear "Love for Sale" rendered here, with Davis's cool approach surrounded by a rumba-inspired approach, completely different from the version he would record just a few months later with his own sextet. "Allison's Uncle" is more straightforward bop, celebrating the birth of Nat Adderley's daughter. "Somethin' Else" continues in this vein with a theme that alternates statements from the trumpet and the sax, in a form that is more than slightly reminiscent of Miles's "The Theme." "One for Daddy-O" is a straightforward blues with a less than straightforward theme, veering from major into minor and leading into a wailing solo from Cannonball. And "Dancing in the Dark" is played as a straight ballad, in which the alto reveals a strong stylistic debt to Coleman Hawkins.
This group would never play in this configuration again. But Cannonball would remain a fixture of Miles' sextet for some time to come. They would play together at Newport and, in between Miles' next sessions with Gil Evans, perform on radio broadcasts and at the Plaza Hotel. And, almost a year to the day after they traveled to Hackensack, they would enter the studio to begin recording their next studio album, an undisputed masterpiece.
In this light, it's worthwhile hearing this date two ways: once as the high point of Miles' stylistic development to date that it represented, and once as the prelude to Kind of Blue.
Listen…