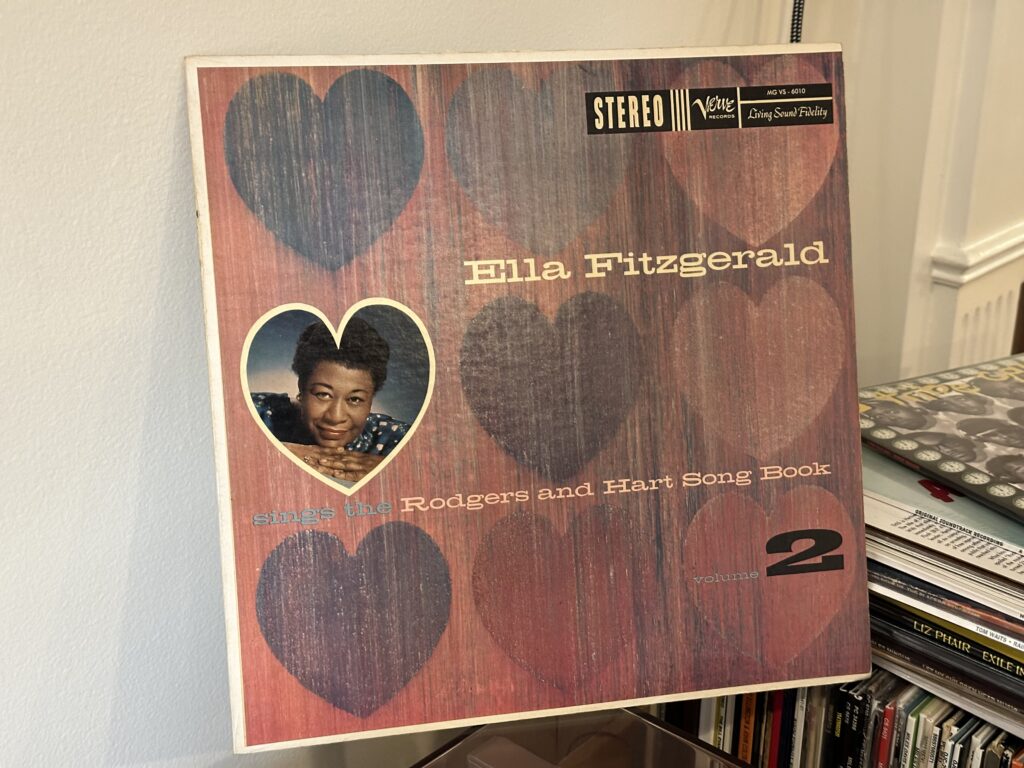 Album of the Week, November 4, 2023
If you say "female jazz singer," odds are you think about today's artist. We've covered a few of her recordings before, but today we dig into one of the recordings that led to her towering reputation—her surveys of the Great American Song Book.
Ella Fitzgerald was born in Newport News, Virginia, almost exactly eleven months before Pearl Bailey, and she spent the first two and a half years of her life there, near the great coal port that had been built by Collis P. Huntington. Her mother and her new partner moved with Ella to Yonkers in Westchester County, New York. An excellent student, her grades began to suffer after her mother's death of injuries sustained in a car crash. She moved to her aunt's in Harlem and took a series of odd jobs, including lookout at a bordello and a numbers runner. She was caught by the police and placed in a series of reform schools.
In 1933 and 1934, she began singing on the street, and in 1934 she won first prize at one of the earliest Amateur Nights at the Apollo Theatre. Like Pearl Bailey, she never was able to perform the week-long engagement that formed part of that earliest award, but later won a gig at the Harlem Opera House. In late 1935 she met bandleader Chick Webb and joined his band for their performances at the Savoy Theatre in Harlem. She recorded several hit songs, becoming best known for "A Tisket, A-Tasket." When Webb died of spinal tuberculosis in 1939, she took on his band, which became known as Ella Fitzgerald and Her Famous Orchestra.
By 1942 the band had grown difficult to maintain, and she took on solo work, eventually learning (and evolving) scat singing while performing with Dizzy Gillespie and revolutionizing the art of vocal jazz in the process. She recorded for Decca during this period. When she began appearing at Norman Granz's "Jazz at the Philharmonic" series, he convinced her to leave Decca for a new label he would found with her at the center, and thus Verve Records was created. At Verve, with be-bop flagging and audiences shifting, she and Granz created the Songbook series as a way to give her a more serious outlet for her voice. In the series, which consisted of recordings dedicated to songwriters or lyricists, she and Granz essentially memorialized the concept of the Great American Songbook, recording definitive versions of many of the twentieth century's great songs.
Ella Fitzgerald Sings the Rodgers and Hart Song Book, released in 1956, was the second entrant in the series, and follows the formula. Across two volumes, she recorded the greatest songs by the duo, in arrangements by a great arranger and bandleader, in this case Buddy Bregman. I'll be reviewing the second volume today since that's the one that washed up in my local used record store.
I listened to today's record while driving around with my daughter, who knows Ella's voice by ear but has mostly heard the Christmas album. After a few seconds of the chorus of "Give It Back to the Indians," she asked, "Um, when was this recorded?" When I told her the record dates to 1956, she said, "Ah, that explains it." The original context, in the 1939 musical Too Many Girls, doesn't really help explain why we're singing about Peter Minuit swindling the Lenape tribe out of the island of Manhattan. But the song itself is a great exasperated shout out to the charms and frustrations of New York.
Some of the songs on the album live up to Lorenz Hart's reputation as one of the most depressed lyricists around. "Ten Cents a Dance" and its evocation of the desperation of poverty, the inability to escape at the low rate of ten cents a dance, and especially the inability to escape her undesirable beaus, might be the emotional low point. Others, like "Ev'rything I've Got," just feel manic. The latter, coming (like June Christy's "Nobody's Heart") from By Jupiter, is a battle-of-the sexes song with these mind-boggling lines:
I have eyes for you to give you dirty looks
I have words that do not come from children's books
There's a trick with a knife I'm learning to do
And ev'rything I've got belongs to you
I've a powerful anesthesia in my fist
And the perfect wrist to give your neck atwist
There are hammerlock holds
I've mastered a few
And ev'rything I've got belongs to you
Then of course there's "My Funny Valentine." One feature of the Song Books is that without fail Ella would sing the whole song, including the verses, for songs that usually in the jazz tradition only get heard as their choruses. So it is with "Valentine." In this case, one forgives the jazz artists, as both the melody and lyrics of the verse are essentially disposable, serving only to set up the odd couple of the song's central tragedy, or romance, or both. In Ella's rendition, the pathos and hope of the relationship are mingled through the whole performance.
"Bewitched, Bothered and Bewildered" is another of the great songs, notable for its unusually suggestive lyrics, including "Vexed again, perplexed again/
Thank God, I can be oversexed again," and "Romance, finis; your chance, finis/
Those ants that invaded my pants, finis." Ella sings them with a mix of cool restraint, humor and simmering emotion that is simply stunning.
Not all the arrangements feature the full big band. "Wait 'Till You See Him," also from By Jupiter, features Ella's voice accompanied only by a guitar. It's brief, restrained, and utterly flawless. It leads straight into "Lover," which is given a full big band treatment; the impression is of shock and awe. Ella's "Lover" narrator is leaving nothing to chance.
The album closes out with "Blue Moon," a song that went through three different sets of lyrics before becoming the standard that would later be covered by the Marcels, Elvis Presley, and the Cowboy Junkies. Here it's a sweeping, slightly swooning ballad, with the romance cut slightly by Ella's no-nonsense reading of the bridge: "And then there suddenly appeared before me
The only one my arms will hold."
There are other songs on the record, but honestly this is one that just needs listening. Each performance ranks as the finest version of these great songs, and Ella just kept doing them. She would record six records in the Song Book series; we'll hear another next week.
You can hear the full two volume version of Ella Fitzgerald Sings the Rodgers and Hart Songbook below. If you just want to hear the second volume, start at Track 18, then swap out "My Romance" for "Mountain Greenery."