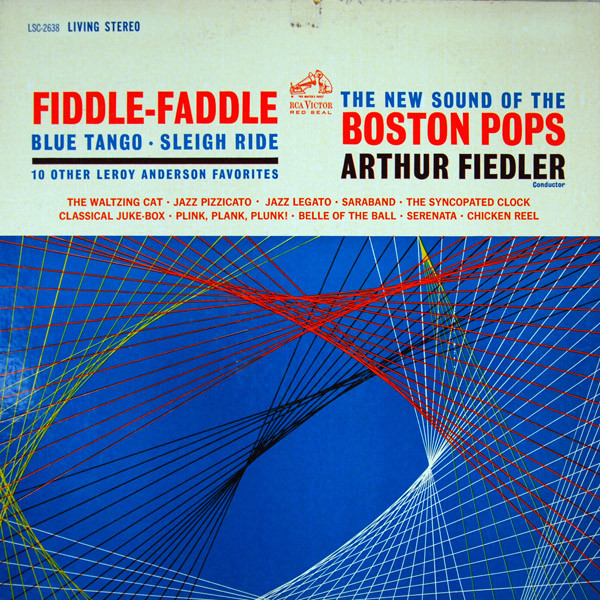 I got a bunch of Boston Pops records from the 1960s and 1970s. This is one in a series of blog posts about them.
Monday's post, about the Pops' 1961 Light Classics album, addressed one big chunk of 1960s and 1970s Pops repertoire, the so-called "light classic" (about which more later). Missing from that album: distinctive original compositions written specifically for the Pops, which constitute a big part of the Pops DNA (if not always its active repertoire). One of the big contributors to this "Pops originals" set of compositions was composer and arranger Leroy Anderson. ; this 1962 Pops recording, Fiddle-Faddle, is devoted to his work.
Unless you follow the work of a Pops orchestra closely, the importance of the role of the arranger is hard to appreciate. Having now sung in the Holiday Pops for twelve seasons, it becomes clear that arrangers make or break an orchestra's repertoire, and have a significant impact on whether the show delights and transports the audience or just leaves them cold. These days the Pops has David Chase (he of the "Twelve Days of Christmas"); in the 1960s they had Richard Hayman. And in the 1930s through the 1950s they had Leroy Anderson.
Boston Pops audiences these days are probably most familiar with Anderson's work through "Sleigh Ride," but he had a whole string of hits. His first hit, "Blue Tango," went to Number One on the Billboard charts and was the first instrumental recording ever to sell one million copies. "Syncopated Clock" and "Plink, Plank, Plunk!" became theme songs for CBS television shows. Heck, I played "Syncopated Clock" in my long-past student string orchestra days (though I can't remember if it was in middle or high school).
All of these compositions are here, along with a few I didn't know but which are just as witty and winning (example: "Classical Juke Box," which opens with a march treatment of "Music, Music, Music" and proceeds through a series of variations, separated by an ingenious percussion effect that mimics the sound of the record changing mechanism—and a section that mimics a skipping record). The only significant Anderson Pops work missing is "The Typewriter," but never fear, I have a copy courtesy of Pops Festival.
That "light classics" aside: My TFC colleague Steve Owades pointed me to a 2016 article in the New York Times discussing the disappearance of "light classics" from Pops orchestra repertoire nationwide as those orchestras chase dwindling audiences with movie nights and pop artist crossovers. Our next Pops Files post will look at an early example of such a crossover.
Here's the performance of "Classical Juke Box" from Fiddle-Faddle.