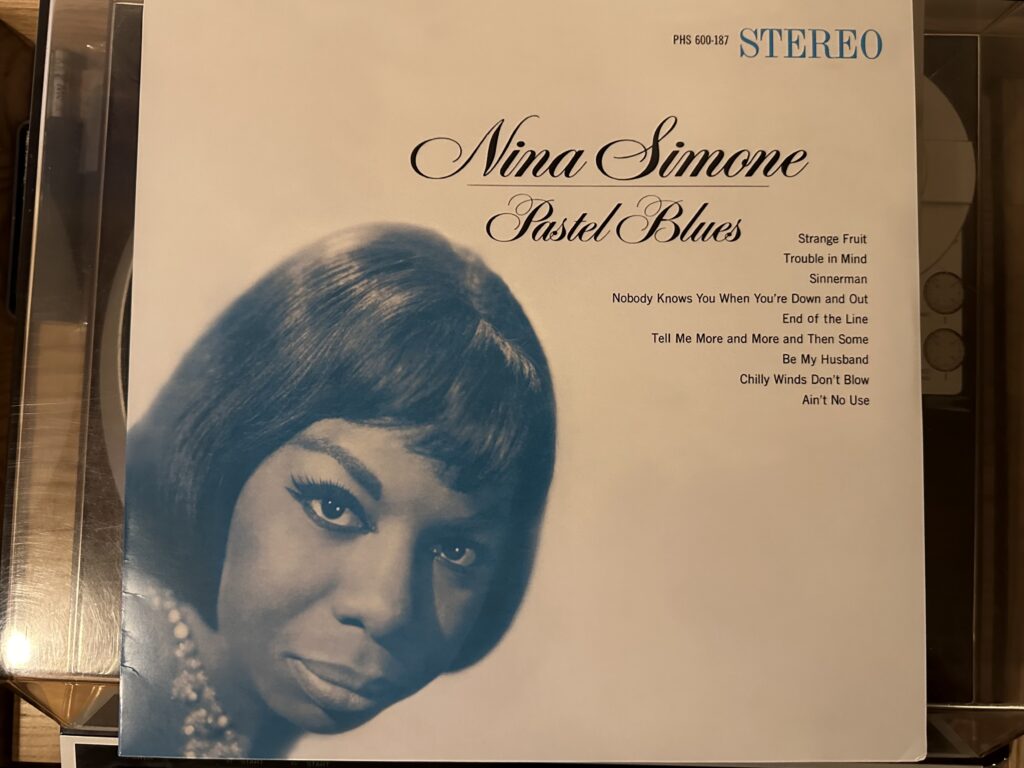 Album of the Week, November 18, 2023
Today's album features a singer who was born in the mid-Atlantic South, moved to New York, and got her claim to fame after playing shows on small stages. But that's where the similarity with Pearl Bailey or Ella Fitzgerald ends. Nina Simone fused completely different traditions of classical and blues together with activism and created a completely different, and unforgettable, American sound.
Eunice Kathleen Waymon was born in Tryon, North Carolina, a small town in Polk County on the southwestern border of the state, in what was once Cherokee country. Born to a father who was a barber and dry cleaner as well as an entertainer, and a mother who was a Methodist preacher, she began playing the piano at a young age and gave her first concert at the age of 12. During the concert, her parents were forced to give up their seats for white patrons and move to the back of the hall; Eunice stopped playing until they were moved back to the front. She attended the Allen High School for Girls in Asheville with the help of a scholarship set up for her by her music teacher. She studied at Juilliard in the summer of 1950 to prepare to audition for the Curtis Institute of Music in Philadelphia, but her application was denied. She began playing shows at the Midtown Bar and Grill in Atlantic City, New Jersey to fund her private piano lessons, taking the performing name Nina Simone to keep her family from finding out that she was playing the Devil's music.
Her recording career commenced in 1958 with a recording of "I Loves You, Porgy" which cracked the Billboard Top 20; her debut album Little Girl Blue followed. She recorded a series of albums on Bethlehem and Colpix Records, and moved to Philips in 1964. The new label's European ownership gave her greater topical freedom, and she responded with a broader range of songs that addressed racial injustice, including "Mississippi Goddam," which protested the murder of Medgar Evers in June 1963 and the bombing of the 16th Street Baptist Church in Birmingham, Alabama in September. She recorded seven albums for Philips with producer Hal Mooney; Pastel Blues was her third. True to its name, it blended her classical training with blues, jazz and other influences for a powerful mixture.
Take "Be My Husband." Performed by Simone as a solo song accompanied only by the hi-hat of the drummer and her own handclaps, the album opens with a stark landscape of a marriage proposal as a desperate prison chant. It's harrowing, especially given that it was written by Andy Stroud, her husband and manager, who was accused of beating her. (The singer Jeff Buckley chose to cover this song, in a gender reversal, to open his sets at the cafe Sin-É, as well as covering another Nina tune, "Lilac Wine," on his debut album.)
The choice of "Nobody Knows You When You're Down and Out," an early 20th century blues made famous by Bessie Smith, further connects Simone's writing to the blues tradition. "End of the Line," by contrast, connects to the melancholy tradition in European classical art song, sounding like a Schubert lieder in its unaccompanied opening before the rest of the band joins on the second verse.
Nina had recorded the venerable vaudeville blues song "Trouble in Mind" with a larger band in 1961, with a recording that hit number 11 on the R&B chart and 92 on the Billboard Hot 100. The version here is more stripped down, but still features electric guitar alongside Nina's stride-influenced piano.
"Tell Me More and More and Then Some" was originally recorded with a full band by Billie Holiday; here a swampy harmonica lends it a deeper Delta blues feel, while Nina's piano veers between classical harmonies and blues scales.
Side two opens with "Chilly Winds Don't Blow," a major key blues written by producer Hermann Krasnow, better known for his work with Gene Autry on "Frosty the Snowman" and "Rudolph the Red-Nosed Reindeer." Nina turns it into a barn burner, with her piano lending a slightly unsettled undercurrent of menace beneath the bright chords as she sings about fleeing for better weather. "Ain't No Use" continues in the same key, but a slower, more deliberate blues, with the narrator making it clear that she is fleeing not just the chilly winds but her partner, telling him he is "just too doggone mean."
"Strange Fruit" takes another Billie Holiday song, perhaps the most famous of all, and strips it down to the most devastating essentials as Simone sings about lynched African Americans. Simone's version is almost unaccompanied, and almost silent at the end, as she veers from anger to grief.
That brings us to "Sinnerman," in which all Simone's considerable talents come together to create a masterpiece. The piano accompaniment, informed by both her classical training and African-American pentatonic scales, is the foundation together with the drums (Bobby Hamilton) and bass (Lisle Atkinson) from which Simone's voice narrates the fate of the sinner: turned away by the Lord, he seeks the devil instead. When he finds him, he cries "Power" to the Lord, but the Lord can no longer help him. Nina and the band exchange a call and response on "Power!/Power, Lord" for a full two minutes before the vocals and piano fall away, leaving the guitars (Al Schackman, Rudy Stevenson) to exchange notes before they too cease. There follows polyrhythmic hand percussion, and the piano comes back in, first in rhythm, then with powerful chords in the left hand signaling a shift. Sure enough, the rhythm changes to a slow six for about 32 bars before the chorus comes back. Simone recapitulates the journey of the sinner, asking for succor from the river, the sea, the rock, and the Lord once more. The whole track clocks in at over ten minutes of apocalyptic blues fury. It's a brilliant response to the horror of "Strange Fruit" and an impossible-to-top capstone for the album.
Simone left American in 1970, frustrated at the poor reception for her recordings, and found when she tried to return that she was wanted for tax evasion; allegedly she had stopped paying taxes in protest against the Vietnam War. She fled to Barbados, then Liberia, then the Netherlands. She was eventually diagnosed with bipolar disorder, and medication helped her regain some measure of peace. She settled in the town of Carry-le-Route, in the department of Bouches-du-Rhône near Aix-en-Provence in southern France. She died there of breast cancer, in 2003.
You can listen to today's album here: