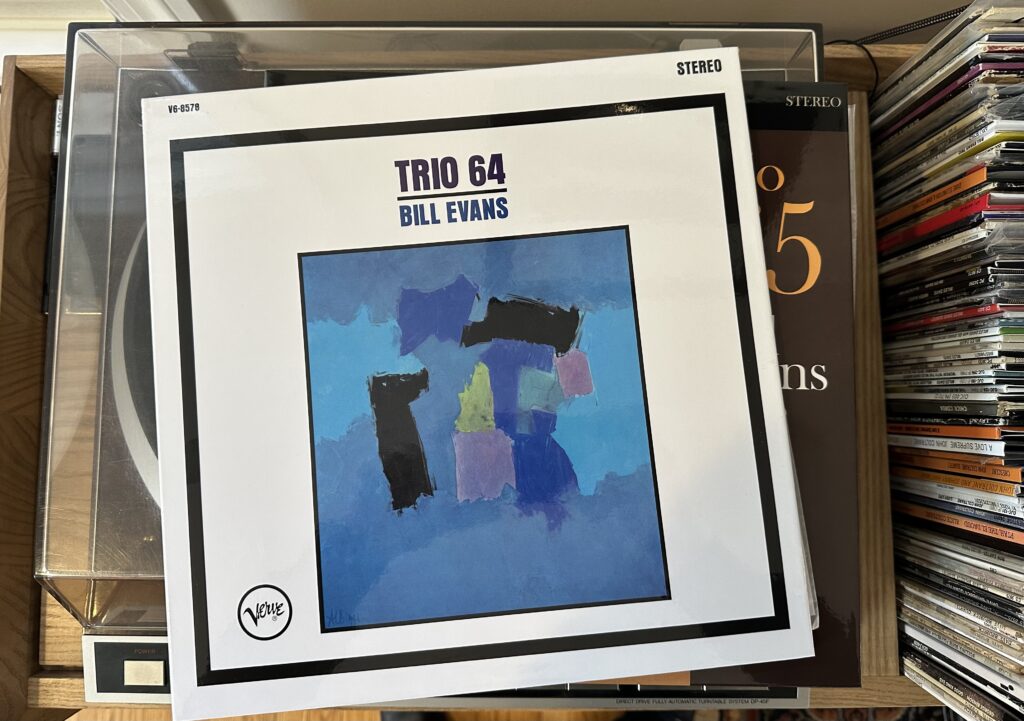 Album of the Week, February 4, 2023
Bill Evans was having a good year (or two) in 1962 and 1963. Following the sessions that produced Moon Beams and How My Heart Sings!, his contract was picked up by Verve Records, where Creed Taylor was still in full swing. He recorded a handful of additional sessions for Riverside in , including material that appeared on Interplay and on the great posthumous release Loose Blues. He then started his Verve recording career in two sessions as a sideman, one backing West Coast drummer Shelley Manne and one with the Gary McFarland Orchestra. He recorded a set of solo piano sessions, with overdubs, that became the Grammy award winning Conversations with Myself. And he played on some clunkers of albums with orchestra, performing current movie themes (hey, nobody's perfect).
But he was never too far from his trio. In mid-1963 he recorded live sessions with Chuck Israels and Paul Motian at Manne's club, "Shelly's Manne-Hole," that were later released on Milestone as Time Remembered. And on December 18, 1963, he entered Verve's studios in New York City with Motian and the 28-year-old bassist Gary Peacock to record what would become Trio 64.
I haven't been able to find any information to explain why these sessions had Peacock on bass, rather than Israels. The latter continued to work with Evans for several more years, as we'll see in next week's recording. And while Peacock went on to have a long career, recording many albums with Motian and (most notably) anchoring another piano trio, the famous Keith Jarrett Standards Trio with Jack DeJohnette, he only did this one session with Evans. (A possible reason: he went on to join Miles Davis' band, but briefly, in early 1964.) But because Peacock did record this session, we have a rare opportunity to compare and contrast the difference that his style makes in Evans' trio. Answer: not much, and a lot.
One thing you'll hear immediately in the performances is that Peacock's bass has a woodier, more percussive sound, possibly due to Taylor's production choices. But Peacock also performs, on this outing, much more like a traditional bassist, anchoring the bottom of the harmonies rather than the more vocal-style countermelodies that Israels provided. In this trio, Evans was fully in charge, and there's less of the give and take that characterizes his performances with Israels.
The repertoire on the album is also slightly unusual. Unlike the last sessions for Riverside, which featured Evans' own compositions alongside standards from the Song Book, this album is entirely comprised of standards, albeit a few that are a little less than standard. For instance, the opening track — the theme to the "Little Lulu" cartoon shorts from Paramount that aired between 1943 and 1948 — has rarely been heard in other jazz contexts. And the trio's performance of J. Fred Coots and Haven Gillespie's "Santa Claus is Coming to Town" reminds us that, as I've written before, most memorable 20th century Christmas songs are not only de facto part of the Great American Song Book, they're often by Song Book songwriters.
Trio 64 is overall an engaging, even-keeled listen. While I don't consider it essential in the way its predecessor albums are, it's still fun—buoyant, even. Sadly, it was to be Paul Motian's last performance with the trio. We'll hear from a different incarnation of the group next time.
You can listen to the album here: