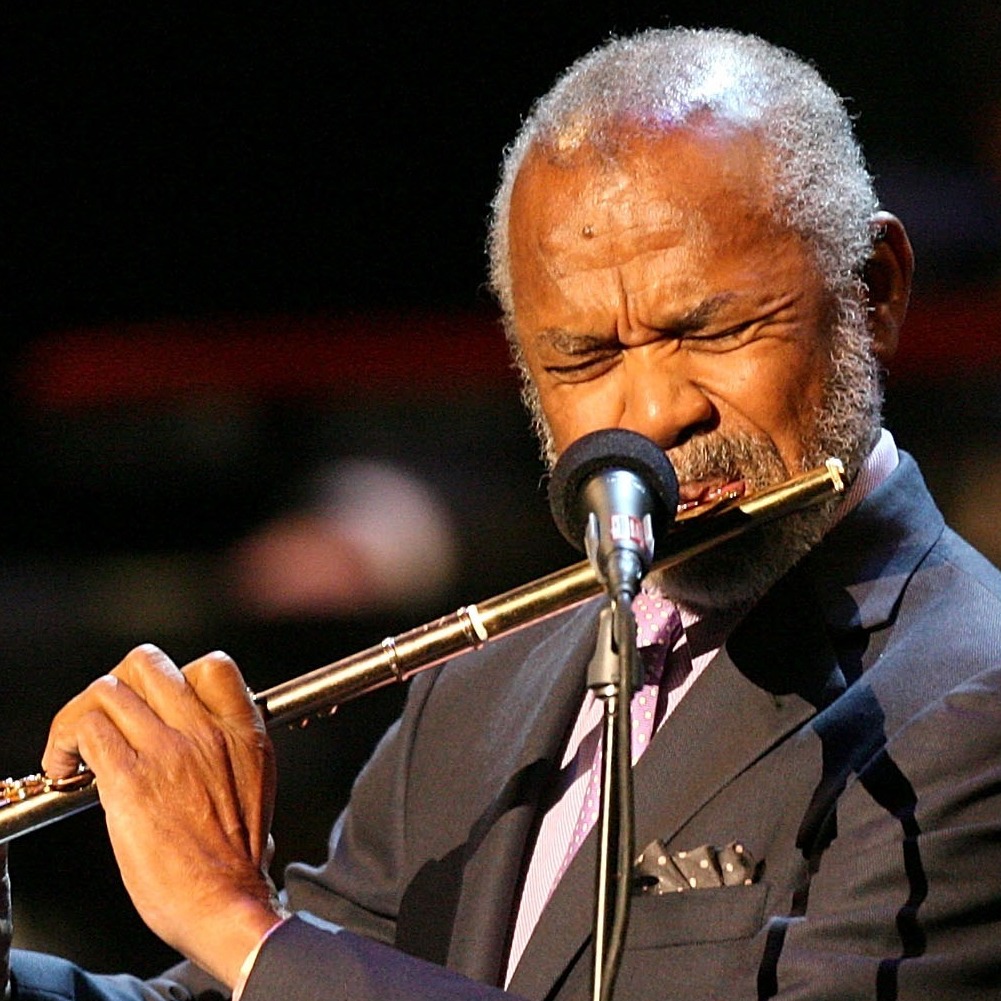 This go-round of Exfiltration Radio investigates an unusual jazz instrument, the flute. This one has been bubbling around in my mind since I started putting jazz mixes together. I kept running across unusual instrumentation on some of the recordings, well beyond the sax or trumpet plus piano/bass/drums that I first started listening to thirty years ago. First it was organ, then vibes, and today I finally started pulling together this playlist, which focuses on that other woodwind, the flute.
One thing that jumped out at me in looking through the credits on these tracks is the number of flautists who were also, or even primarily, known for their chops on the saxophone. James Moody, who leads off this set with his famous false start from his Last Train from Overbrook album, was one, but then there's Pharoah Sanders and Joe Henderson on Alice Coltrane's "Blue Nile," and Yusef Lateef (who here is playing the xun, or "Chinese globular flute").
But part of the fun of this set for me was digging into some of the artists who were best known for their work as flautists. Hubert Laws, whose playing graces "Windows" (here drawn from the Chick Corea compilation Inner Space, but originally released on his own Laws' Clause), is all over recordings from the 1960s and 1970s where the flute appears — in fact, he's also on "Blues Farm." (There is an alternate universe in which this mix is all Hubert Laws, all the time.) Bobbi Humphrey's fine playing on "Harlem River Drive," though drenched in 1970s production values by the Mizells, is outstanding, as is the more modern playing on Chip Wickham's "Soho Strut." Finally, we come somewhat full circle on Matthew Halsall's cover of Alice Coltrane's "Journey in Satchidananda."
So kick back, dig, while we do it to you in your earhole.
The Moody One

–

James Moody

(

Return From Overbrook

)

The Plum Blossom

–

Yusef Lateef

(

Eastern Sounds

)

The Great Pumpkin Waltz

–

Vince Guaraldi

(

It's the Great Pumpkin, Charlie Brown

)

Windows

–

Chick Corea

(

Inner Space

)

Blue Nile

–

Alice Coltrane

(

Ptah, the El Daoud

)

Harlem River Drive

–

Bobbi Humphrey

(

Blacks And Blues

)

Blues Farm

–

Ron Carter

(

Blues Farm

)

Nancy Wilson

–

Brian Jackson, Ali Shaheed Muhammad, Adrian Younge

(

Brian Jackson JID008

)

Soho Strut

–

Chip Wickham

(

Shamal Wind

)

Dogon Mysteries

–

Idris Ackamoor & The Pyramids

(

Shaman!

)

Journey In Satchidananda

–

Matthew Halsall & The Gondwana Orchestra

(

Journey In Satchidananda / Blue Nile

)