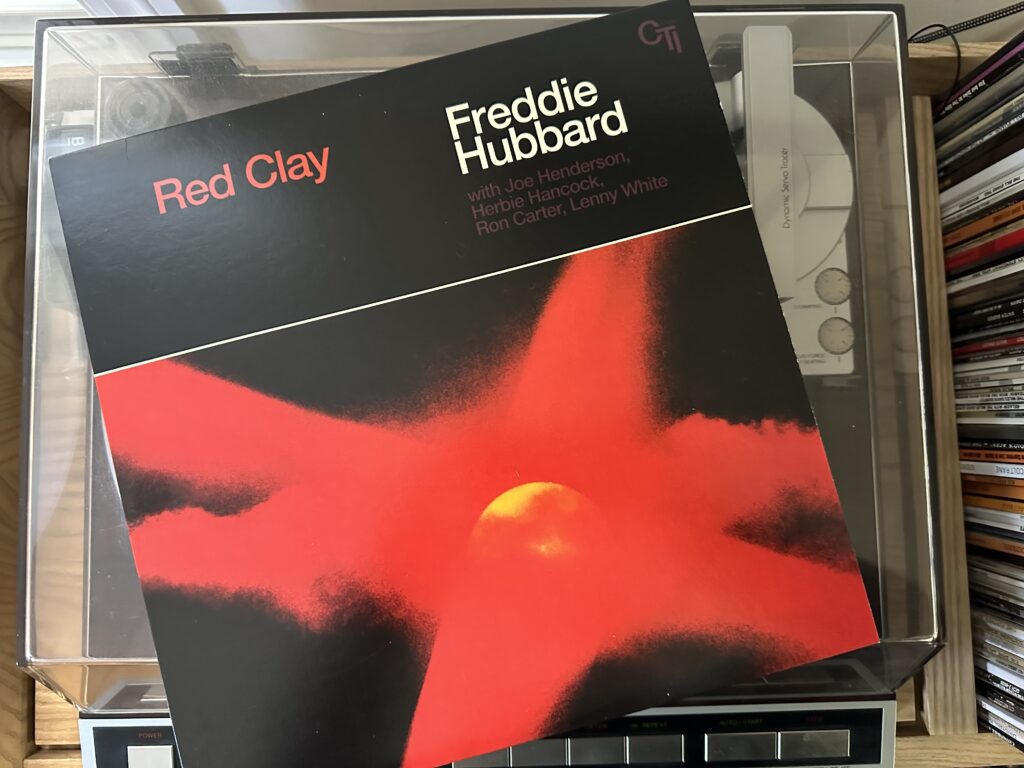 Album of the Week, April 8, 2023
We've heard one side of Creed Taylor's new CTI label in the past few weeks as we listened to how he brought impeccable personnel and lush orchestrations to bear on Antônio Carlos Jobim's Wave and Wes Montgomery's Road Song. What we will hear today is something else: a record with no strings, just five players in the studio stretching out into loose 7 to 12 minute long jams. And at the center is a player we've heard from before: Freddie Hubbard.
Before this point, we've mostly encountered Hubbard as a sideman, in some of the great early recordings of both Herbie Hancock (Takin' Off, My Point of View, Maiden Voyage) and Wayne Shorter (Speak No Evil, The All Seeing Eye). But at the same time that these recordings were happening, he had a productive and prolific career as a leader, recording nine sessions for Blue Note, three for Atlantic, and two for Impulse! between 1960 and 1969. Most of these sessions are classic hard bop or post bop, with Hubbard's fiercely precise tone at the center of them. But in January 1970, Hubbard entered Rudy Van Gelder's studio at Englewood Cliffs to make a different sort of session, his first for CTI. He was joined by a formidable lineup of players: Herbie Hancock on electric piano and Hammond organ, Ron Carter on bass, Joe Henderson on tenor sax, and the young Lenny White on drums.
White was no novice, having already appeared on Miles' fusion masterpiece Bitches Brew, but he was only 20 years old and still getting started. He has noted that it's something of a miracle that he was on the session at all; apparently Hubbard had originally called Tony Williams to do the record, but Williams begged off, citing Miles' growing irritation at the number of players who recorded with "his" rhythm section to make their albums sound good. So White got the call. He would continue to record with Miles following this record (as we've heard on Champions), so apparently the decision was a good one for all concerned.
It's hard to imagine the finished product without White's drums at the center. The title track, which opens the album, is a funky jam that's kept tight by Ron Carter's insanely earworm-y bass line and at the same time kept loose by White's drumming, which seem equally informed by Tony Williams' inventions and Clyde Stubblefield's "funky drummer" approach on the records James Brown was making at the time. The tune, supposedly based on the changes to "Sunny," circles around the same changes for the entirety of the 12+ minute song, trading chordal complexity for the pure joy of the jam. Especially notable here are the solos from the two horns, with Hubbard hitting effortless highs and Henderson bringing a level of darkness and complexity to his solo that is reminiscent of some of his own early 1970s masterpieces. At 9 minutes in, the rest of the players and Carter and White take us into the engine room to unveil the heart of the groove. It's a complete lesson in the power of the bass in funk-jazz music, and one that features prominently on my mix highlighting jazz bassists, "the low end theory."
"Delphia" starts out as a ballad with a sensitive introduction by Hubbard and Henderson (on flute), but soon morphs into a swinging blues. Unusually, Herbie Hancock plays Hammond organ on the entirety of the tune, which includes some wonderful syncopation on the chorus and some attentive accompaniment behind Hubbard's solo. Henderson's flute, only heard on the opening and closing verses, is brilliantly sensitive here, as is Carter's bass.
"Suite Sioux" opens with a riff by Hancock on the Fender Rhodes, leading into the opening statement of the theme by Henderson and Hubbard. This arrangement is notable for both the use of space—the dialog between Fender and horns is set off by ample beats of silence each time—and Hubbard's eloquent solo. Hancock's solo floats over White's cymbal work until the drummer steps up to his own solo spotlight, highlighting one of the oddities of the recording: the bass drum, which has very little resonance and sounds as though it's stuffed full of socks. Apparently the young drummer had brought his own kit, which included a bass drum that had been cut down from an oil can; while he preferred the resonant sound, Van Gelder couldn't or wouldn't get it to record in the studio, so they had to use another drum that White couldn't stand but at least didn't overshadow the rest of the band.
"The Intrepid Fox" returns to the fiery material of the opening for another extended jazz-funk jam. Another cut that would, like "Red Clay," be a highlight of Hubbard's live sets for years to come, this one is less groove oriented and more incendiary, and features a wicked groove from the bass together with a complex interlocking melodic statement from the horns. In some ways reminiscent of Henderson's recently recorded "Power to the People" and "Isotope," the saxophonist's solo on this tune threatens to steal the show as he plays with rhythmic and chordal structures throughout. Hancock's solo takes us into slightly more meditative territory, until Hubbard returns with a reprise of the melody.
The record as a whole was a hit for Hubbard and for the young CTI label, and helped to shape some of the sound of the coming decade. We'll hear a lot more from Freddie in the coming weeks. But first we'll hear from some other Miles-adjacent musicians exploring a slightly different side of the electric jazz future.
You can listen to the album here: