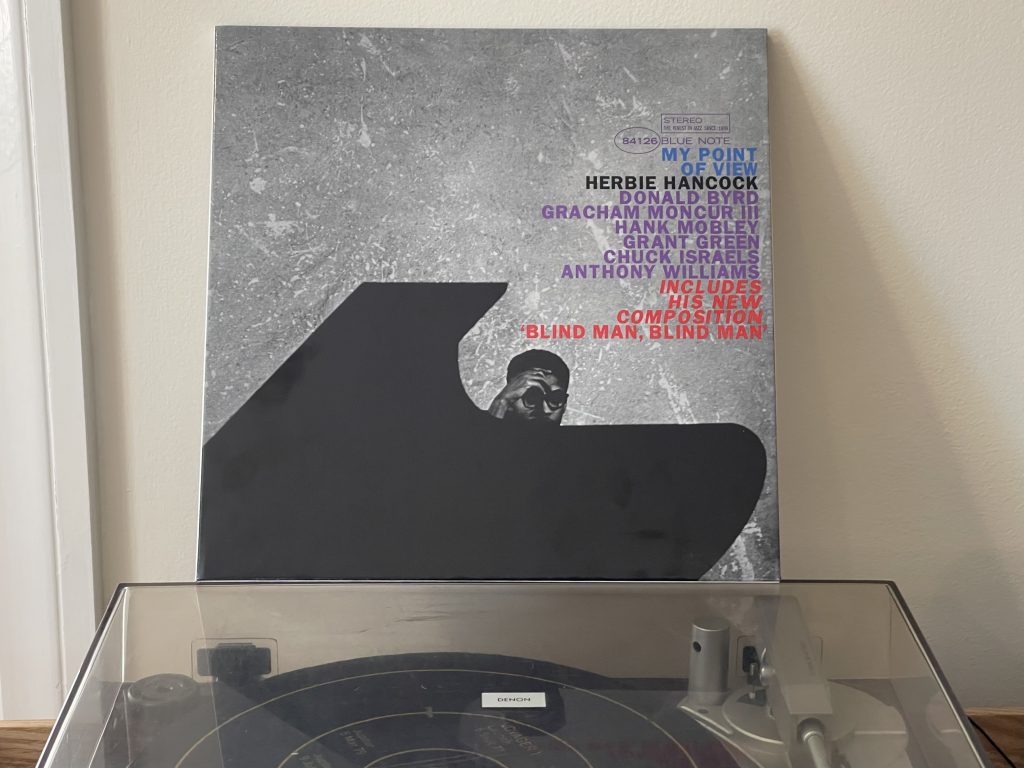 Album of the Week, May 21, 2022
Say you're Herbie Hancock. You have, at the age of 22, released your first album for Blue Note Records, and it's a hit. The single cracks the Top 100, and your friend Mongo Santamaria's re-recording of it cracks the Top 10. You've demonstrated that you can compose soul jazz, modal jazz, and ballads. What do you do for an encore? Well, if you're Herbie Hancock, almost a year to the day you get back in the studio, and you do it again, with a bigger band.
To call My Point of View similar to Takin' Off is a little unfair. The writing is more assured and distinctive, for one thing. Where you could be forgiven for mixing up "Three Bags Full" and "Empty Pockets" on the first album, each tune on My Point of View is distinctive. And the orchestration is fuller. In fact, the band on this date reads like a Who's Who of early 1960s Blue Note, with Donald Byrd stepping in for Freddie Hubbard on trumpet, Hank Mobley (fresh off his stint with Miles' band) replacing Dexter Gordon, and Chuck Israels, who did not release albums for Blue Note as a leader but who would later anchor one of Bill Evans' most essential trios, on bass. Two other Blue Note luminaries, the brilliant guitarist Grant Green and the cerebral composer and trombonist Grachan Moncur III, appear on half the tracks.
And on the drums: Tony Williams. Aged seventeen years and three months when he went into the studio, Williams was already demonstrating his genius behind the kit, keeping things boiling even on tracks that might have been sleepier ballads like "A Tribute to Someone," and positively lighting up the stage on the modal burner "King Cobra."
So where's the similarity? Mostly it is in the consistency of Herbie's compositional voice. When he writes a soul jazz number like "Blind Man, Blind Man"—written, as he says in the liner notes, as a conscious evocation of his Black childhood—or "And What If I Don't"—you can immediately hear the kinship to "Watermelon Man" from his first record. They are still catchy tunes, but there's not a lot of compositional development from one to the next.
I mean, yes, Herbie's arranging prowess leaps ahead substantially. The guitar lick that Grant Green drops at the turn in the chorus of "Blind Man, Blind Man" is a note of genius, as are the thick blocks of chords that open "King Cobra." But in the end, you'd be forgiven for thinking that both albums were recorded in the same delicious session.
The album was revolutionary in one way, though, at least for Herbie's career; it introduced him to Tony Williams. By June of 1963, they would both be playing with Miles, whose next great quintet was beginning to take shape. We'll hear the first recorded (but not first released!) album from that group next time.
You can listen to My Point of View here.