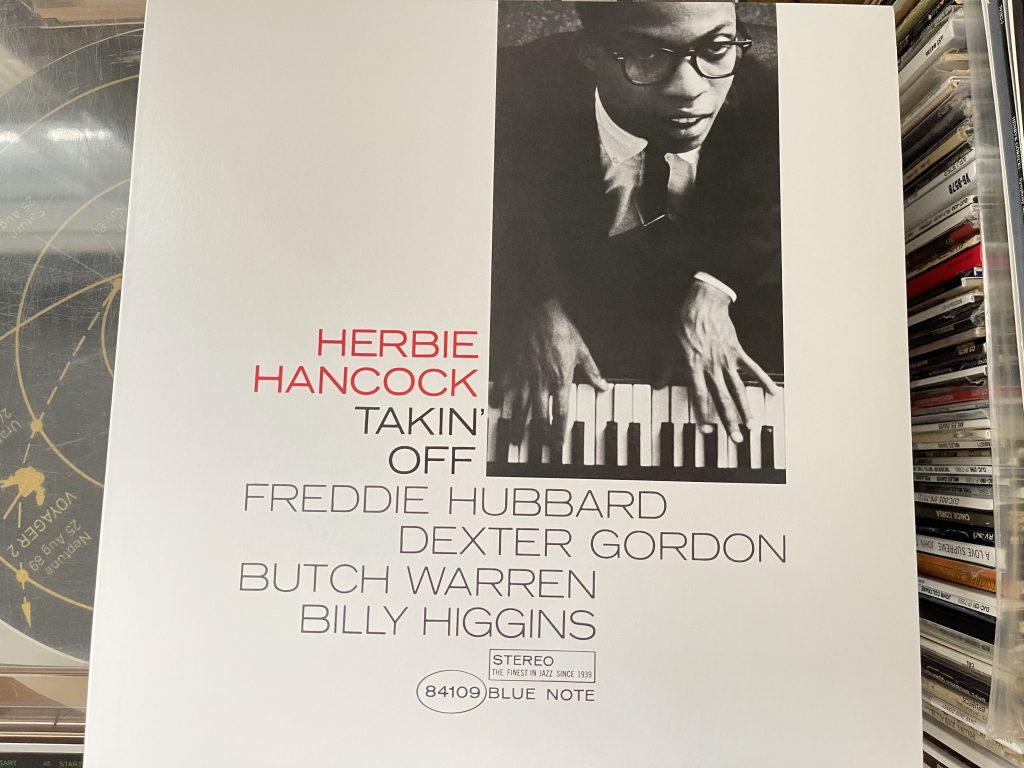 Album of the Week, May 14, 2022.
There aren't too many jazz players who start a career the way Herbie Hancock did. A Chicago kid who went to Grinnell College and graduated with degrees in electrical engineering and music, he was already an accomplished performer, having made his public debut at the age of 11 performing a movement of a Mozart piano concerto with the Chicago Symphony. He learned harmony from jazz musician Chris Anderson, and from the Hi-Los. He signed a contract with Blue Note Records fresh out of college and released his first album at the age of 22. And the very first song on his first album for the label became a top 100 single, then was re-recorded by Mongo Santamaria and reached number 10.
The band on that first album, Takin' Off, had something to do with his early success. Dexter Gordon was a well-known player who had been an early bebop standout, but had some troubles (with heroin) in the 1950s. At the same time, he absorbed some lessons from both John Coltrane and West Coast jazz, broadening his style with modal influences, and when he signed to Blue Note in the early 1960s he experienced a Renaissance of his career. Butch Warren was a reliable house bassist for Blue Note, and Billy Higgins brought a deep well of innovation on the drums. And at the trumpet was another star of the Blue Note roster of the early 1960s, Freddie Hubbard.
Hubbard had gotten his start in New York in 1958, and had already recorded with both Ornette Coleman (on Free Jazz), John Coltrane (Olé Coltrane and Africa Brass), and Art Blakey, as well as two albums under his own name, by the time he entered the studio in May 1962 with Hancock's group. He brought with him a burnished tone and solid technique, as well as a clear comfort with the modal-influenced post-bop tunes that Hancock brought to the session.
It's Hancock's compositions that ultimately stand out from this session. The opener, "Watermelon Man," was a hit, which was a calculation by Hancock; he wanted something to start his career off strong, and he found it in the modified twelve-bar blues, which combined with a strong soul influence and a highly rhythmic approach was enough to loft it onto the pop charts in 1962. That's when Mongo Santamaria, a Cuban percussionist and bandleader who heard something wilder in Hancock's tune. Santamaria's recording paid Herbie's bills for several years. Hancock returned to the easygoing soul-jazz vein for "Driftin'," the penultimate track on the album.
In between, though, are several more challenging works. "Three Bags Full" opens with a modal figure that would have been at home on Coltrane's Atlantic records, but played with a swinging rhythm. "Empty Pockets" is in a similar mood, with a modal theme that is fiercely swung by the rhythm section and jauntily soloed by both Gordon and Hubbard. And "The Maze," which opens the second side, is a deceptively straight-ahead sounding workout that twists and turns through a circle of chords, returning again and again to the same progression. This piece is ultimately a showcase not just for the soloists, but also HIggins, who explores more complex rhythms and timbres against each soloist in turn.
The last track on the album, "Alone and I," is the farthest step on the album, a tender ballad that showcases not only Gordon's romantic side but also Herbie's sensitive, tender voice, with a solo that carries echoes of 19th century Romantic composers but that is also steeped in jazz. It's a distinctive voice, and following the soul jazz and modal workouts of the rest of the album is something wholly new. Takin' Off was aptly named: Hancock was definitely going places. We'll hear the next stop on his journey next time.
You can listen to the album here.