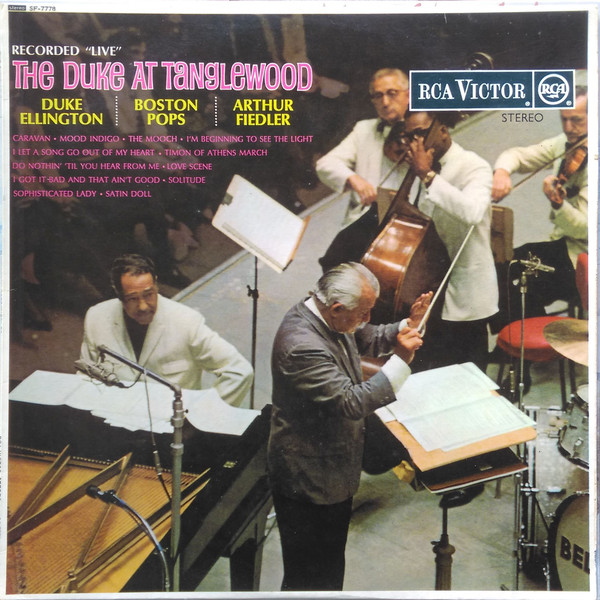 I got a bunch of Boston Pops records from the 1960s and 1970s. This is one in a series of blog posts about them.
We come to the end, for now, of this series of posts about the records I've found featuring Arthur Fiedler's Boston Pops in their 1960s-1970s heyday—primarily because, with one exception (a reissue of the Carmen Ballet), we've come to the end of my LPs. So I figured we should go out with a bang. This is The Duke at Tanglewood, a 1966 record of a 1965 performance of Duke Ellington and a rhythm section playing with Arthur Fielder and the Boston Pops through orchestral arrangements of some of Ellington's greatest compositions, live from the Shed at Tanglewood. I ask you: how could I resist?
Ellington wrote the liner notes for this release, and I can't disagree with his concluding line: "Ah, but it was a wonderful night for the piano player." The Duke is in fine form here, dropping a magnificent piano solo atop "Caravan," dialoging with the orchestra in "The Mooch," and generally having a great time.
It was not as wonderful a night for the orchestra. Though in some pieces ("Caravan," notably), the Richard Hayman orchestrations broaden the palate of Ellington's compositions tremendously, in others his tendency to knock the corners off syncopations dulls the impact a bit — Squaresville! In terms of sound and verve, the Boston Pops brass, though mighty, is no match for a Duke Ellington horn section. And some of the arrangements ("The Mooch") can seem a bit thick. When more restraint is used, as in Hayman's great arrangement of "Love Scene," the results are striking.
Overall, though, it's the most thoroughgoing of any of the collaborations we've reviewed on this trip through the Pops discography, and ultimately the most successful.
The full album is available on Youtube. Enjoy!