You've heard "Deck Us All With Boston Charlie." You may even have heard "Good King Sauerkraut Looked Out On His Feets Uneven." But have you heard of "The Twelve Days of Crispness"?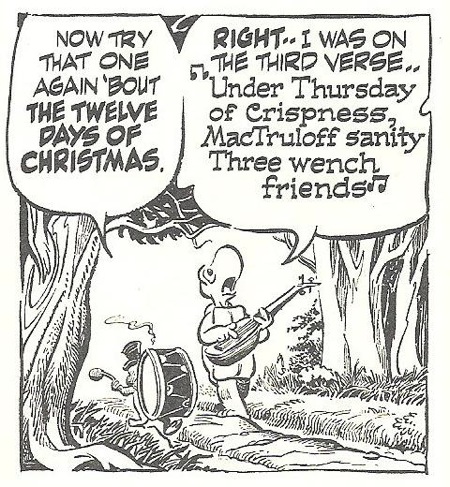 No?
Me neither, until tonight, which kind of astonishes me. But after seven performances this season of "The Twelve Days of Christmas" with the Boston Pops, it sounds pretty good. There are actually two extant versions:
On the first day of crispness,
My true love sent to me,
One turkle dove,
Two pounds of ham,
An' a parsnip in a pear tree!

On the secon' day of crispness,
My true love sent to me,
Two turtle doves
an' a parsnip in a pan-tree.
Or the more bizarre but equally satisfying:
Conifers stay of Crispness,
MacTruloff sentimie
A parsnip Anna Pantry.

Honor Sick an' Davey Criss-Cross,
MacTruloff said to me,
Tutor Killduffs
Anna Pottage inner
Pair threes.

Under Thursday of Crispness,
MacTruloff sanity,
Three wench friends,
Tu-dors above,
An' the parson
Up a psaltree.
I don't know about you, but my three wench friends should love this one.