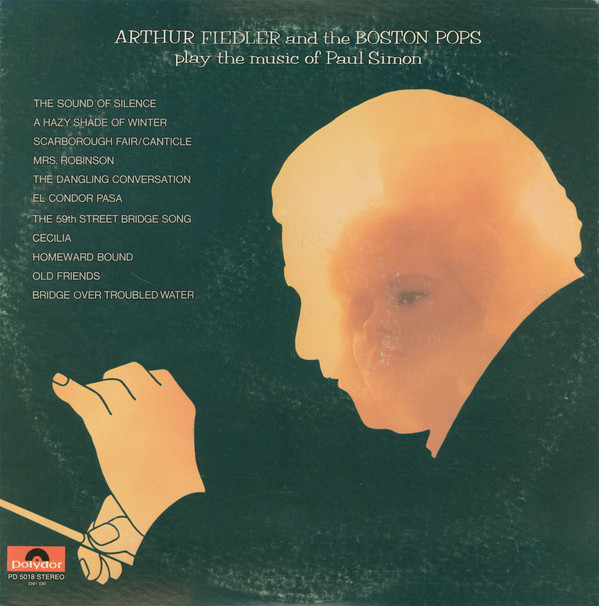 In my not-so-copious spare time, I've been going through and starting to really focus on digging into the vinyl I've accumulated over the years. The trigger this time was a double whammy: the cataloguing of a bunch of records from my father-in-law and his brother, and the gift of a bunch of records in dubious condition from our most recent Hackathon. I don't know if the Great Record Rip will ever be finished, but I'm pretty sure it won't get done if I don't start doing it.
So one of the subthemes I ran across in all three sets was records by Arthur Fiedler and the Boston Pops. There are a lot of these that were released over the years—many more than I realized when I started the project. And the one that really made me sit up and take notice is this one: Arthur Fiedler and the Boston Pops Play the Music of Paul Simon. It happened like this:
My good friend and colleague Mark Kriegsman is talking to me about two months ago about Hackathon and is clearly excited about something. He invites me into the Hack Lab (a large storage space containing Hackathon preparation and relics) and points me to a record player and about 14 egg crates full of LPs. I start flipping through, and there's the Pops/Paul Simon record.
I am a huge Paul Simon fan. But I've heard my share of poor Paul Simon covers, so I just had to drop the needle on Side 2. "The 59th Street Bridge Song (Feelin' Groovy)." And it's brilliant. Great orchestration by Richard Hayman, sprightly and not above being a little ridiculous—the pizzicato strings transition into vocal melody carried by the woodwinds, and I think there's an electric piano in the mix. The brass take the second verse, and the third verse has everybody and a tambourine. I had to have the record.
The rest of the record veers between the playful and serious. "Cecilia" is awesome as well, with hand percussion opening and the orchestra settling into a hoedown rhythm led by the lower brass. Bongos make an appearance in the final coda. "Homeward Bound" feels like it could have been one of the Pops' crossover country numbers with Chet Atkins (about which more later). Some of the numbers are a little more solemn, and in fact the closing "Bridge Over Troubled Water" is a little lugubrious. But overall the record brings a smile, and what more could you ask?
As to why the Pops was devoting a whole album to the music of Paul Simon? That's a whole different story.
Here's the Pops arrangement of the "59th Street Bridge Song (Feelin' Groovy)."