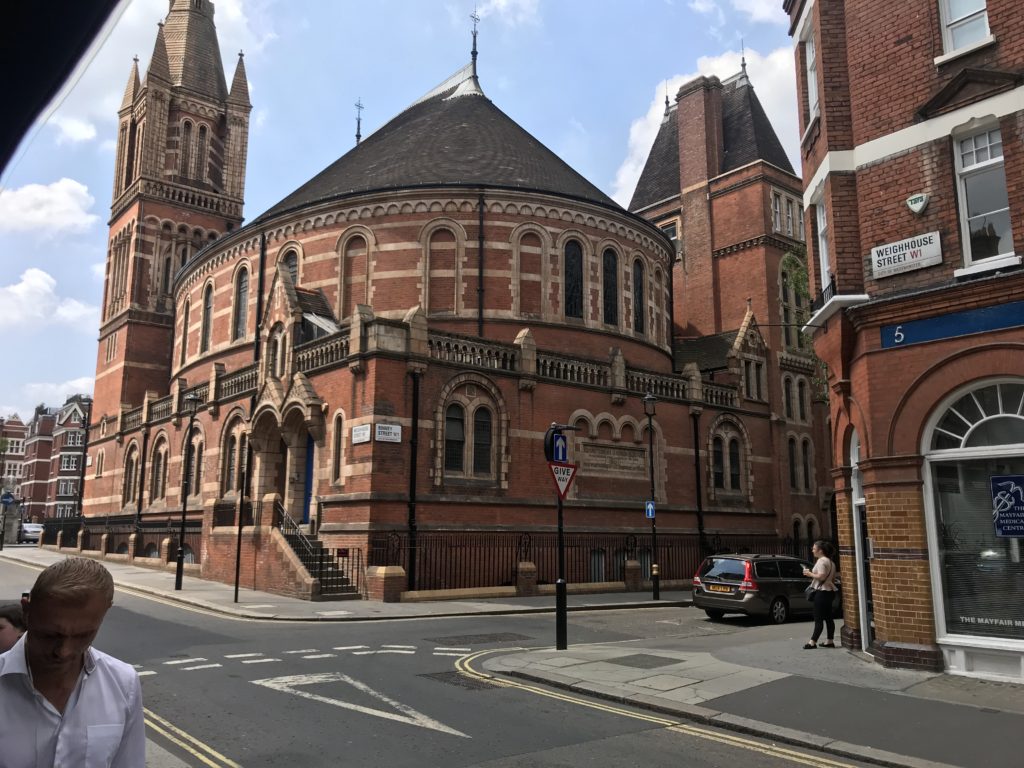 During our vacation week in London, we walked by the church above probably half a dozen times. I was struck by the structure—the polychrome, the oval chapel—and by the odd coincidence of the church's presence on Binney Street, which was the address of our first apartment when we moved to Cambridge, Mass.
I finally got around to looking up the church, intrigued by its odd name. The King's Weigh House church was indeed built over the site of the King's weigh house, but that was in Little Eastcheap rather than its current Mayfair site. (The original site first held St. Andrew Hubbard church, which was destroyed by the Great Fire of London, then replaced by a weigh house that became a chapel for dissenters in 1695 before moving up the street.)
The congregation was forced to move when the Metropolitan Railway purchased the land on Eastcheap, but the Duke of Westminster donated the current site. The new building was designed by Alfred Waterhouse, the architect responsible for the London Natural History Museum, a handful of buildings at Oxford, and, amusingly, Strangeways Prison.
Oh, and Binney Street? Turns out it's named for English Congregationalist preacher Thomas Binney, explaining its reuse for a street in Congregationalist Cambridge. (Oh, and our apartment in the complex formerly called Worthington Place turns out to have been in a National Historic District!)