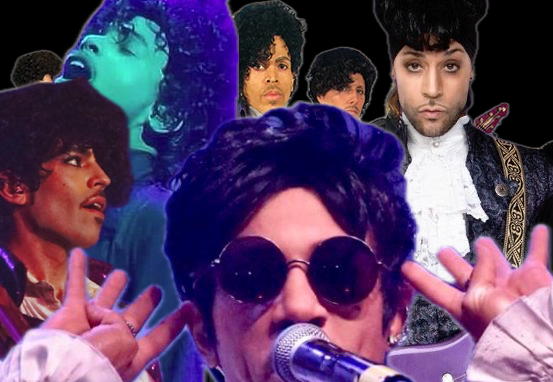 It's the second Hackathon playlist this week, and the second Prince covers playlist (see: "Wanna be your cover"). This time I went hunting for jazz covers of Prince's music, and it was surprisingly harder than I thought to find them… but they're out there and they're funky.
Austrian pianist David Helbock is new to me, but he was a godsend as his album Purple had a huge number of highly creative Prince covers. "Kiss" is a great example, recognizable but substantially recreated with melody line in the low bass and a combination of regular and prepared piano.
Michael Wolff was the bandleader on the Arsenio Hall show, and "The Wolff & Clark Expedition" has been recording together since 2013. "1999" comes from their 2015 album, and it's a great version of the song, with Christian McBride on bass, Wallace Roney on trumpet, new-to-me Hailey Niswanger on sax and Daryl Johns on bass, Wolff on piano and Clark on drums.
Guitarist Dave Stryker's "When Doves Cry" is a classic soul-jazz group lineup with Jared Gold on organ, McClenty Hunter on drums, and Steve Nelson on vibes. It's a great take on one of Prince's most covered songs. "The Beautiful Ones" has a very different vibe, with Ethan Iverson's distinctive piano and improvisational style anchoring his iteration of the Bad Plus on their final record together. Often the Bad Plus can come across as bombastic on record, but this track feels lighter since the band steps back to let Reid Anderson take the lead melody in the verse on bass.
Helen Sung is another new-to-me pianist who's been recording since 2003. "Alphabet Street" comes from her second album, in the trio format with Lewis Nash on drums and Derrick Hodge on bass. It's a bop, a real romp through one of Prince's lightest songs. Compare and contrast to the Jesus & Mary Chain's version on "Wanna be your cover."
There were a bunch of jazz covers of "Sexy M.F."—not surprising, given the thick horn arrangement in the original. A lot of them, indeed, sounded like straight-up instrumental versions of the original chart. Brazil-born Swiss pianist Malcolm Braff's version reimagines the song through a James Brown inspired lens, with a persistent bass line heartbeat from Reggie Washington and nimble drum work by Lukas Koenig.
"Jailbait" is a little bit of a cheat, as I don't know if there was ever a Prince recording of this funk/blues composition. But given it comes from Prince's last live recording from Vienne, and it was specifically written by Prince for Miles, I couldn't not include it. The last band he toured with featured Kenny Garrett on sax and a really tight rhythm section with Deron Johnson on keys, Richard Patterson and Foley on bass, and Ricky Wellman on drums.
Miles' old bandmate Herbie Hancock released an album of pop covers in the mid-1990s with a killer band—Michael Brecker, Jack DeJohnette, John Scofield, Dave Holland, and Don Alias! "Thieves in the Temple" has a feel of some of Herbie's early Blue Note recordings, filtering Prince's increasingly complex late-1980s songwriting into a distinctive brew.
So many new faces! Marcin Wasilewski records on ECM, and that label's famed sonic approach is all over "Diamonds and Pearls," from his second album. This trio recording is what jazz trios are all about; the degree of telepathy with Slawomir Kurkiewicz on bass and Michal Miskiewicz on drums is something to behold, and the arrangement is sparse, unfussy, and beautifully melodic. Wasilewski's solo (coming at about the 2:30 mark) honors the song while making its own lyric approach, which can be hard to do when dealing with a well known composition. Looking forward to digging into more of his discography.
From the solemnly beautiful to the bonkers, "Controversy" is the second tune from David Helbock's Purple. I can't tell what piece of scrap percussion Helbock hammers throughout the piece, but it's perfectly tuned to an F# and beautifully represents the four-note "Controversy" theme, which Helbock develops throughout the work, veering from a quiet melody to a bluesy stomp to something symphonic and strange.
Joshua Redman's quartet take on "How Come U Don't Call Me Anymore" is a more straightforward bluesy reading of this essential Prince deep cut. The band here—Brad Mehldau on piano, Larry Grenadier on bass, Brian Blade on drums—keeps things just off-kilter enough to make it more than just a superb soul jazz workout, which it of course also is, and most of the interesting bits happen just with Redman and Grenadier or Blade.
We wind out with an excerpt of Aretha Franklin's big band arrangement of "Nothing Compares 2 U." Where the arrangement by Jimmy Scott on "Wanna be your cover" is achingly dry, this one is ebulliently Aretha; we fade out her scat solo with deepest regret.
Here's the track listing:
Kiss

–

David Helbock

(

Purple

)

1999 (feat. Michael Wolff & Mike Clark)

–

Wolff & Clark Expedition

(

Expedition 2 (feat. Michael Wolff & Mike Clark)

)

When Doves Cry

–

Dave Stryker

(

Eight Track II

)

The Beautiful Ones

–

The Bad Plus

(

It's Hard

)

Alphabet Street

–

Helen Sung Trio

(

Helenistique

)

Sexy M.F.

–

Malcolm Braff Trio

(

The Enja Heritage Collection: Inside (with Reggie Washington & Lukas Koenig)

)

Jailbait (Live at Vienne Jazz Festival, 1991)

–

Miles Davis

(

Merci Miles! Live at Vienne

)

Thieves In the Temple

–

Herbie Hancock

(

The New Standard

)

Diamonds and Pearls

–

Marcin Wasilewski Trio

(

January

)

Controversy

–

David Helbock

(

Purple

)

How Come U Don't Call Me Anymore

–

Joshua Redman

(

Timeless Tales (for Changing Times)

)

Nothing Compares 2 U

–

Aretha Franklin

(

Aretha Franklin Sings the Great Diva Classics

)
And please enjoy listening to the mix. Kick back, dig…