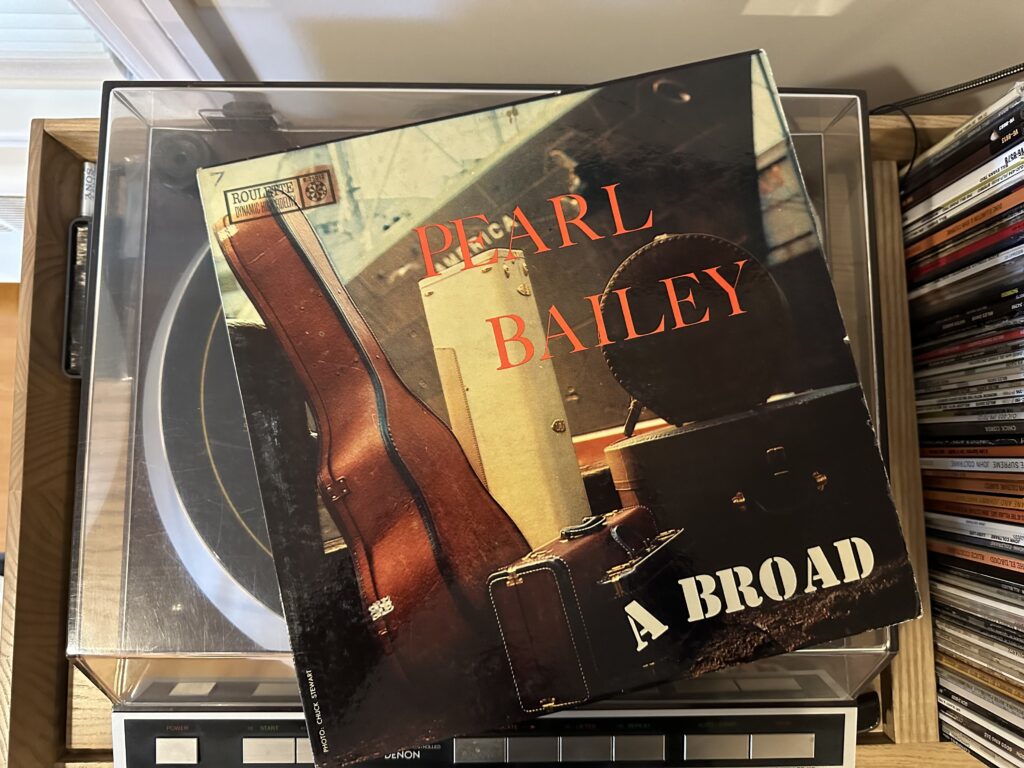 Album of the Week, October 14, 2023
The part of Virginia in which I grew up, Newport News, was not exactly a cultural center. Founded as a shipping center by Collis P. Huntington to bring coal from West Virginia to the port at Hampton Roads, and later to house a shipyard which still builds and refurbishes aircraft carriers and other Naval ships, it's an industrial town with neighbors who are watermen or military families. (There are two active Army bases, a huge Navy base, an Air Force base, and many camp, post and station sized facilities scattered throughout the area. The grim joke among us in high school was that we'd be the first to go in the event of a thermonuclear missile strike.) Not the sort of place you normally look for world-class entertainers. And yet, not only did today's artist call Newport News home, but so did many others—some of whom we'll get to shortly.
Pearl Mae Bailey was born in Newport News (at 1204 and later 1202 29th Street) to the Reverend Joseph James and Ella Mae Ricks Bailey. The family moved to Washington, DC, and following her parents' divorce, she moved to Philadelphia with her mother. Her older brother Bill Bailey had begun a career in tap dancing, and she won an amateur contest at the Pearl Theater in Philadelphia, which closed its doors during her very first two week engagement. Undeterred, she moved on to New York, won a contest at the Apollo Theater in Harlem, and decided to become a professional performer. Her act, of which she was the headliner, consisted of both straight and comic song, and she performed it all over the US, ending up performing with the USO during World War II, in New York nightclubs, and on Broadway, while still recording and performing albums.
Today's example is a fairly representative performance, a 1957 recording consisting of popular songs loosely connected to a theme of travel and international culture, and orchestrated by Roulette Records founders and producing pair Hugo Peretti & Luigi Creatore, a Brill Building partnership and pair of cousins known professionally as Hugo & Luigi.
Bailey takes "Non Dimenticar" straight except for bookending it with references to eating pizza, and a sly aside in the middle in which she asks, "I wonder if this guy would like a piece of my pizza pie?" In the followup, "South America, Take It Away," she sings, "To put it plainly, I'm tired of shakin' to that Pan-American plan," and goes on to complain that, due to all the Latin American dances, "This makin' with the quakin' and the shakin' of my bacon leaves me achin'." On it goes through a catalogue of sambas, rumbas, and congas.
"Shein V'Di L'Vone" gives a slightly Russian (or Jewish) air to the proceedings, but is otherwise unremarkable. Cole Porter's "C'Est Magnifique" fares better, and features Bailey embracing Porter's comic ballad text with gusto: "Ooh la la la — that's French, c'est cool French — c'est magnifique!" Better still is "Loch Lomond," given a brisk tempo in an arrangement that is more swing than romantic ballad. The first side rounds out with "Bill Bailey, Won't You Please Come Home?," which was actually written about jazz musician Willard Bailey and his wife's complaints about his irregular hours, rather than about Pearl's older brother. It swings a little more than the usual Dixieland versions of the song, but the unnamed trumpeter gets a pretty great solo nonetheless.
"That's What I Like About the North" opens the second side with a minor key ode to the great metropolises of the Northern parts of the United States "where people all get along." "You Came a Long Way from St. Louis" keeps the travel inside the continental United States as a slow swing ballad. Together, the two songs are an interesting pair, with the first singing the praises of the North to encourage immigration from the southern states, only to bump up against the caution, "You've got 'em dropping by the wayside, a feeling I ain't gonna know/You came a long way from St. Louis, but baby, you've got a long long way to go."
Pearlie Mae returns to the topic of Latin dance with Steve Allen's "Mambo, Tango, Samba, Calypso, Rhumba Blues," which makes a great deal of the "Uh!" common to mambo recordings and complains about the pain in "muscles I don't use," observing "modern dance has shown me/how easily I bruise." Arlen and Mercer's "Any Place I Hang My Hat is Home" returns to a more domestic theme, with a casual swing accompanying her never-ending tour itinerary.
"Ballin' the Jack" is that standard American song form, the dance craze song, and the second verse describes how one dances the "balling the jack," involving putting your two knees close up tight, then sway to the left, then sway to the right," which if I'm honest sounds like a recipe for tearing your meniscus. "There's a Boat Dat's Leaving Soon for New York," by contrast, is given a slow balladic performance as Pearl Bailey gives a serious flair to the Gershwin standard, enticing the listener to travel once more with her to New York, as "that's where we belong."
Bailey was an entertainer first, but her performances were never without artistry—and a sly wink aside. Next time that wink will get even broader as we dig into another of her great albums.
You can listen to this week's album here: