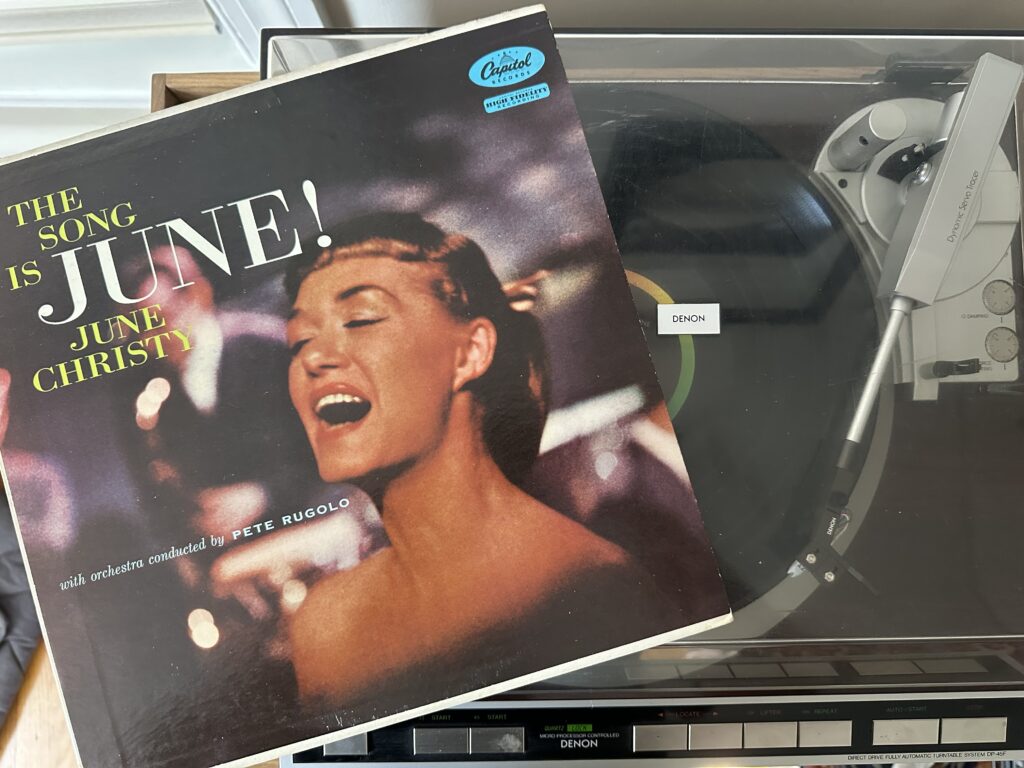 Album of the Week, October 28, 2023
Our tour of vocalists has reached an interesting corner. I hadn't heard of June Christy before I found her 1961 Christmas album This Time of Year recommended in a list of little-known holiday albums. I was hooked: a beautiful instrument with sadness and pain around the edges, singing songs for grown-ups that layer delight, regret, and heartbreak in equal measures. (Christmas songs that demand Scotch rather than eggnog.) So I was thrilled when I found a few more of her records in a small shop in Asheville last summer, and came home with today's album of the week.
Shirley Luster was born in 1925 in Springfield, Illinois. At the age of 13 she was singing with big bands and jazz orchestras around Decatur. She moved to Chicago after high school and began performing under the name Sharon Leslie, then moved to New York. Her big break came when Anita O'Day left the Stan Kenton orchestra in 1945 and she got the gig. Changing her stage name again to June Christy, she recorded a string of hits with Kenton, including "Shoo Fly Pie (and Apple Pan Dowdy)," "How High the Moon," and "Tampico." While still performing and recording with Kenton, she began a series of solo records, backed by Pete Rugolo and his orchestra. She had a a hit in 1954 with the album Something Cool. In 1958 she released The Song is June!.
"Spring Can Really Hang You Up the Most" gives you a good flavor for where the divine Ms. Christy differs from the other vocalists in the pack. Written by Fran Landesman (lyrics) and Tommy Wolf, the melody has been described as "slithery, slippery, abstract, bordering on unsingable," but June's rendition is unhurried, unfussy, and devastatingly dark. Her voice rides a little low against the pitch—not flat, but with a depth and darkness to it that you don't find in the works of other great singers of the period. Knowing that Landesman wrote it for a "beatnik musical" (The Nervous Set) from inspiration from "The Waste Land" is the icing on the cake for me and makes the song utterly compelling.
"The One I Love (Belongs to Somebody Else)" is more uptempo, but similarly slippery in arrangement and performance. June's diction hits the marks of the Isham Jones/Gus Kahn collaboration a full half measure behind the arrangement, lending it an off-kilter feel that staggers artfully against the bounce of Pete Rugolo's orchestra.
"Nobody's Heart," a lesser known Rodgers and Hart collaboration, is one of Hart's great dark lyrics: "Nobody's heart belongs to me/heigh ho, who cares?… I admire the moon/as a moon/Just a moon…" Coming from an oddball musical called By Jupiter and set in the land of the Amazons, the song could easily slip over into silliness or nostalgia, but Christy finds its dark center, trailing off the final "Nobody's heart belongs to me / today" into a swoon.
"My Shining Hour" belongs to the more manic side of this set, but the arrangement finds some melancholy even here, with woodwind solo passages amid the bright vibraphones and brass of the arrangement of the Harold Arlen/Johnny Mercer song. Christy finds emotional depth in the last moments of the song, stretching the tempo on the last "This will be my shining hour" until we realizes that her narrator repeats the phrase to convince herself, not us.
"I Remember You" has plenty of pathos about it already. The song was written by Johnny Mercer, with Victor Schlesinger, for a 19-year-old Judy Garland, who broke off the pair's relationship when she married composer David Rose. There's wistfulness in Christy's version, but an undercurrent of pain as well.
"Night Time Was My Mother" is a deeply unusual song, slipping in and out of minor keys and exploring a dark familial structure—night as the mother, music as the brother, and "old man blues" as an adopted family member. Written by Connie Pearce and Arnold Miller, this song doesn't appear on any earlier recordings; it may as well be Christy's theme song, based on the dark tones of her work.
"I Wished On the Moon" (Ralph Rainger with Dorothy Parker) is a more optimistic tune, and Christy gives it an almost bouncy performance, as though the light is coming through the clouds. "The Song is You" brings us back to the darkness, with Christy's declamation of Oscar Hammerstein's opening lyric "I hear music/A beautiful theme of every/dream I ever knew" sounding like a declaration of despair.
"As Long As I Live" feels like it starts in the middle of things, with June scatting over the bouncy orchestration. Ted Koehler's lyrics are on the slight side, but there's still something melancholic in the idea of someone who never cared for life taking care of herself so that she can enjoy her new relationship longer longer: "I never cared, but now I'm scared/I won't live long enough/That's why I wear my rubbers when it rains…" Harold Arlen's melody keeps things moving along, making this one of the brighter moments in the album.
"Saturday's Children" is another tune that appeared for the first time on this album, and it feels like a summation of the moods that Christy explores throughout. André Previn sets Bob Russell's wry lyric ("I would call me Saturday's child, For Saturday's children got nothin' for free! Nothin' comes easy, like forgettin' you…") in a wistful haze of a melody, ably born out in Rugolo's arrangement. The bandleader said, "I used all the best guys in the string sections. You'd go in to the session and you'd see ten concertmasters! They all… made more money than in the symphonies. So you'd see the first violinist from the Los Angeles symphony, and the people that used to play with Toscanini…"
Overall the record is a dark delight, a tone poem of mature melancholy that is by turns warmly optimistic, resigned, and fatalistic. Christy's performance here is of a great craftsman, and it's unfortunate that her collaboration with Rugolo would only yield one more album. Christy's career, like many other singers of this period, did not survive the arrival of rock'n'roll, and she retired in 1969, partly due to an ongoing battle with alcoholism. She un-retired a few times, performing in jazz festivals in the 1970s and recording one last solo LP in 1977, before dying in 1990. But the performances that she left behind are richly rewarding… provided that you aren't susceptible to infectious melancholy.
Next time we'll listen to the first of a few vocal jazz recordings from the same period that, unlike Christy's unfairly neglected work, have become modern classics.
You can listen to this week's album here: