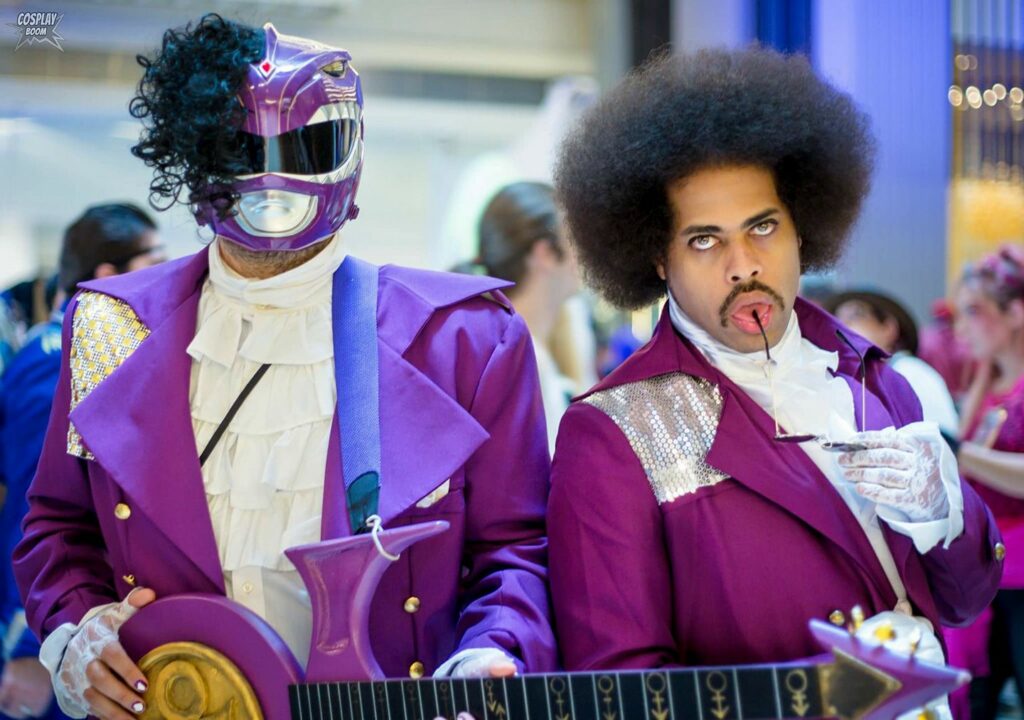 It's a Veracode Hackathon time, so it's time for some Exfiltration Radio! And this time around we are feeling purple! Show notes below.
I was talking about Sheryl Crow for some reason at the office recently, and casually mentioned the Prince cover of "Everyday is a Winding Road," and they said, What? And I said, "Oh, you have to hear that."
And so I decided to put together a playlist of songs that Prince covered. Then I realized that there actually weren't that many songs that Prince covered in his lifetime… though the ones he did were epic. So I broadened the scope to include … unusual covers of Prince songs. Turns out, there are a lot of those out there!
Let's start with the Information Society's version of "Controversy," from Prince's fourth album. This version puts awkward industrial dance energy into Prince's electrofunk, with unusual—maybe danceable—results.
Chaka Khan's version of "I Feel For You" might be more familiar, at least if you were born before 1980. I personally remember people wandering around saying "Chaka Khan? Chaka-chaka-chaka-chaka Khan?" after the famous opening, which (fun fact) was recorded by Melle Mel of Grandmaster Flash and the Furious Five. (Melle Mel's most famous performance was on "The Message," which deserves its own themed mix.)
This version of "1999" is by Dump, the pseudonym of James McNew, bassist for Yo La Tengo (and onetime attendant at the Corner Parking Lot, memorialized in The Parking Lot Movie), and comes from a full collection of Prince covers in a variety of … unusual styles. I'm not entirely sure what time signature this cover is in, but I do like listening and floating away with it.
Cyndi Lauper's "When You Were Mine" comes from the impeccable A side of her debut album and covers a great track from Prince's Dirty Mind album, itself one of the great albums of the early 1980s. It's a great example of a cover artist making a song their own. Likewise, Sharon Jones and the Dap-Kings' version of "Take Me With U" could almost have come from any Sharon Jones album—which is high praise, considering the uniformly high quality of her soul albums.
"Soul" is not necessarily a word one would use for the Tom Jones/Art of Noise cover of "Kiss," but there is an incredibly high level of energy in both Jones's gutsy vocal and the Art of Noise backing track that makes this a fun listen. Also fun: identifying the Easter eggs from Art of Noise's earlier hits in the outro.
We then take a big ol' left turn into the Jesus and Mary Chain's version of "Alphabet Street," which is two-plus minutes of abrasive guitar feedback that I rescued from a b-side to an obscure 1994 single. It's noisy fun! So is the Hindu Love Gods' version of "Raspberry Beret," a jangly romp through one of Prince's most lighthearted songs with a pickup band consisting of Warren Zevon and three-quarters of R.E.M. (Bill Berry, Mike Mills and Peter Buck).
"Everyday is a Winding Road" is the first of the two covers by Prince that show up on this playlist. I've told the story about how this cover came to be here up above, but I'll just note that when Rave Un2 The Joy Fantastic came out, I was still in a formative phase when it came to understanding funk. The difference in meter and rhythm between the foursquare original by Sheryl Crow and Prince's version might, in jazz terms, be summed up as swing; the arrangement is pure joy, even to the chant at the end, which puts this cover in the context of Prince's songs to the divine.
"If I Was Your Girlfriend" is from Prince's earthier tradition, and this TLC cover might be the definitive version, adding explicit hip-hop beats and a dollop of sensuality to Prince's original. In a very different way, "The Cross" provides its own definitive version of one of his most explicit pro-Christian songs. The Blind Boys of Alabama had a huge career resurgence from their 2001 album Spirit of the Century, which put a gospel lens on pop and rock music and exposed its listeners to the intensity and depth of the gospel tradition. "The Cross" comes from the follow-up, Higher Ground, and adds even more earthiness and grit to Prince's religious statement.
"Can't Make U Love Me" is the second of the two covers by Prince on the album. That he would cover a Bonnie Raitt song is only surprising for casual fans; his love of music was omnivorous, and the song's depth of insight on relationships is as chilling here as in Raitt's version. This is one of the times that Prince pulls off a Chaka Khan (or Cyndi Lauper) in reverse; it feels like it's always been in his catalog, and at the same time adds a greater depth and maturity.
The final track, "Nothing Compares 2 U," is more covered than almost any other Prince song apart from "Purple Rain." I agonized about which version to include, but ultimately had to go with the Jimmy Scott version from his Holding Back the Years CD. Scott's voice, shaped by his Kallman syndrome and by his difficult career, carries the lovely ache of the song better than almost any other, and this version deserves to be better known.
The track listing:
Controversy

–

Information Society

(

Essential '80s Masters

)

I Feel for You

–

Chaka Khan

(

I Feel for You

)

1999

–

Dump

(

That Skinny Motherfucker With The High Voice?

)

When You Were Mine

–

Cyndi Lauper

(

She's So Unusual

)

Take Me With U

–

Sharon Jones & The Dap-Kings

(

Just Dropped In (To See What Condition My Rendition Was In)

)

Kiss (7″ Version)

–

Art of Noise featuring Tom Jones

(

Kiss (EP)

)

Alphabet Street

–

Jesus and Mary Chain

(

Come On (EP)

)

Raspberry Beret

–

Hindu Love Gods

(

Hindu Love Gods

)

Everyday is a Winding Road

–

Prince

(

Rave Un2 the Joy Fantastic

)

If I Was Your Girlfriend

–

TLC

(

CrazySexyCool

)

The Cross

–

The Blind Boys Of Alabama

(

Higher Ground

)

Can't Make U Love Me

–

Prince

(

Emancipation

)

Nothing Compares 2 U

–

Jimmy Scott

(

Holding Back The Years

)
Please enjoy listening, and know that Funk not only moves, it can remove, dig?