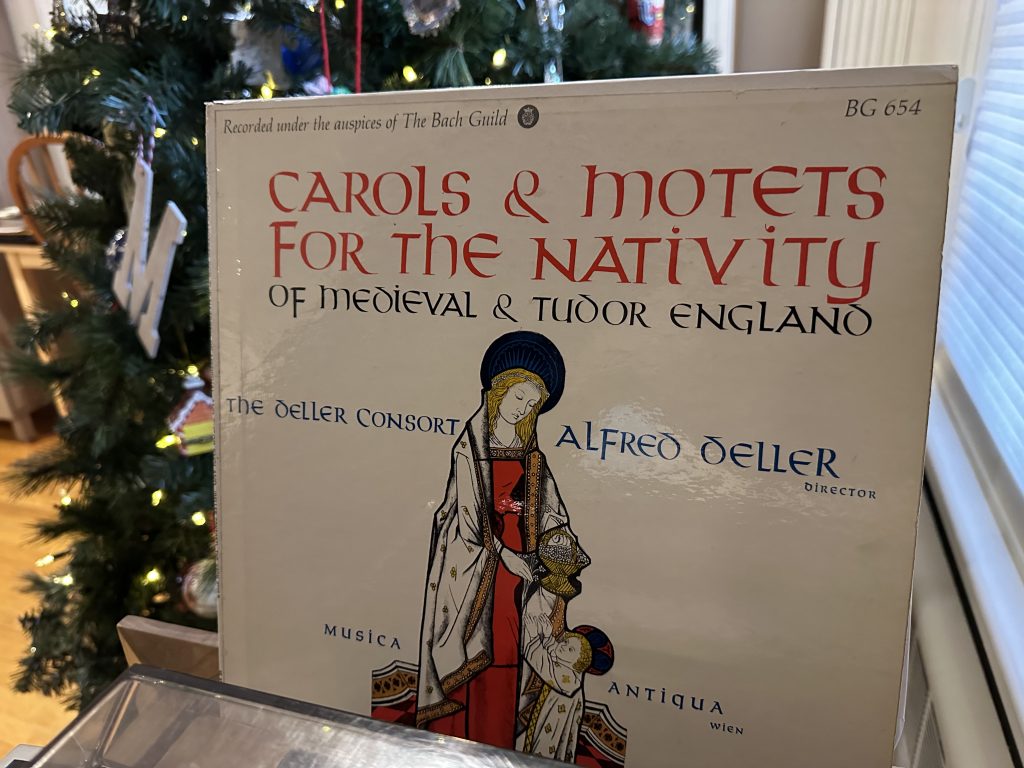 Album of the Week, December 3, 2022
We shift gears this week to start a short series on Christmas records. This'll go some different places, but if you're just with me for jazz, hang in there—we'll get to some holiday jazz recordings during the series. Today, though, takes us to a very different place—almost to a beginning.
Living in the Boston area in the early 21st century, it's hard to believe that there was a time when no one was really performing early music. But that was exactly the situation as recently as 80 years ago. It took the work of today's featured artist, alongside other like-minded English musicians, to change that. Alfred Deller's and the Deller Consort not only brought countertenor performance out of the English choral tradition and back onto concert stages, he also brought about a serious revival of early music repertoire and helped launch the careers of other like-minded singers and musicians, including Rogers Covey-Crump and David Elliott of the Hilliard Ensemble, and singers Mark Deller (his son), Robert Tear and Maurice Bevan; the latter three appear on this album.
Deller's countertenor voice doesn't sound exceptional today, if you're familiar with the work of the Hilliard Ensemble or other early music ensembles, but it must have been shocking at the time. I like the anecdote quoted in his Wikipedia article:
Michael Chance tells the story that once, a French woman, upon hearing Deller sing, exclaimed "Monsieur, vous êtes eunuque"—to which Deller replied, "I think you mean 'unique', Madam."
But how is the record? I think it's fair to say that the performance is an acquired taste. The instrumentation of Musica Antiqua—here under the direction of the great René Clemencic—is heavy on period instruments, with plenty of crumhorn, recorder, positive organ and bells, and maybe even a sackbut or two lurking around the edges. The instrumental numbers are accordingly unusual in timbre to modern ears; both the "Carol with Burden" and the "Angelus ad Virginem" had me checking my watch a few times.
The vocal music is why one listens to this record. And while some of the performance practices are unusual by current "early music" standards—there's nary a straight tone to be found, and most of the works are sung in modern English rather than the Middle English that would be more authentic—the quality of the singing is still uniformly high. The "Nova, Nova" which can be heard in Middle English on the Boston Camerata's Sing We Noel is performed in modern English here but with fully appropriate enthusiasm. Fifteenth century composer Richard Pygott's ten-minute-long "Quid Petis O Fili" engages the listener throughout.
And a number of the songs approach definitive performances. "Hail, Mary, Full of Grace" and the medieval carol "Edi Beo Thu Hevene Quene" (here sung in modern English as "Blessed, Be Thou Heavenly Queen") are both tenderly and sensitively performed. The "In Die Nativitas" is sung with more vigor, but comes across with a little less balance. Of the more sturdy numbers, "Nowell, Nowell: Out of Your Sleep" is perhaps more successful. But the standout is "There is no Rose of Such Virtue," sung with a great amount of rubato and delicacy. It single-handedly vaults this record to my annual Christmas list, and I hope you'll find it on yours as well.
You can listen to the record here: