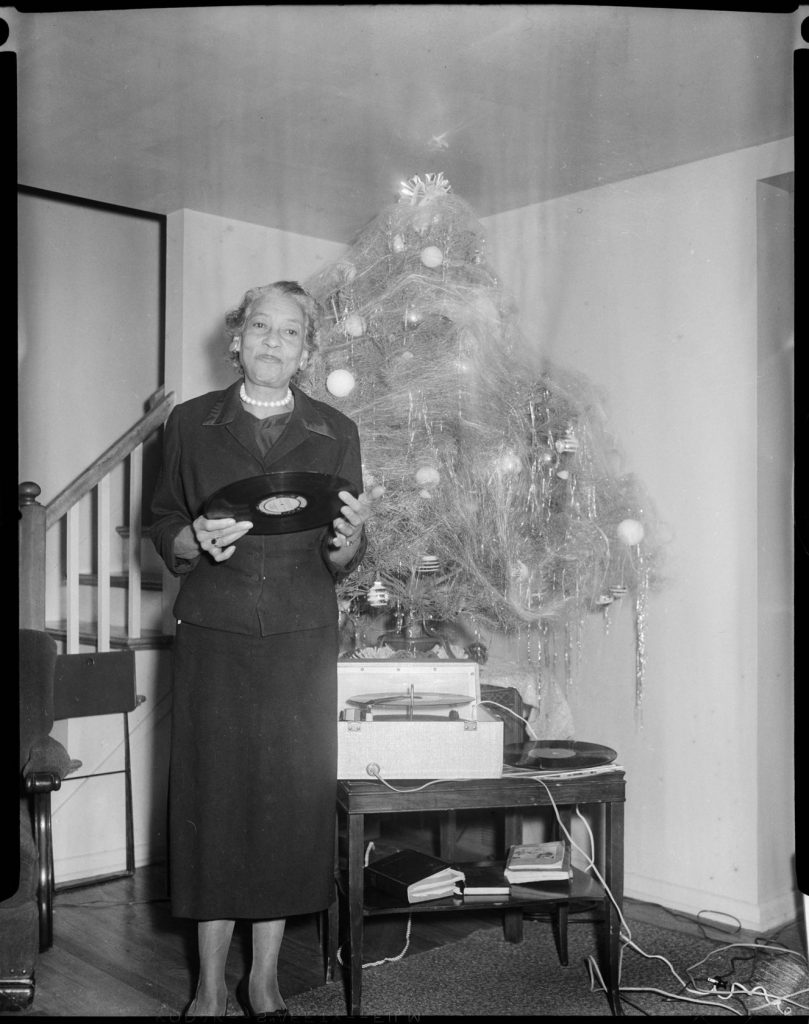 So you're stuck at home this Christmas. You have Covid, or someone in your family does, or both. Might as well crank the music up, and what better way to ring in the season than an hour of Christmas jazz?
This set, and yesterday's, have been percolating for a few years, ever since my "Off Kilter Christmas" showed me how hard it was to trim all the holiday music I wanted to share down to an hour. But when I was putting together yesterday's set, I realized I had something like four mixes worth of material, so I started separating the jazz out… and what came was remarkably coherent. Though maybe that says more about my record collection than fate. The track listing is below, though be prepared for Babs Gonsalves to pop up a few times.
"Sleigh Ride," Duke Pearson (Merry Ole Soul). Pearson was, in addition to being the A&R man for Blue Note Records in the 1960s and composer of the great Donald Byrd track "Cristo Redentor," a pretty fair pianist and arranger. This uber-cool take on "Sleigh Ride" is viewed through the prism of spiritual jazz, with a drone in the bass and drums that'll knock your socks off.
"Marche Touche," Classical Jazz Quartet (Christmas). This record is one of my happy discoveries this season. Featuring Ron Carter on bass, Kenny Barron on piano, Stefán Harris on vibes and marimba, and Lewis Nash on drums, this take on the March from Tchaikovsky's "Nutcracker" is something else.
"Littler Drummer Boy," Tia Fuller (It's Christmas on Mack Avenue). If you want a modern classic of jazz interpretations of Christmas standards, I'd check out this compilation. Fuller's take on "Little Drummer Boy" is representative, with a combination of traditional melodic interpretation and contemporary rhythm.
"We Three Kings of Orient Are," Ellis Marsalis (A New Orleans Christmas Carol). This standout album from the late patriarch of the Marsalis clan has a lot going for it, especially Jason Marsalis's beat on tracks like this one.
"Carol of the Bells," Wynton Marsalis (Crescent City Christmas Card). I remember listening to this with my family with some puzzlement when it first came out. Now I love it: the horn line that shifts around the beat with each chorus, the typically crunchy Wynton chords, the classic Wynton Marsalis Septet members throwing everything into the arrangement (yes, that's Marcus Roberts, Wycliffe Gordon, Todd Williams, Wessell Anderson, Herlin Riley, and Reginald Veal on the track).
"White Christmas," Ill Considered (An Ill Considered Christmas). The Ill Considered Christmas album might be the 21st century equivalent of Crescent City Christmas Carol for dividing family opinion. There are some mighty interesting reharmonizations on this album. But I love the inclusion of Eastern melodies over the traditional Irving Berlin tune here, and the band is uptempo and bright.
"Christmas Time Is Here," Ellis Marsalis. A second track off Ellis's Christmas album, this is a solid reinterpretation of the Vince Guaraldi classic and a completely different mood from "We Three Kings." Contemplative and mellow. You might want to refill that eggnog.
"Vauncing Chimes," Bobby Watson (Blue Christmas). This contemporary collection from Blue Note has a bunch of fairly faithful covers of classic jazz arrangements, but this one actually comes from a different 1991 compilation and is a retitled version of "Jingle Bells," with Watson's saxophone taking us on a tour of the outer reaches.
"God Rest Ye Merry Gentlemen," Jimmy Smith (Christmas Cookin'). A top five holiday jazz album, Smith's Hammond organ sizzles throughout this set. While I enjoy the numbers with orchestration in this set, this cut just has the trio, and they make a joyful noise.
"Here Comes Santa Claus," Ramsey Lewis Trio (Sound of Christmas). This set from 1961, like the Jimmy Smith set, has trio numbers and orchestral arrangements, and this is also "just" a trio setting. But with Ramsey Lewis at the keys, it might as well be an orchestra. Rambunctious, bluesy and jolly, this'll have you wondering what you put in that eggnog.
"Santa Claus is Coming to Town," Bill Evans Trio (Trio '64). Just why the otherwise straight album by Evans, Paul Motian and Gary Peacock contained this cover of the Fred Coots/Haven Gillespie holiday standard is up for debate. What's not up for debate is the high level of artistry on this track, with Evans, Motian and Peacock displaying telepathic abilities throughout. Worth the price of admission for Motian's bass part alone.
"Sleep, Holy Infant, Sleep," Dave Brubeck (Christmas Lullabies 12"). I don't know too much about this vault issue, which was a Record Store Day release a few years ago, except that Brubeck demonstrates a delicacy of touch and interpretation that's characteristic of some of his later Telarc recordings. This is, true to the release name, a lovely lullaby.
"Auld Lang Syne," Bobby Timmons (Holiday Soul). The great soul jazz pianist and composer Bobby Timmons sees us out, with a great soul-inflected cover of the New Years Eve classic (or, depending on your leaning, unofficial University of Virginia alma mater).
Enjoy!