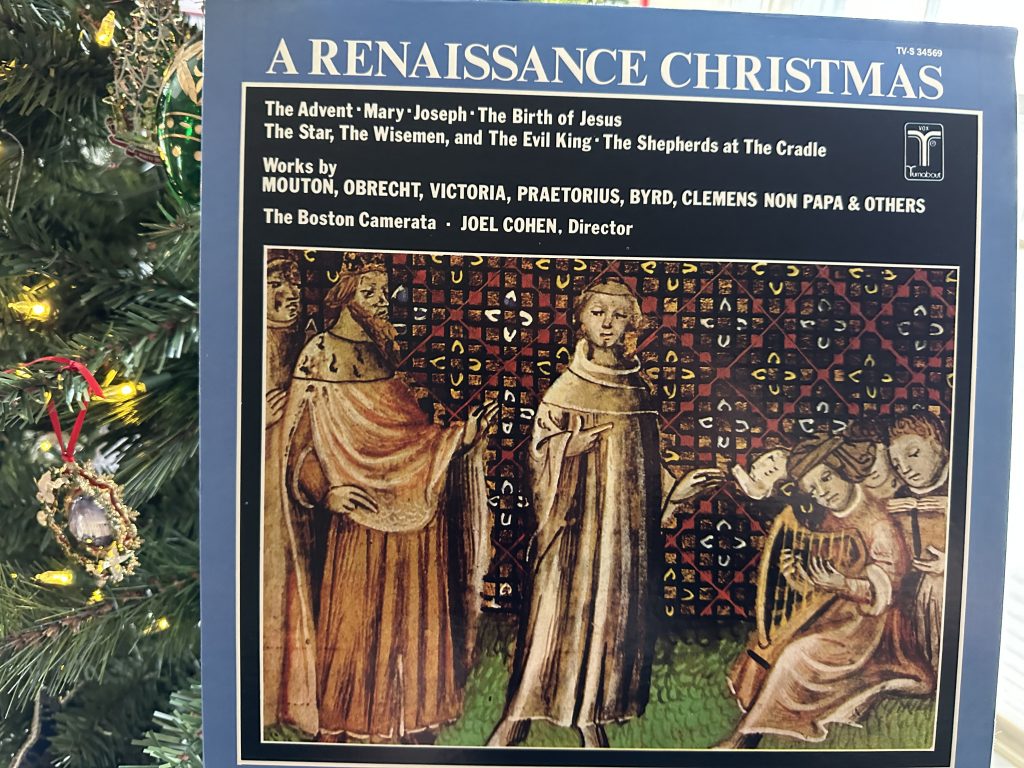 Album of the Week, December 10, 2022
The Boston Camerata was founded in 1954, but they didn't enter my consciousness until the late 1970s, when my mother brought home a copy of Sing We Noel. The record, an unexpected combination of medieval and Renaissance English carols and 19th century American hymns for Christmas, was a hit in our house, sparking my love of Middle English (I can still sing "Nova, nova: aue fitt ex Eva" in the original from memory, and brought "Nowell, Out of Your Slepe" to the Suspicious Cheese Lords), early American hymnody ("Sherburne," anyone?), and the Boston Camerata. Our household bought both the follow-up records on Nonesuch: A Renaissance Christmas and A Medieval Christmas, and I followed the group to their recordings for Erato and other labels. I've taken my kids to see them here in Boston. (I've also developed working relationships with at least one musician on that original series of recordings; the Virginia Glee Club's director Frank Albinder sang as a graduate student on A Renaissance Christmas.)
So it was with a certain thrill that I found a Camerata record that predates all of the above, and hits some of the same repertoire from Sing We Noel and A Renaissance Christmas. Also called A Renaissance Christmas, this 1974 recording on the small Turnabout Records label proved to be an unexpected addition to our Christmas listening.
The biggest unexpected thing, perhaps, is the quality of the sound on the recording. The Nonesuch records featured impeccable balance and clarity of sound; this record, not so much. In several numbers, the wind instruments overpower the women's voices, and there are moments of impaired pitch in some of the men's singing, particularly in the Obrecht "Magnificat" when the men enter unaccompanied.
There are also, though, delightful moments, including the pairing of "Nova, Nova," here sung in modern English, with the 15th century Czech carol "Salve, lux fidelium." Here the voices are clear and strong, and full of personality. Indeed, this is one of the hallmarks that sets this recording apart from the Deller Consort record we heard last week, where the balance was delicate, sometimes overly so.
Most distinctively, the program for the recording covers an immense amount of ground inside the theme of "Renaissance Christmas," from anonymous English carols to motets by Mouton, Victoria, Praetorius, Clemens Non Papa, Francesco Guerrero and others. And the repertoire is creatively sequenced, too, with all the Spanish motets and carols coming together to tell the birth of Jesus. This should come as no surprise, as even at this early date, about five years after he took leadership of the Camerata, music director Joel Cohen was already demonstrating his flair for creative programming.
The strongest performances, to my ears, come in the repertoire that Cohen would return to in Sing We Noel and in the 1986 version of A Renaissance Christmas, namely "Marvel Not, Joseph," which except for its modern English text could be mistaken for the version that the group would perform four years later; the Victoria "O Magnum Mysterium," which would return on the 1986 Renaissance; and of course "Riu, Riu, Chiu," which swaggers appropriately just as it did on the later recording. (Unfortunately, there is only a single album-length version of this record available on YouTube; you'll have to listen to the whole thing to get the samples from this 1974 version.)
But the vocal performances get stronger as the album goes on, including the "Virgen Santa" and "Sweet Was the Song the Virgin Sung," featuring a countertenor solo that's as lovely as anything I've heard from this group. All told, it's a fun collection that is just familiar enough to trigger nostalgia for some of the Camerata's later recordings, and just distinctive enough to be worth a listen on its own.
You can listen to the album here: