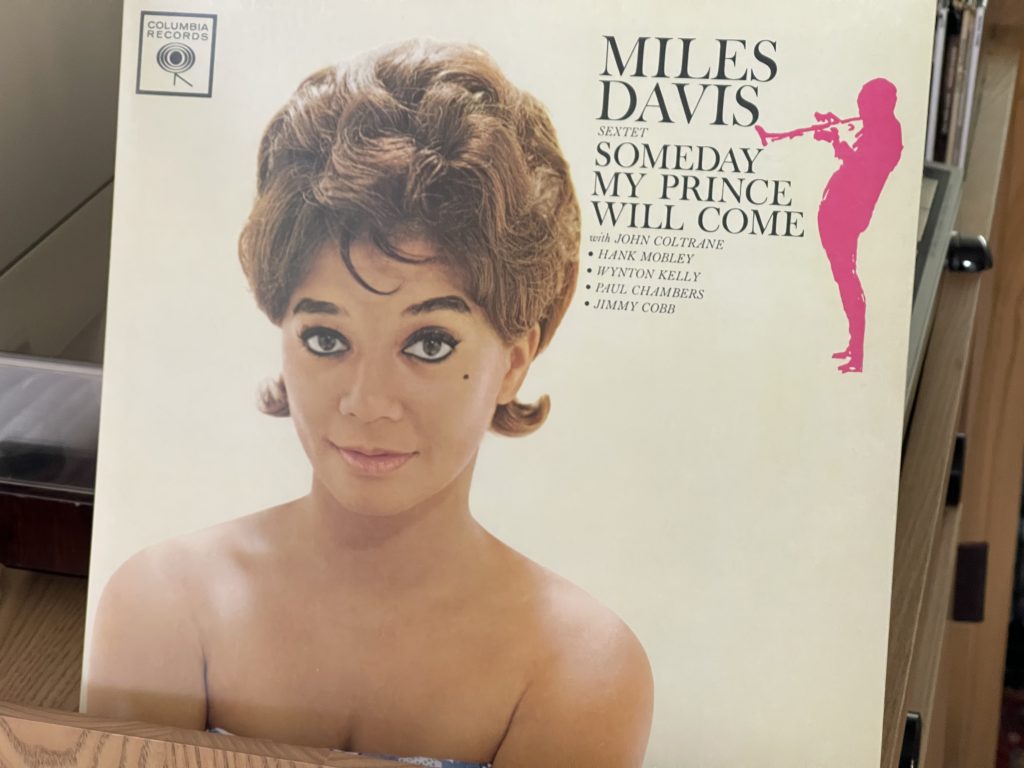 Album of the Week, April 30, 2022.
To interpret this album, we need to start with Dave Brubeck.
That's not a sentence that begins many discussions of Miles Davis's music. But in this case it fits, because the small group album released after Kind of Blue found Miles in a very different place than he was on that masterpiece. For once, he was not exactly blazing a trail.
He picked a good time to regroup, coming off two masterpieces—not just Kind of Blue but the followup album with Gil Evans and his orchestra, the miraculous Sketches of Spain (about which I may write one day, but which is not presently in my vinyl collection). But regrouping was needed. After the European tour, Trane had decided to strike out on his own, taking the tunes that he had explored onstage to the chords of "Kind of Blue" ("Impressions") and "On Green Dolphin Street" ("Like Sonny") along with his searching, experimental aesthetic, and forming his own quartet. (We'll talk about their albums at some point, after I finish telling the rest of Miles' story.)
Miles had auditioned a few saxophonists, doing live performances with both Jimmy Heath and Sonny Stitt, before landing on the young Hank Mobley. Mobley had been recording a string of ingenious albums for Blue Note, including the classics Soul Station and Roll Call in 1960, and brought with him some of the same athleticism that Trane displayed, tempered with a touch of soul. It was a good match in many ways for the rest of the quintet, which still included soul-flavored pianist Wynton Kelly as well as the redoubtable Jimmy Cobb and Paul Chambers.
But what Mobley didn't bring was repertoire, at least, not in the same way that Bill Evans helped Miles tap the vein of modal jazz that underpinned the great 1958-1960 recordings. Miles had to bring that himself, which may explain why this recording featured several standards, including the title track. But why did a Disney song count as a standard? For that we have to thank Dave Brubeck (I told you I'd get there, eventually).
Brubeck in 1957 was a few years away from recording his own masterpiece, 1959's Time Out, but he had built a strong working group of his own, with Paul Desmond's distinctive alto providing a lyrical counterpart to Brubeck's muscular approach to the piano. And Brubeck, while a substantial composer in his own right, was looking for new material that could showcase the quartet's versatility. He found it, reportedly, at Disneyland, and then had to work hard to convince producer George Avakian to bet on a whole album of Disney covers. The lead-off tune on the second side of Dave Digs Disney? "Someday My Prince Will Come." (We'll talk more about Dave Digs Disney at some point, too.)
Miles had been listening to Brubeck for a while — remember, he covered "In Your Own Sweet Way" on Workin' and "The Duke" on Miles Ahead. And he must have heard, in Brubeck's version of "Someday My Prince Will Come," something of the direction he wanted to take his quintet. The only problem was that Mobley, while a great tenor player, didn't have the right sound for the arrangement.
And so it was that Miles called on Coltrane, one last time. Trane was reportedly reluctant to return to the studio with Miles's group, being consumed with a much bigger project, the orchestra recordings that would be released as Africa/Brass. But return he did, and in two days in March 1961, he recorded "Prince" and Miles' composition "Teo," named for his long-suffering producer. (We'll hear more about Teo Macero later.)
Something else strikes you about this album, maybe even before you open it: the portrait of the woman on the cover is more direct and beautiful than anything on Miles' album covers to date. That's appropriate; so is the music inside. Miles was in love, as it turns out, and his now-wife, Frances Taylor, was featured on the cover because Miles demanded that Columbia feature black women in the album art. The music is accordingly beautiful and melodic, with the Miles originals ("Drad-Dog," "Teo," and "Pfrancing" aka "No Blues") alternating between wistful melodies and soulful blues.
The recording was not just beautiful, though. Trane arrives late on the title track, after two solo turns by Miles and one by Mobley, but the power he brings to his turn injects it with new energy, simultaneously forthright and yearning.  His solo on "Teo" brings some of the energy and chordal approach that would appear on his own quartet recordings, and spurs Miles to feats of energy of his own, before the trumpeter deconstructs Trane's approach to the melody. Miles's second solo on the tune is additive, as he brings elements of his solos from Sketches of Spain, and subtractive, as he takes Trane's statements and abstracts them, turning the arc of the solo into a stretched-out call that sounds over the rhythm section. 
By this recording, that rhythm section of Kelly, Chambers and Cobb was easily as tight a unit as Red Garland had formed with Philly Joe Jones and Chambers in the early days of the quintet. Kelly was more deeply steeped in the blues than Garland ever was, and his performance on this recording has a soul jazz sound that would rarely appear in Miles' recordings. This unit would soon strike out on their own as a trio led by Kelly, and they would even record their own Someday My Prince Will Come. 
As for the originals on the album, "Pfrancing" and "Teo" would both be performed by other players, especially Joe Henderson, who brought both back in his tribute album, So Near, So Far (Musings for Miles). But if the tunes would stay, this band would not. This unit made no more studio recordings after this date, but they appeared in two legendary live sessions. The San Francisco sessions at the Blackhawk were issued as a pair of albums under the title Miles Davis in Person. We will discuss the other live album next time.
You can listen to the album here.