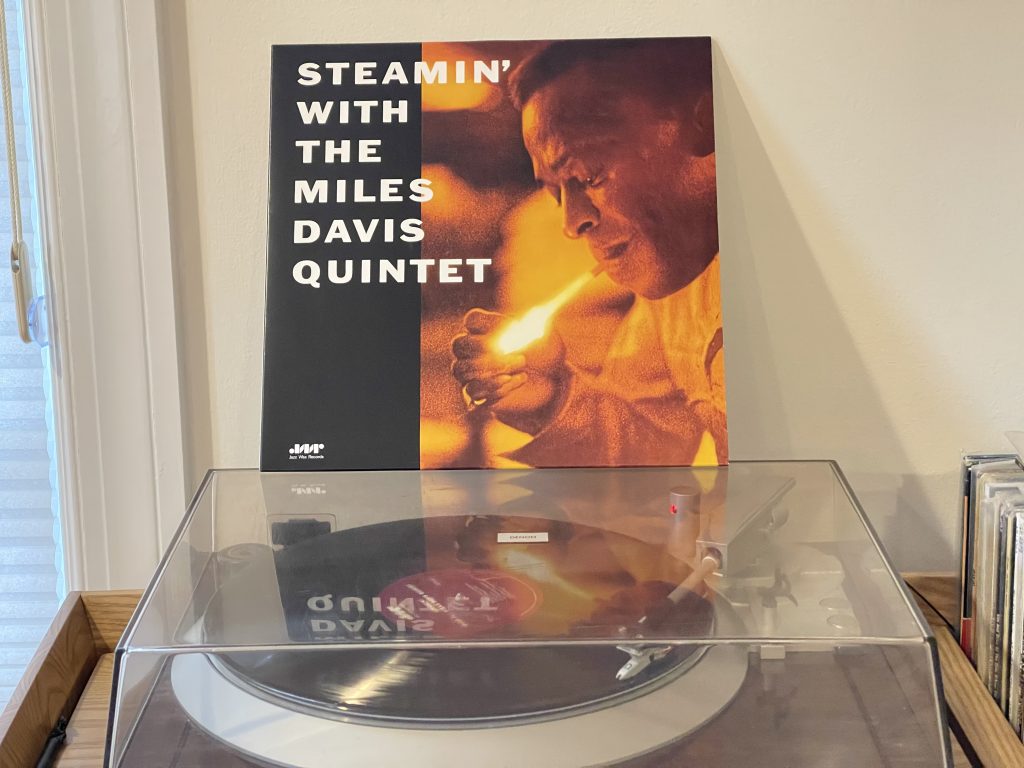 Steamin' with the Miles Davis Quintet, reissue on Jazz Wax Records
Album of the week, March 12, 2022
With this #albumoftheweek, we have come to the final of Miles' four "contractual obligation" albums for Prestige Records. Recorded as he was beginning his stellar career for Columbia (about which, more later), the four albums – Cookin', Relaxin', Workin', and Steamin' – showcase the versatility and talent of the First Great Quintet. It would also be one of the last recordings of this particular lineup.
Miles had struggled with heroin early in his career, going so far as to move out of New York to the Midwest for a few years to give him the space he needed to kick the habit. Unfortunately, his saxophone player, John Coltrane, was still in the thralls of the drug, and left after these recording sessions for a period. He would get clean in 1957 (which is a story for another day) and rejoin the band in 1958.
Red Garland and Philly Joe Jones also suffered from an addiction to heroin; their performances didn't suffer but their professionalism did, and their unfortunate habit of showing up late for gigs meant that both would ultimately be fired by Miles after the quintet's first two Columbia recordings, 'Round About Midnight and Milestones. They made his last recordings with Miles' group in March of 1958 and their last performance in November of that year, on a radio broadcast. Garland would be replaced in Miles' band by a young pianist named Bill Evans, who had made an impression at Newport; Jones would be replaced by Jimmy Cobb. Both would continue playing and recording until their deaths in 1984 and 1985, respectively.
Paul Chambers would stay in Miles' groups until 1962, appearing on many of the early Columbia recordings including the band recordings with Gil Evans and the landmark Kind of Blue. He left Chambers in 1962, along with Jimmy Cobb and pianist Wynton Kelly, and the trio would form one of the most memorable rhythm sections in jazz until Chambers' untimely death from organ failure in 1969, brought on by tuberculosis and hastened by his own heroin and alcohol addictions.
It is sobering to listen to Steamin' in light of the band's history, but it's also a pure pleasure. Trane is great on this album, particularly the opener. And the arrangements are something else. "Salt Peanuts" in particular cooks along at light speed, and the band's version of Thelonious Monk's "Well, You Needn't" is a remarkable illustration of how it could stretch and drive even the most difficult material into something that was wholly its own. It's a fitting finale for this set of great Miles recordings.
We'll take a short break from our Miles survey next week, but in the meantime please enjoy listening to this remarkable album.