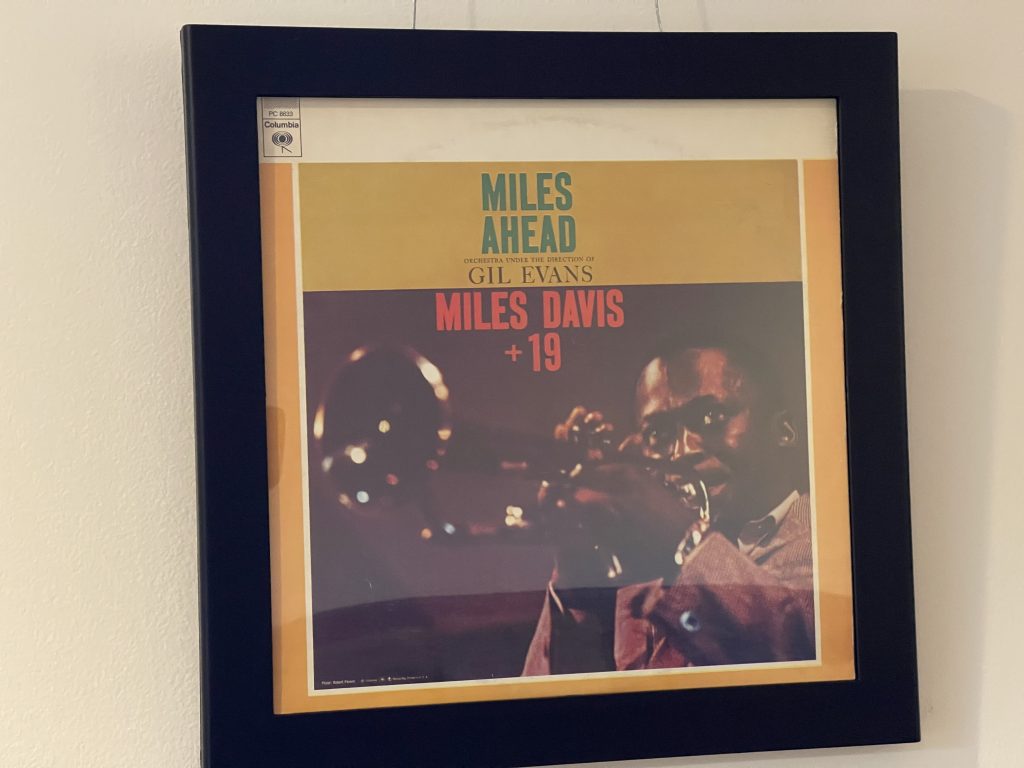 Album of the Week, March 26, 2022.
While Coltrane was rebuilding his life and building a new reputation as a member of Monk's band, Miles was expanding his sound. Dramatically.
From the beginning, Columbia was interested in more than a quintet with Miles' sound. And Miles was interested in doing more with his sound too. After all, his earliest recordings, released years later as Birth of the Cool, were with a nonet that combined innovative arrangements with new voicing and sounds.
And Miles, who had studied at Juilliard before dropping out to perform with Charlie Parker, had grown tired of the straightforward jazz that characterized his earlier recordings for Prestige, and even his first Columbia album, Round About Midnight. In time this dissatisfaction would open up new territories for his sound as he began to explore other approaches to improvisation that did not depend on chord changes. But for now, he did what he would do throughout his career: he turned to a collaborator. More specifically, he returned to the collaborator he had worked with on Birth of the Cool.
Bandleader and arranger Gil Evans had a hot band, full of skilled players like Art Taylor and the great Lee Konitz. He also had a remarkable ear for how to place and support Miles' trumpet so that it could soar melodically over complex orchestrations, so that the sound was simultaneously made richer (in harmonization) and simpler (in melodic line). He also shared an interest with Miles in combining techniques from jazz improvisation and composed (aka classical) music, a combination that was beginning to be known as Third Stream.
So it was that in May 1957, after playing his last radio broadcasts with Coltrane five months before, Miles entered the studio with Gil Evans' orchestra to record an unusual set of material: "The Duke" by Dave Brubeck, "The Maids of Cadiz" by French composer Léo Delibes, and a tune that had shown up on one of Miles' earliest Prestige recordings: "Miles Ahead."
The performances are completely unlike the quintet recordings that proceeded them. Most of the material is through-composed, with the arrangement foregrounding Miles' muted flugelhorn even as it paired it with other instruments in close harmony. Paul Chambers supported him in the rhythm section alongside Art Taylor on drums. There was no piano. Evans composed the tunes to link together seamlessly in two suites, one for each side of the LP. There is even, in Evans' stunning "Blues for Pablo," a hint of the next revolution to come. (Listen to that opening line from Miles and tell me we aren't in mixolydian mode!)
To listen to Miles Ahead is to be rewarded with an experience that sees Miles' sound into new directions. But is it jazz? In some ways it feels more like a completely different path, albeit one with its own excitement and promise.
Listen here and tell me what you think.
This copy of Miles Ahead is a 1960s era reissue that I found at my local bargain bin. It's pretty lovely—a few pops on the opening track but otherwise gorgeous. Makes you really appreciate the continuity between the tracks when you're listening to a whole side at a time.