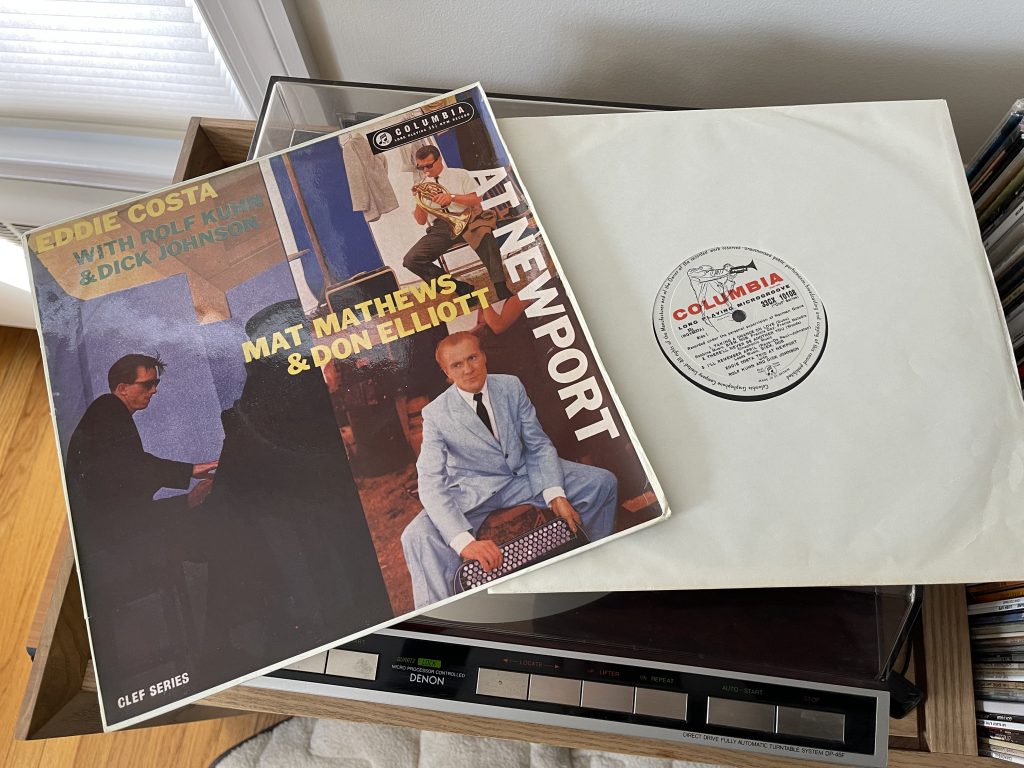 Album of the Week, February 5, 2022
For every Miles, Trane or Monk, there is an Eddie Costa.
Even the most enthusiastic jazz reissue program inevitably falls into a rut. You get the umpteenth repressing of Kind of Blue, you get (admittedly fabulous) live concert recordings from a high school janitor who just happened to be taping Thelonious Monk. But you don't see too many revivals of interest in players like Eddie Costa, Mat Mathews and Don Elliott.
The Clef Series, issued on Verve in the US and Columbia in the UK, consisted of recordings related to Norman Granz, the impressario behind Verve and Ella Fitzgerald. In this particular case, Granz was making a bet on some of the lesser known musicians that played the afternoon sets at the Newport Jazz Festival in 1957.
Eddie Costa was on his way up then, a rising star on both piano and vibes, and was recording prolifically with his own groups and as sideman for Gigi Gryce, Gunther Schuller, Shelly Manne and others. He appeared on over 100 recordings before being killed in a car crash in 1962.
Mat Mathews, a Dutch jazz accordionist, was less well known, but he still recorded sessions with Herbie Mann, Oscar Pettiford, Kenny Clarke, Art Farmer, Percy Heath, Carmen McRae, Charlie Byrd and others. And Don Elliott was a multi-instrumentalist, recording on trumpet, vibes, mellophone and vocals in his career.
The sessions on this record are loose and swinging, up tempo and genuinely fun to listen to. They are not momentous, save perhaps in featuring an early recording by Don Elliott's pianist, who had been studying with George Russell: Bill Evans. Evans would record one more album with Elliott before auditioning in early 1958 to replace Red Garland in Miles Davis's sextet, and the rest is history.
I found this copy, of the first UK pressing, in my local bargain bin in Burlington. When I want to remind myself that jazz is supposed to be fun, I put this on the record player (or cue up the ripped tracks in Apple Music) and listen.
There doesn't appear to be a full copy of the album anywhere, but here are a few tracks: