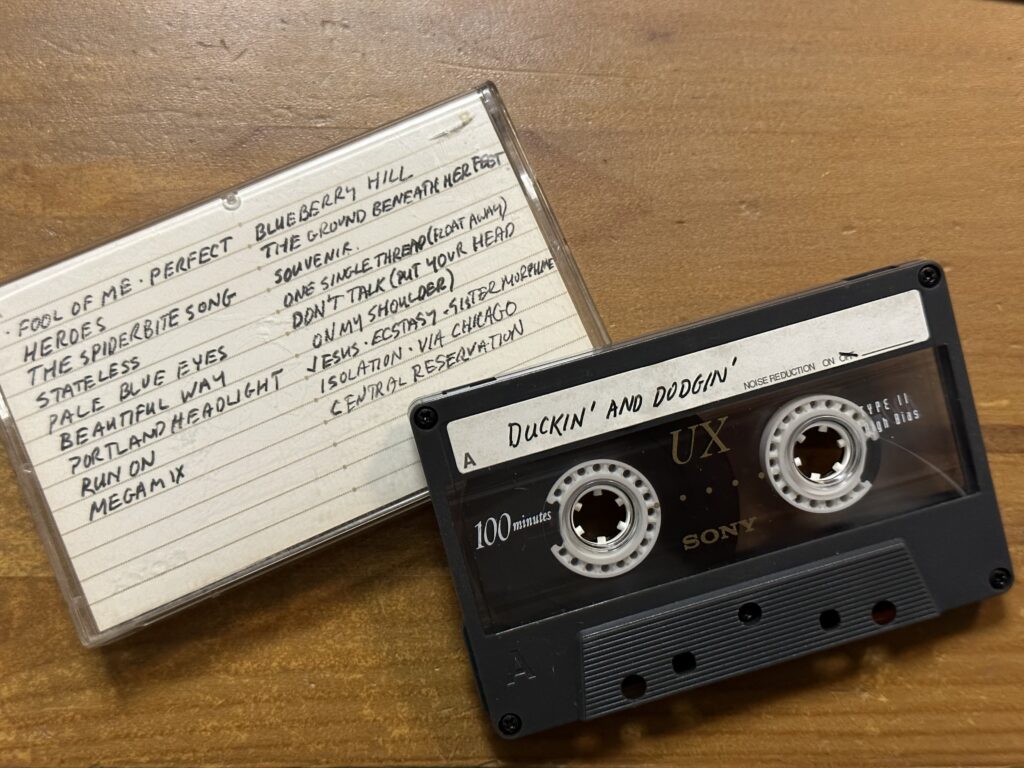 The summer of 2000 was a time of transitions for me. I had started to broaden my horizons beyond my childhood and young adulthood in Virginia, thanks to trips to Italy, London, Ireland and France with Lisa (ah, the late 1990s and the strong US dollar!). And though I had begun in late 1999 to plan seriously leaving my job at American Management Systems behind, it wasn't until the spring of 2000 that I committed to the MIT Sloan School of Management and to moving away from my life in Virginia.
You can hear some of the uncertainty of that change in Side B of this mix. The first is still exploring beautiful singalong music. It was the first mix I made after John McLaughlin brought over Justin Rosolino's self-produced first album; the first after my cousin Greg gave me a copy of The Soft Bulletin one momentous Christmas; the first after I began a dive down the rabbit hole of David Bowie's collaborations with Brian Eno. There's a track at the front, not listed on the J-card, that excerpts about two minutes of unaccompanied Gabon pygmy song, another weird rabbit hole I was on the brink of falling into.
It was also the spring I (late to the party as always) discovered Moby. I had previously fallen into a rabbit hole of old blues and folk records, occasioned by the Anthology of American Folk Music, but hearing those works in this transformed context was remarkable—even if my growing familiarity with the source recordings was soon to reveal just how shallow a trick Moby played, particularly on tracks like "Run On." The remix of decades worth of Steve Reich recordings into a singular "Megamix" was more rewarding.
But Side B: once you get past the throat-clearing of Elvis's version of "Blueberry Hill," there's wistfulness and uncertainty in every track. I kind of wish I could reach out to my old 27-year-old self and reassure him that it was really going to be okay.
The tracklist:
Etudes de jodls

–

Gabon Pygmies

(

Musique des Pygmées Bibayak/Chantres de l'épopée

)

Fool Of Me

–

Me'Shell Ndegeocello

(

Bitter

)

Perfect

–

Smashing Pumpkins

(

Adore

)

Heroes

–

David Bowie

(

"Heroes"

)

The Spiderbite Song

–

The Flaming Lips

(

The Soft Bulletin

)

Stateless

–

U2

(

The Million Dollar Hotel

)

Pale Blue Eyes (Closet Mix)

–

The Velvet Underground

(

Peel Slowly and See

)

Beautiful Way

–

Beck

(

Midnite Vultures

)

Portland Headlight

–

Justin Rosolino

(

"Music" (The Live Recordings)

)

Run On

–

Moby

(

Play

)

Megamix (Tranquility Bass)

–

Steve Reich

(

Reich Remixed

)

Blueberry Hill

–

Elvis Presley

(

The King of Rock 'n' Roll: The Complete 50s Masters

)

The Ground Beneath Her Feet

–

U2

(

The Million Dollar Hotel

)

Souvenir

–

Morphine

(

The Night

)

One Single Thread (Float Away)

–

Justin Rosolino

(

"Music" (The Live Recordings)

)

Don't Talk (Put Your Head on My Shoulder)

–

The Beach Boys

(

Pet Sounds

)

Falling At Your Feet

–

Bono (Lanois)

(

The Million Dollar Hotel

)

Jesus (Closet Mix)

–

The Velvet Underground

(

Peel Slowly and See

)

Ecstasy

–

Lou Reed

(

Ecstasy

)

Sister Morphine

–

The Rolling Stones

(

Sticky Fingers

)

Isolation

–

John Lennon

(

Plastic Ono Band

)

Via Chicago

–

Wilco

(

Summerteeth

)

Central Reservation (Original Version)

–

Beth Orton

(

Central Reservation

)
If you have Apple Music, you can listen to (most of) the mix here: