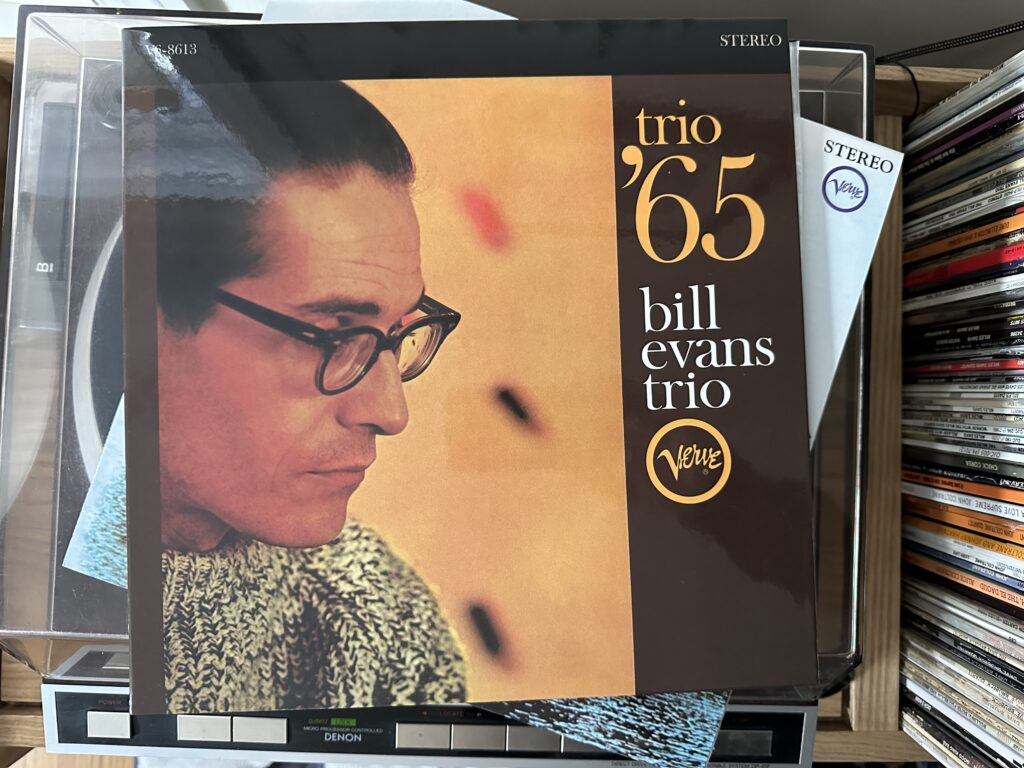 Album of the Week, February 11, 2023
Bill Evans didn't record much in 1964—he was too busy touring. Aside from a studio session with Stan Getz, Ron Carter (alternating with Richard Davis) and Elvin Jones, his only recorded output from the year was a session with singer Monica Zetterlund (appearing under her name as Waltz for Debby) and live sessions in California and Europe. None of those sessions included Gary Peacock, whose contributions to Evans' catalog began and ended with Trio 64. Instead, Evans was back touring with Chuck Israels and a new drummer, Larry Bunker.
The new album, which like its predecessor was recorded in one session in New York City, on February 3, 1965, follows a similar format: all standards, no originals, and more than a few numbers that Evans had recorded before. As for the players, we've met Israels before; Bunker is new to this column, but not to jazz. He had one of the most varied careers of a jazz drummer ever, having appeared on records over the course of his career for (deep breath): Peggy Lee including Black Coffee, Buddy Collette, Stan Getz, Stan Kenton including A Merry Christmas!, Gary Burton, Chet Baker, Benny Carter, Clare Fischer, Woody Herman, Dizzy Gillespie, Plas Johnson, Johnny Mandel, Shelly Manne, Carmen McRae, Oliver Nelson, Paul Horn, Art Pepper, Shorty Rogers, Pete Rugolo, Bud Shank, Lalo Schifrin, Sarah Vaughan, Wendy Waldman, the Fifth Dimension including Stoned Soul Picnic, Tim Buckley on Sefronia, Linda Ronstadt, Michael Franks, Diane Schuur, Kenny Rogers, Walter Murphy, Barry Manilow, Michael Bolton, Natalie Cole, Al Jarreau, Diana Kraal, Cheryl Bentyne, Vince Gill, Robert Palmer, U2 (he is the timpani player on "Hawkmoon 269," from Rattle & Hum), and Christina Aguilera, on My Kind of Christmas. A session drummer at heart, he nevertheless made six recordings with Evans, appearing on two Milestone sessions (Time Remembered and At Shelly's Manne-Hole), the Zetterlund record, a live trio recording, and an odd session with symphony orchestra, in addition to Trio '65.
The opener, "Israel," is a fast moving modal blues that starts out swinging and then doubles down. Evans plays rapidly descending arpeggios in his first solo that are a little reminiscent of Coltrane's "sheets of sound." Israels takes two solo choruses, and Bunker takes a solo chorus and then trades eights for a bit with Evans, echoing some of the rhythms from the pianist's solo along the way.
"Elsa" is a classic Bill Evans Trio ballad, with Israels leveraging the suspended note on the 5th to good effect in his introduction. The arrangement moves in a sort of shuffling waltz, with brisk patterns on Bunker's brushes surrounding Evans and Israel's playing like a filigree. Throughout, Israels alternates a simple underpinning of the chords with a more elaborate descending bass line that reinforces the melody, switching with Evans seemingly telepathically.
This version of "Round Midnight" plays the much-loved and oft-played Thelonious Monk standard in an intimate, but not simple arrangement. Indeed, the trio seems to manifest all the parts of a more elaborate quintet performance among themselves. Israel's playing in the middle choruses takes more and more prominence until it seems to spontaneously morph into a bass solo.
"Love is Here to Stay" is an unsentimental but jovial romp through the old Gershwin standard. Ella Fitzgerald may have done the definitive version of this tune in her Song Books, but she'd need to hold onto her hat to keep up with the trio here. The effective use of space in the arrangement of the chorus and the outro that shifts the song into a different key are both worth listening for.
"How My Heart Sings" is a brisk reprise of the title song from his earlier Riverside session. Here you can really hear the difference made by Bunker's contribution to the trio's sound, his brisk snare and hi-hat work urging Evans and Israels along. Israels is a particular delight on this track, with a lyrical bass melody under the chorus that sings. The whole track is over in less than three minutes.
"Who Can I Turn To" is a contemplative ballad, with Evans taking the first chorus out of time before a transition into a swinging second verse. The transition between verses hangs suspended in harmony each time, as Israels pauses on the fifth before dropping back down to underpin the chords. Evans shifts both time, moving rhythmically around the chords, and harmony in his solo.
"Come Rain or Come Shine" begins as a more melancholy iteration of the group dynamic from the prior track, but where "Who Can I Turn To" eventually finds a sunny mood, here the clouds stay stubbornly overhead. Minor key aside, Israels' solo here is almost as brilliant as his subtle playing behind Evans; the pizzicato chords he plays ever so slightly out of time behind Evans in the intro to the last verse are stunning.
"If You Could See Me Now" becomes a showcase for the trio as they shift the rhythmic emphasis of the tune with each verse, keeping the chord progressions the same but playing swung eighth notes in one iteration, legato runs in another, marcato progressions in the third, and on for each evolution of the tune. Each verse seems to turn the kaleidoscope another fraction, revealing new highlights in the tune.
Trio '65 would be the penultimate album for this incarnation of the Evans trio; they would play together just once more on Bill Evans Trio with Symphony Orchestra. The trio we'll hear next time has some fresh faces at both bass and drums who would bring new energy to Evans' approach.
You can listen to the full album here: