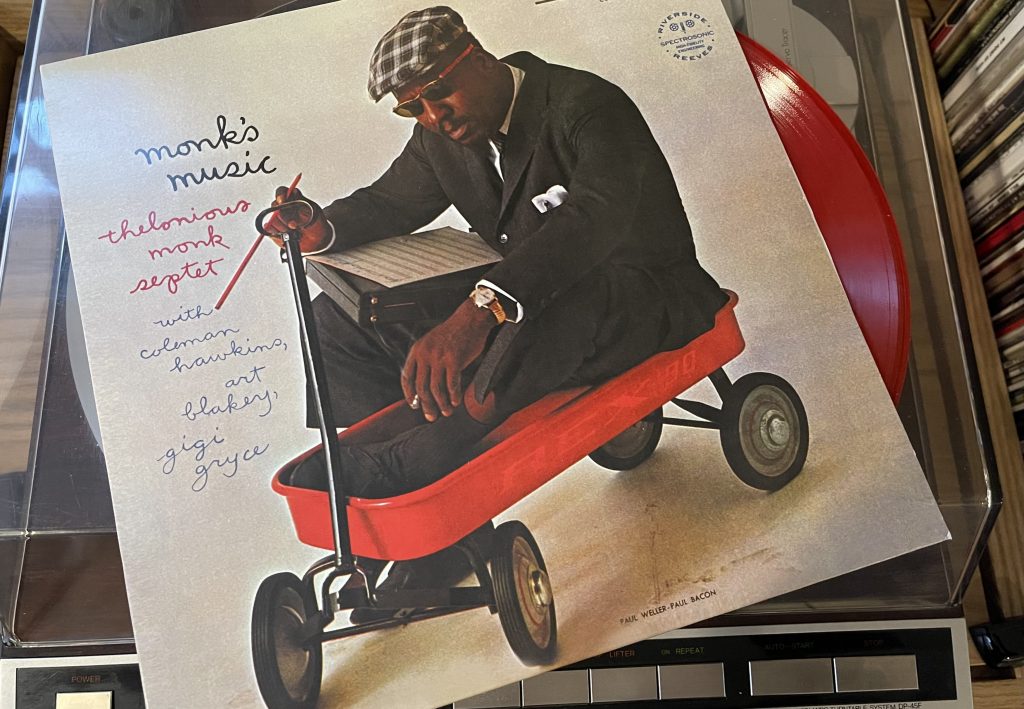 Album of the Week, March 19, 2022.
Today's #albumoftheweek may seem like a detour from our exploration of Miles Davis's recording career (via my record collection), and it is, a bit. But in other ways it picks up where we left off last week, with Miles' band mostly leaving as they fell prey to their addictions. Today we explore what happened next to the most famous of those sidemen.
What happened to John Coltrane was that he found God.
This is not an inference or an exaggeration. In 1964, Trane wrote in the liner notes to A Love Supreme that "During the year 1957, I experienced, by the grace of God, a spiritual awakening which was to lead me to a richer, fuller, more productive life." The newfound spirituality enabled Trane to quit heroin, though not before it irrevocably marked him; there is good reason to suppose that the drug, along with the alcoholism that accompanied his addiction, contributed to the liver cancer that was to kill him just ten years later.
Trane also found Monk, or vice versa, in 1957, and their collaboration made a substantial difference to their respective careers. Thelonious Sphere Monk himself had been struggling for years, after the discovery of narcotics (likely belonging to his friend Bud Powell) in his car led to the revocation of his cabaret card. His ability to perform in public limited and his eccentric composition style granting his music an unfair reputation for difficulty, his record sales for Prestige were relatively meager. In fact, when he sought to go to Riverside, the latter label was able to buy out Monk's contract with Prestige for only $108.24.
But somehow Trane and Monk found each other in mid-1957 and began performing together at the Five Spot Cafe. Because Trane was still under contract to Prestige Records, he was not able to record widely in the studio with Monk's group, but somehow the label managed to secure the rights to include him in this recording, which featured exclusively Monk's compositions—plus, in a note of irony, a horns-only performance of the hymn "Abide with Me," written by William Henry Monk (no relation).
The inclusion of the hymn takes us back to the evolution of Trane during this period, and spotlights the substantial and lasting difference that his spiritual conversion made in Trane's music, almost from the very beginning. The single verse of the hymn is played solemnly and straight, with harmonies straight from the hymnbook. Structurally it serves as a prelude to the next track, "Well, You Needn't," which features an astonishing solo from Coltrane in full on pentecostal mode.
In fact, "Well, You Needn't" is an astonishing track from start to finish. Monk's piano opens by itself, swinging the rhythm and stretching it into something like 6/4, before being joined by the full band. Monk remains gnomic in his solo, approaching the chords of the melody obliquely rather than playing into it, before calling for his tenor saxophonist: "Coltrane! Coltrane!" And Trane enters, blowing leaps of fifths and sevenths across two choruses in something like a holy shout. He then yields the floor to Ray Copeland for a turn at the melody on trumpet, before Wilbur Ware and Art Blakey pick it up. Ware's exploration of the melody evolves it into a pattern of descending fifths that is then picked up by the redoutable Blakey, who then takes the pattern across all the elements of his drum kit. Coleman Hawkins and Gigi Gryce take the last solos, with more conventional but no less fierce approaches to the melody, before the full band comes back in to close the track. It is nothing short of a master class in jazz improvisation.
The third track, "Ruby, My Dear," is the one track on which Coltrane doesn't play, but that is not a reason to skip it. It's a remarkably tender ballad and on any other record would be the romantic highlight. But not here. On Monk's Music the second side goes through some gnarly territory with the one-two punch of "Off Minor" and "Epistrophy" before it lands on a new composition, "Crepuscule with Nellie."
The tune, dedicated to Monk's wife, was originally to be titled "Twilight with Nellie," before the countess Pannonica de Koenigswarter, a staunch advocate of American bebop musicians, suggested the use of the French word. The performance is through-composed, meaning that Monk wrote out the entire track rather than sketching the melody and chords as a basis of improvisation. It also means that what we hear in the recording is an unusually true representation of Monk's original intentions—notable since this version, unlike most covers of the work, keep the rhythm straight rather than "swinging" the eighth notes in the original melody. Indeed, throughout the album Monk plays with expectations of rhythm, often turning them on their heads, such as the off-center chordal interjections that run through "Well, You Needn't." However it happens, "Crepuscule" stands as a romantic highlight, not just of the recording but perhaps of all of 1950s jazz.
Trane's time in Monk's group would be brief, yielding this one studio recording and a handful of live appearances that have since popped up on record. He would soon reenter the studio as a leader, recording Blue Trane later in 1957 for Blue Note Records, and an immense amount of material—some 37 sides, released over many albums—for Prestige Records in 1958. In fact, 1958 was a pivotal year for Trane, who rejoined Miles in the January of that year. By that time the quintet had become a sextet, with the addition of another saxophonist who we'll meet next week.
I first found Monk's Music at Plan 9 Records in Charlottesville, Virginia. It was a happy accident brought on by my habit of rifling through all the Original Jazz Classics CD reissues and buying the ones that had the most interesting liner notes (a habit I wrote about some years ago). The copy shown in the photograph above was a reissue on translucent red vinyl courtesy of Newbury Comics some years ago. Listen and enjoy.