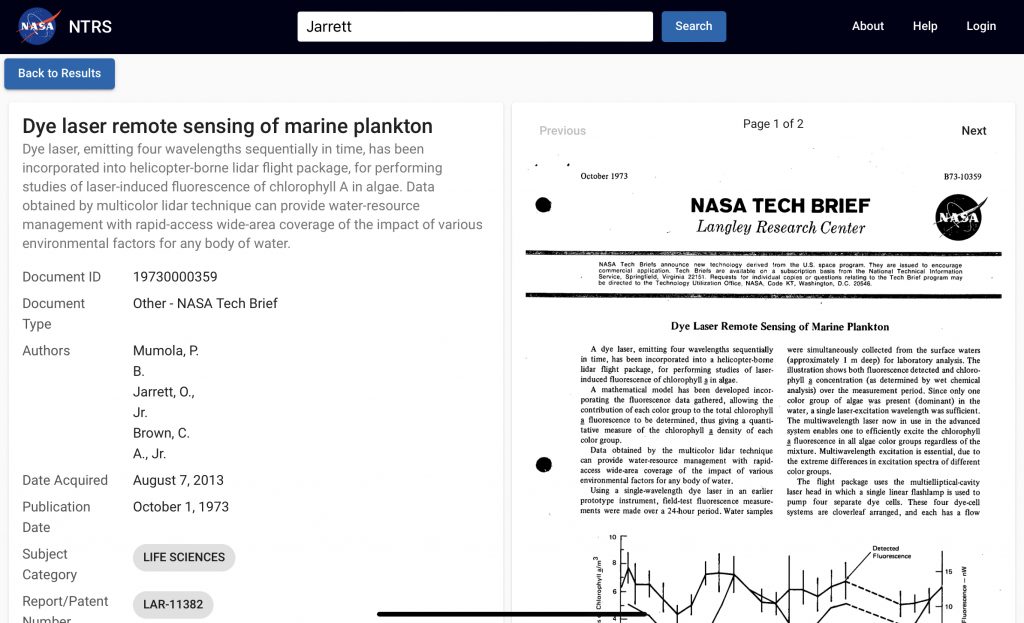 A while ago, I was chatting with my father and sister late one night. Dad has always been a techie, but even so, I couldn't predict how quickly he'd take to texting with Messages on his iPhone. And yet, there we were, chatting about the results starting to come in from the James Webb Telescope. He told us about having briefed Webb about his work on ALOPE, the Airborne LiDAR Oceanographic Probing Experiment.
When I was old enough to talk to Dad about his work, he was onto a different technology, a project called CARS (Coherent Anti-Stokes Raman Spectroscopy; knowing that acronym and being able to talk about what he did led to some weird conversations when I was growing up). I didn't know that much about ALOPE, so I went looking for information.
And I found NASA's NTRS system, which allowed me to find all the papers Dad coauthored in his thirty-something years at the agency. All the papers, beginning with three 1970 papers on magnetoplasmadynamic thrusters, going on to a set of papers in 1973 and 1979 related to remote sensing of plankton growth as a way to measure oceanographic environmental impact, some 1983 papers with the last of his plankton related work and the first of the CARS papers, and his final three papers in 1991, writing about the work he did with the team in the lab to do combustion diagnostics on a supersonic flame, his contribution to the Agency's research into hypersonic flight.
It's pretty cool to be able to read so much of Dad's life's work in one place. It feels a little like opening a book to learn about my family history and finding all the answers in one place.