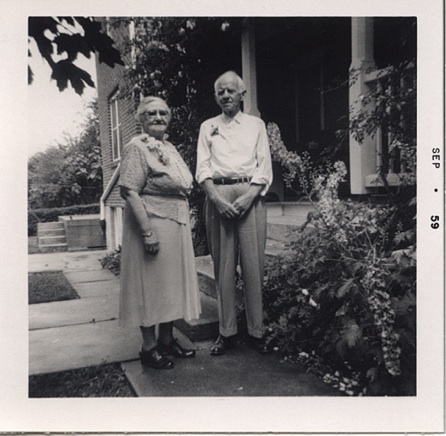 I got email yesterday that there was a fair amount of storm damage at the Brackbill Farm in Lancaster County, PA earlier this week. The storm uprooted half a dozen old trees, and sent major chunks of other ash and locust trees flying, with the result that the old cabin and bunkhouse near the creek were heavily damaged. They had stood for over 50 years, so the loss was pretty painful, but fortunately the main buildings and the people on the farm were spared.
But it got me thinking. I learned yesterday more of the provenance of the cabin–which great-uncle built it; which of my first-cousins-once-removed helped–than I knew about the provenance of the actual farm. So I had to do some digging. I already knew that the farm had been the home of my great grandfather and his large family, and I had noticed in 2003 the dedication name on the side of the house that said Hershey rather than Brackbill. A few years later I went back and took a better picture, and was able to decipher the stone entirely; it said "Built by Abraham & Barbara Hershey 1857." That's interesting, I thought. There are plenty of Brackbill/Hershey marriages, but I knew Harry G. Brackbill hadn't married a Hershey (that's my great grandparents Harry and Esta above, in front of the farmhouse). So what was the connection?
I went back and looked at my genealogy. It seems Abraham Hershey was Harry's great-uncle–his mother, Barbara Hershey, was the daughter of Christian Hershey, Abraham's brother. (He was also Harry's wife Esta's great-uncle, but that's a story for another time.) But Abraham had children of his own. How did the farm end up in the Brackbill family?
This week I found some clues, finally, in the magnificent MennObits archive of old Mennonite obituaries. There we find obituaries for both Abraham and Barbara, and some pieces start to fall into place. Abraham passed away in 1887 and Barbara in 1904, and Barbara spent the last seven or eight years of her life living with her children. Presumably she would have lived at the farm if it was still in the family, and had the children living with her (it's a large farmhouse with enough room for large families). So sometime around 1896 or 1897, the farm may have been sold. My mother thinks that it was sold to Harry's father, Elam, but I haven't been able to find anything to confirm that.
The good news is that the historic deeds of Lancaster County, from the 19th century through 1980, have been made available online. The bad news is that the files are in unindexed images, and there are hundreds of pages of books. So I will find the answer… maybe within the next year.