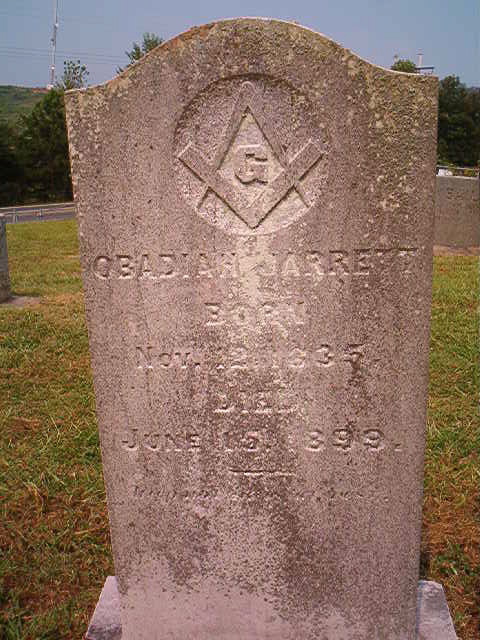 A few years ago I shared a pointer to my sister Esta's oral history record with my uncle Forrest, including his telling of how my great-great-grandfather, whose name is varyingly spelled Obadiah or Obediah, was personally saved from being executed as a deserter by North Carolina governor Zebulon Vance. It's a great story, one that he told over and over and over.* But there's always been a small question in the back of my mind: where was the evidence? What was the rest of the story?
Well, last night sitting with Esta and my parents after the funeral, I went looking for the evidence. And I found it, in a 2012 book by Aldo S. Perry, Civil War Courts-Martial of North Carolina Troops. And, astonishingly, the family story is true! Mostly. And the parts I didn't know are stranger than fiction.
So, then. Obediah Jarrett, together with his brother Jacob P. Jarrett, enlisted in the North Carolina Fifth Cavalry on May 14, 1862 in Marshall, North Carolina. The unit was, essentially, a "mountain boy" division, made up of folks from western North Carolina and eastern Tennessee, and they saw a fair bit of action over the next year all over the southeast, including battles at Brandy Station, Virginia on June 9, 1863, described as the largest cavalry battle ever fought in North America and as a pivotal turning point in the Civil War, and at Chickamauga, Georgia on September 20, later that year. Chickamauga in particular appears to have been a bloodbath; 20% of the Confederate forces were killed.
Just exactly when Obediah attempted to desert is not clear. One source I consulted says that he deserted on August 7, 1863, between his unit's two battles, but I think that's unlikely unless the policy toward deserters changed. Because at his desertion recorded on August 1, 1864 in Concord, Tennessee, he was arrested, court-martialed, and sentenced to be executed.
Side note: Perry's history of Obediah's division records that the Fifth Cavalry merged with the Seventh Cavalry to form the Sixth Cavalry within the 65th Regiment, and that this merger may have been the reason for the desertion of Obediah and others. In fact, the unit led the Confederacy with 31 absences per company, 10 courts martial, and 7 death sentences. Perry notes that the North Carolina soldiers volunteered into North Carolina units of company size, but found themselves realigned into a huge regiment that included companies of Virginians and was led by a Virginian. In 1864, the captain of Obediah's company, Company I, resigned his commission because "my command has deserted to the enemy and to the mountains of western NC and after attempting I find it impossible to get them together."
At any rate, Obediah deserted on August 1, 1864, together with a fellow Madison County soldier, Jobe R. Redmon. They were court-martialed on separate days and both sentenced to death. Redmon wrote a letter home on November 2, 1864 from his imprisonment in Kinston, North Carolina, telling his family:
"My dear wife and children I seate myself this morning with a troubbeled harte and a destrest mind to try to rite a few line to let you no that I hird my sentens red yesterday and hit was very bad I am very sory to let you no for [one line not legible] all ready I hafte to bee shot the 9 of this month I am sory to in form you that I have but 7 days to live But I hope and trust in God when they have slane my body that God will take my sould to rest."
Redmon's descendants kept this letter and read it every year on the anniversary of his execution.
So what happened to Obediah? Well, it's remarkably like what my Uncle said. A man named H. H. Baird prepared a request for pardon for both men to Jefferson Davis, and separately sent a letter to his cousin, governor Zeb Vance, appealing the decision, and specifically citing the change in terms of his commission as a reason for clemency. In a postscript, he emphasized, "The day has not as yet been appointed for the execution of Private Obediah Jarrett." Whatever happened, Obediah's death sentence was remitted by SO #260, issued on November 1, 1864—strikingly a day before Redmon's letter home. Redmon's sentence was not commuted and he died.
Why Obediah was spared and Redmon executed is unknown, as is why Redmon had a date for execution before Obediah despite having been court-martialed six days later. The record is silent, but suggests that there was some sort of favoritism shown to my great-great-grandfather—and thank goodness.
At any rate, Obediah, his death sentence commuted, remained in prison until Union forces defeated the remainder of the 65th at the Battle of Wyse Fork, fought March 7-10, 1865, near Kinston. He was taken prisoner of war by the Union troops but released after taking an oath of allegiance to the United States, and from thence headed home.
The last part of the story as my Uncle tells it, is that my great-grandfather Zebulon B. Jarrett was named for the North Carolina governor who saved his father's life. That part is almost certainly true. However, genealogical records give us one last wrinkle: Zeb Jarrett was born three years and 11 months before his father was freed, and a year before he enlisted. Zeb was almost certainly named after Zebulon Vance, but he had a different name at birth, which has sadly been lost due to the destruction of our family Bible when my Aunt Jewell's dorm burned in a fire.
This is why I study history: truth is not only stranger than fiction, it's sometimes downright weirder.
* The last "over" there goes to the Applachian Barns Project's documentation of the 19th century barn on my grandmother's farm, documented from my uncle's stories.