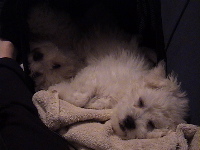 I alluded on Friday to something keeping me from blogging. The wraps can now be removed. In the last month, we've added two new members to the family: two Bichon Frise puppies.
In early November, we welcomed Joy, who was the runt of her litter at about two pounds when we brought her home at 8 weeks old. We worked through toilet training (she can now go on command and ring a bell when she needs to go outside), bite training, "sit" and "lay down" (well, we're still working on those), and basic leash behavior.
At the end of all that, we felt we were at a point where we needed something or someone else to keep her occupied. We had always wanted two small dogs—they keep each other from getting bored if we can't be around them, and that way there's one for each lap. So we were simultaneously saddened and intrigued when our favorite boy dog from the litter, a pup named Madison, was returned to the breeder on Thanksgiving Day. (The previous owner claimed he made her "allergic"—see what the Bichon club FAQ has to say on that point.) After some soul searching, we finally bit the bullet and brought Madison—whom we promoted one president and who is starting to answer to his new name, Jefferson—home on Thursday.
The two dogs are great together, and like their parents have very distinct personalities. Joy is high energy, mischievous, slightly goofy, and a very restless sleeper, while Jefferson is sweet, calm, loves to sleep, and is frequently found snoring. Draw your own conclusions.
My sleep is starting to return to normal, so we decided it was time for full disclosure about our newest family members. More photos to be added soon, but those in this slide show should give you an idea of how much fun we've had.