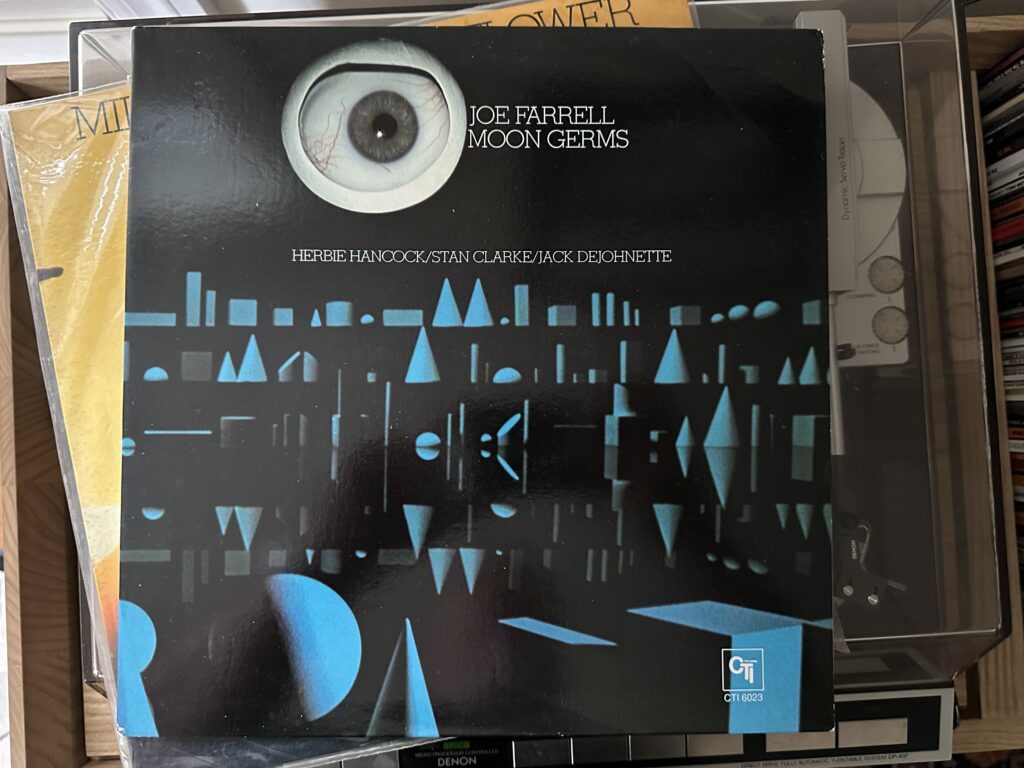 Album of the Week, June 10, 2023
There have been times in my life where I've picked up a record (or, more commonly back in the day, a CD) based on the artist, or based on hearing a song, or (especially with jazz) based on another performer who appeared on the album. I am usually not a cover buyer. But sometimes a cover image gets stuck in my head and I buy the album without knowing anything else about it.
Such was the case with Moon Germs, the first album I bought by Joe Farrell. I was searching for other records on eBay—probably looking for Herbie Hancock albums—and this cover popped up. I stared at it: the geometric forms, the slab serif typography, and most of all that weird eyeball. This was back in 2018, before I had heard of Farrell, before I fell down the CTI rabbit hole. It didn't matter; I had to pick this up.
I mean, how could I not?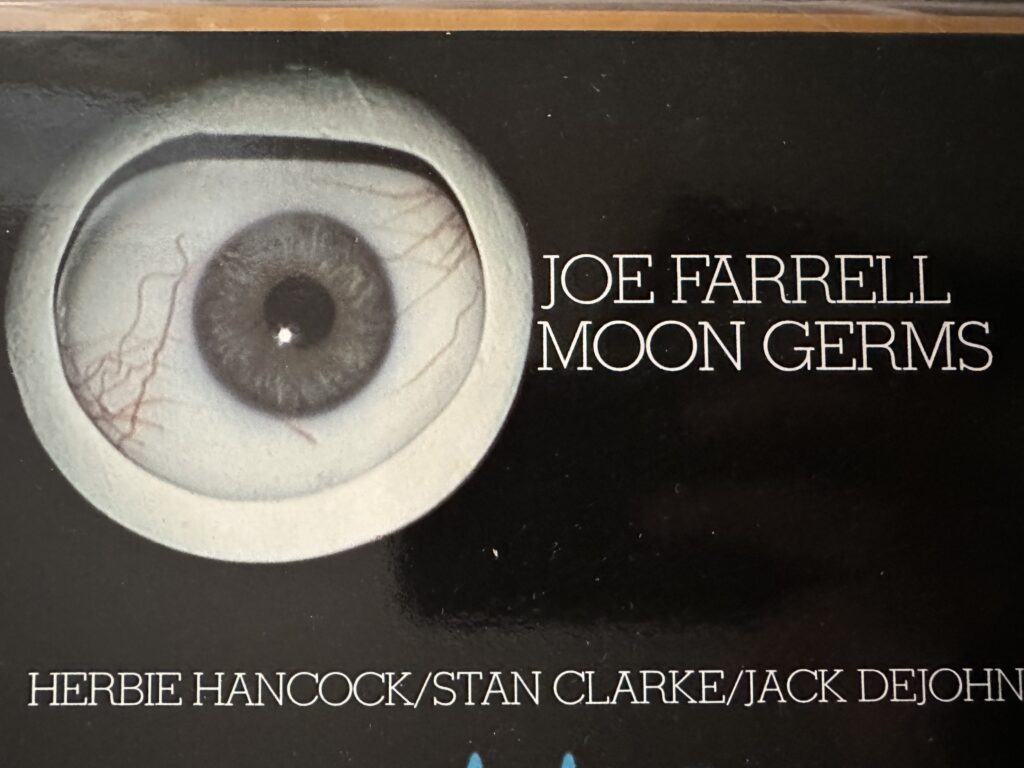 The players on the session didn't hurt. By this time Farrell, who was still performing with Chick Corea in the Return to Forever band, had broadened beyond the Corea sidemen who backed him on Joe Farrell Quartet and Outback. This session featured Herbie Hancock on electric piano, Stanley Clarke on bass, and Jack DeJohnette on drums. Together the band put together a mighty groove that, for the first time in Farrell's solo output, fell squarely on the jazz-funk side of the CTI house sound.
Farrell's "Great Gorge" opens the album, with a firmly squelchy bass line from Clarke, doubled in the electric piano by Hancock. Farrell plays a happy, major key melody on the soprano sax that, at 1:15, abruptly shifts into a modal pulse, then accelerates into a higher gear. The second theme and Farrell's extended solo have the flavor of a more frenetic version of The Joe Farrell Quartet. Throughout Clarke's bass playing is remarkable. He sounds simultaneously like Ron Carter and Sonny Sharrock, with both walking bass and slithering guitar-like sheets of notes happening, somehow, simultaneously. Herbie's solo explores a sequence of chromatic chords, steering into a sequence of celestial, space-jazz like clusters before everyone falls away but Jack Dejohnette. He rolls like thunder through his solo before firmly bringing everyone back to the original theme. The whole thing is both breathtaking and a sly subversion of expectations for what "the CTI sound" should deliver. It's also a hook factory; apparently no fewer than ten artists have sampled that swampy bass line from the intro.
The title track sees the performers solo around a sustained ground pattern in Clarke's bass in a kind of agitated modal twelve-bar blues. The improvisations follow in the tracks of the middle free section of "Great Gorge," but with a rhythmic twist: where the first track was frenetic, here the blues and pulses of swing anchor the track and keep it moving forward.
Corea may not have played on the album, but Farrell was still working closely with him, and his "Time's Lie" opens Side B. Corea's tune begins as a subtly wistful waltz, but opens up into a fast 4/4 with Latin-influenced rhythms. Farrell's solo remains relentlessly upbeat and joyous over a continued ground in the bass and drums. When he yields the floor to Herbie Hancock, we are reminded ever so slightly of the version of "Gingerbread Man" the pianist recorded with Miles, both in the harmonic imagination and in the one-handed solo approach. After another chorus and a moment of exposed bass heartbeat, the band falls back into the waltz time opening. It might be the most beautiful track Farrell had recorded to this point.
Stanley Clarke's "Bass Folk Song" closes things out. Far and away the most accessible tune on the album, Clarke opens with a melodic bass line (also oft-sampled) over which Farrell states the theme on flute, the two of them trading rhythmic patterns even as Clarke stays close to that V – I progression that serves as the focal point of the song. Behind them, Hancock surges to the fore, pivoting from chunky jazz-funk chords into splashes of Echoplexed sound. The solo reminds us that his great run of albums on Warner Brothers, spanning from the accessible funk of Fat Albert Rotunda to his mind bending recordings with the Mwandishi band, had been made over the preceding three years. Farrell's closing solo fades out, as if nodding to a never-ending dialog between the melodic and free sides of his musical identity.
The whole album covers a lot of ground, from jazz-funk workout to free jazz freak-out. To Farrell's credit, it hangs together coherently enough to remain compelling and listenable all the way through. He wouldn't remain balanced at this knife-edge of jazz styles forever, though, as we'll hear in a few weeks. But next time we'll hear from a new voice on the CTI label—and learn how he got a boost from a voice we've heard many times before.
You can listen to the album here: