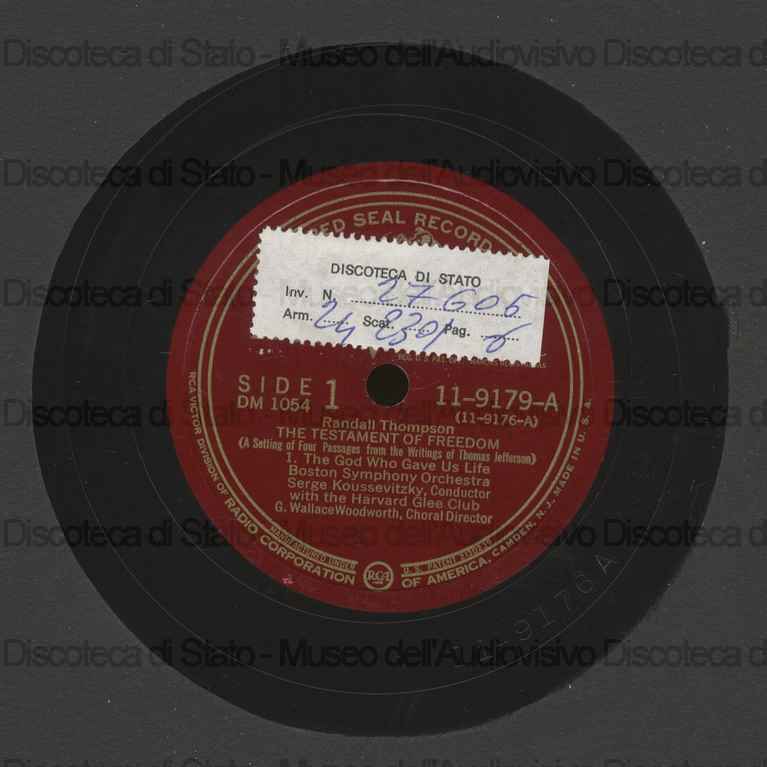 Just found an Italian archive site that provides a tantalizing glimpse of the first major-orchestra performance of Randall Thompson's The Testament of Freedom, as recorded by RCA (presumably following close on the BSO premiere of the work in April 1945). (You can view the full catalog record of the recording, in Italian, here.)
And by glimpse, I mean listen—though you can only hear a 30-second preview of each of the six sides of the six-record set (from the 78RPM era). To hear the samples, click the Play button beneath the scan of the record label in the center, then hit the Next button (right triangle) in the header and click Play again. It's clumsy but it works.
And interestingly, side 5 raises doubt that Harvard's Glee Club in 1945 was substantially more musically sophisticated than its Virginia counterpart. The opening of the last movement, "The God who gave us life gave us liberty at the same time," is here shouted with uneven pitch and vowel pronunciation (direct link to a downloadable 30-second sample). I hope to be able to compare the recording to the Virginia Glee Club's 1943 premiere soon.