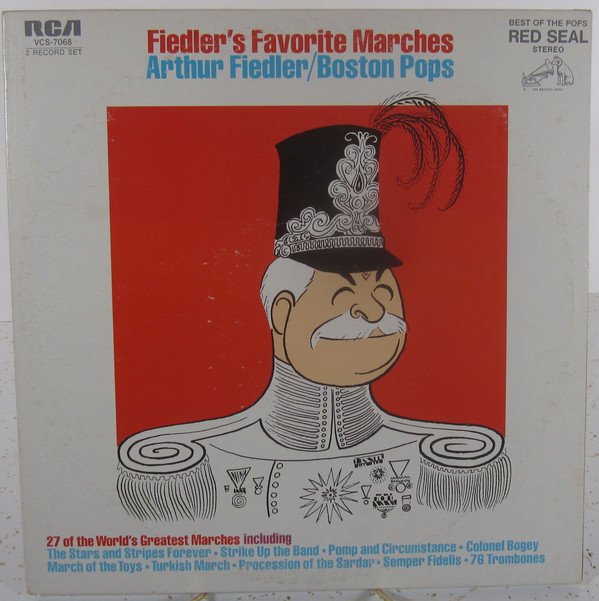 I got a bunch of Boston Pops records from the 1960s and 1970s. This is one in a series of blog posts about them.
By the early 1970s there was beginning to be a shift in the way that the Pops records were marketed. Compare the cover of Fiddle-Faddle or Light Classics to this one, and it's immediately apparent that Fiedler was starting to have a brand of his own. He had shown up on album covers before now, but the 1971 compilation Fiedler's Favorite Marches puts him front and center—and as a Hirschfeld drawing, no less.
You'd expect a two-LP set of marches to be all Sousa all the time, and certainly Sousa compositions appear several times throughout. But, true to form, Fiedler's selections also include non-obvious marches, like the march from Prokofiev's Love for Three Oranges suite, the grand march from Aïda (also anthologized on Pops Festival), and even the erstwhile Hitchcock theme "Funeral March of a Marionette." Grieg's "March of the Dwarfs" (from the Lyric Suite) is a great example from the album: the intersection between familiar theme and light classical repertoire, in performances both immediate and engaging.