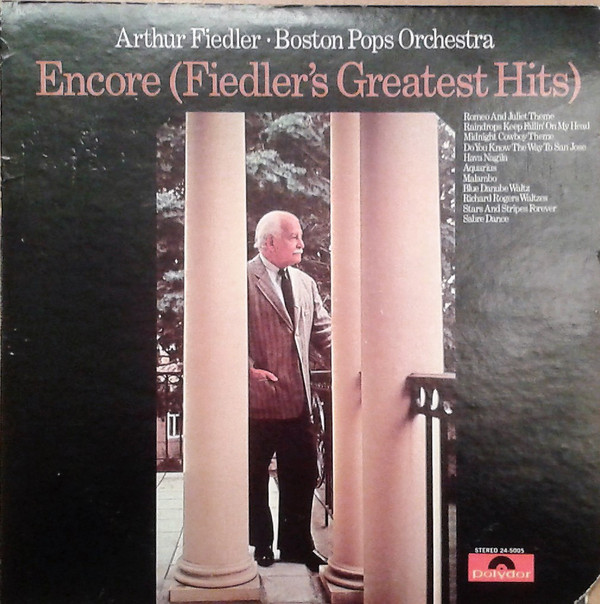 I got a bunch of Boston Pops records from the 1960s and 1970s. This is one in a series of blog posts about them.
In yesterday's post, we looked at the impact of the long running Evening at Pops series on the Pops's repertoire and programs: namely, more pop music and celebrity involvement. (Or maybe it's more accurate to say that these trends contributed to Evening at Pops, which then accelerated the pop music.) The shift was profound, so much so that when the Pops changed their recording contract from RCA to Deutsche Grammophon in 1970, they issued only their more "classical" recordings on DG; and issued their "pop audience" recordings, like yesterday's and today's, on DG's child imprint Polydor. So records like today's, 1971's Encore: Fiedler's Greatest Hits, automatically tip off which part of the Pops they represent simply by checking the label. (It's probably not surprising that I haven't come across a single "serious" DG-label Pops recording, but have several of the Polydor ones.)
So, Encore. If you read yesterday's post about Julia Child's Evening at Pops record, the format for Encore will look familiar: a side of pop material, a side of light classics. And the pop material is even more pop than usual: we get the "Love Theme from Romeo and Juliet," two Bacharach/David tunes ("Raindrops Keep Fallin' on My Head" and "Do You Know the Way to San Jose?"), the theme from Midnight Cowboy (presumably the only time the Pops has programmed the theme song to an X-rated motion picture), and "Aquarius" from Hair. (Yes, really.)
Side B finds us in more familiar Pops territory: samba, waltzes (Strauss and Richard Rodgers), a Sousa march, and, the sole non-dance "light classic" on the program, Khatchaturian's "Sabre Dance." Compared to the version that appears on Pops Festival (which was in turn anthologized from elsewhere), this version wears Army boots — it's heavy, driving (at least 20% faster than the older take), and with a corresponding lack of detail in the performance. "Sabre Dance" was a "greatest hit" and appears to have suffered one of the fates of greatest hits—a certain fatigue and contempt on the part of the performers.
Here's the Pops' take on "Do You Know the Way to San Jose?" Enjoy!